Technology
With video games, they help rehabilitate patients suffering from neuronal damage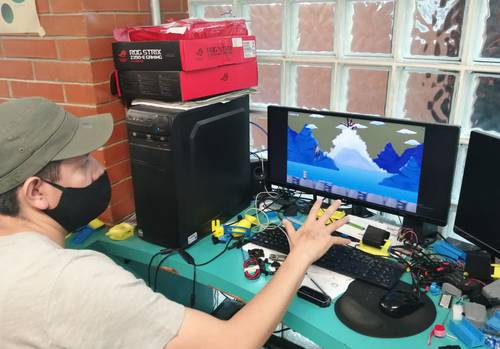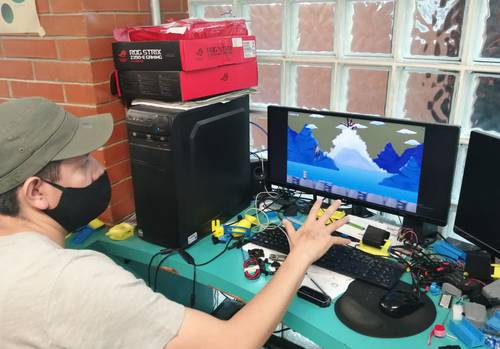 ▲ They are looking for investors to market this development at prices within everyone's reach.Photo Fernando Camacho Servin
Fernando Camacho Servin
Newspaper La Jornada
Sunday March 26, 2023, p. eleven
With the aim of helping in the rehabilitation of patients who have suffered neuronal damage –particularly due to cerebral infarcts–, the university researcher Ana María Escalante developed, together with a multidisciplinary team of collaborators, a series of video games that can help people affected people to recover their motor skills and cognitive functions.
In an interview with La Jornada, the person in charge of the Laboratory for Research and Development of Interactive Applications for Neurorehabilitation, of the Institute of Cellular Physiology (IFC) of the UNAM, explained that the idea of ​​creating these games arose about seven years ago, when it was planned launch the degree in neurosciences in the highest house of studies.
At that time, he recalled, the Kinect platform still existed – based on characters that imitate the real movements of the players – and its use had been adapted to personal computers, so they began to incorporate this technology to complement neurological rehabilitation therapies.
In this work, the computer science teacher stressed, it is about correcting the loss of motor skills or cognitive functions that occurs after a cerebrovascular disease, as long as the frequency and intensity of the therapy is high and above all it begins early.
"The only way we can establish the neural pathways that were lost is based on iteration. Therefore, the ideal environment is that of a video game where the person performs a certain movement repetitively and if they are 'in' the game, they can do it with a higher intensity than in conventional therapy, such as stacking glasses or moving a little bean from one place to another, which can be tedious," he said.
Escalante formed a multidisciplinary group, where electronic, mechatronic and biomedical engineers participate, to create toys or original devices, such as mouses, rollers and finger sensors. Graphic designers and even musicians have joined the team to generate the atmospheres and characters for the games.
Once some games have been developed, psychologists and therapists have been in charge of testing them in a protocol with surviving patients of a stroke at the National Institute of Neurology. Although the pandemic interrupted the task, Escalante managed to obtain enough data to observe a gain in the motor skills of the patients.
The researcher emphasized that neural rehabilitation therapy must begin as early as possible, since in the first three months after acute damage to the brain, neurons they are very willing to make new connections. If you direct the patient down the right path, you can take advantage of that window, but if you don't intervene, the patient begins to overuse his healthy side..
Ultimately he said, we want to reach telerehabilitation: that patients have the games at home and can use them every day. We must look for an investor to market this development at affordable prices and that is within the reach of anyone who may need it and not only those who can pay it..