Technology
BETTER TAXATION, MORE TECHNOLOGY AND INSTITUTIONAL SUPPORT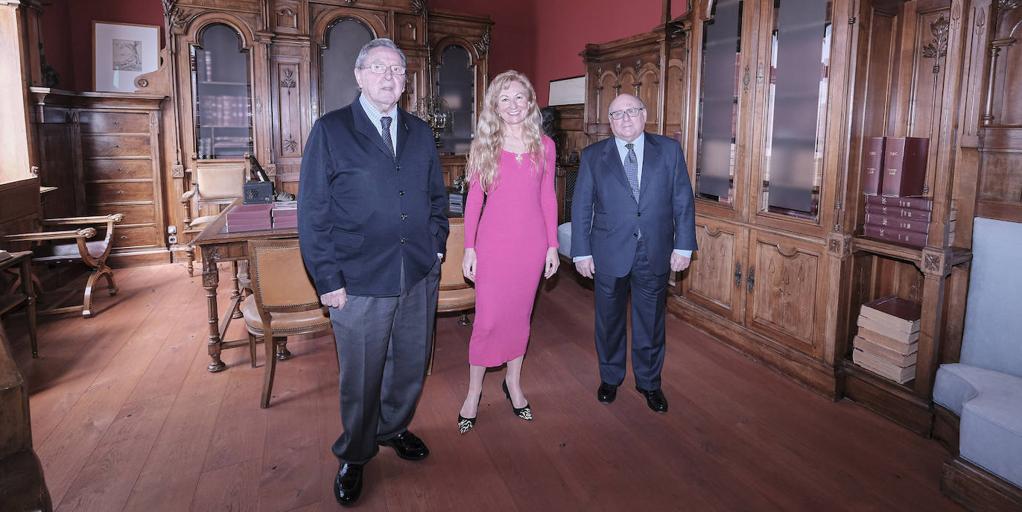 Are Sevillian and Andalusian companies competitive? Does its location in the South of Spain favor you? Does the regulation facilitate investments or hinders them? Is the productive fabric digitized? Do companies find skilled labor? These and some other questions have been addressed in the second round table of the Seville 2029 forum, created by ABC to listen to civil society and specialists to develop a route that helps build a more livable and competitive Seville.
They have addressed this issue of vital importance to promote the growth of the city María Luisa García, industrial engineer, former director of Siemens, businesswomanpresident of the Association of Business Angels of Andalusia and vice president of the MasIndustria Association; Francisco Moreno Muruve, president of the Federation of Entrepreneurs of Metal of Seville (Fedeme), an association that represents 9,076 companies that have 83,026 workers and invoice 4,620 million euros per year, and Fernando Faces, economist and professor at San Telmo Business School.
«There are people who confuse competitiveness with productivity and it is not the same. Competitiveness is being able as a city, as a company, as professionals, to increase our capacity, our size, our sales, in Spain or abroad, and there are multiple factors at play. The most pressing are new technologies, innovation, digitization, together with sustainability, "says Faces.
This economist points out that «in order to compete, the issue of size is important, both to obtain financing, to invest, to relate to the Administration… but it is not everything because the impact of new technologies and digitization will mean that the issue of dimension is not so important".
In the opinion of María Luisa García, technology as a factor of competitiveness "must be transversal to all sectors. Tourism, for example, has integrated a lot of technology to be able to compete. Technology is an accelerator of change and that will be exponential. For this reason, continuous innovation is needed in our business model."
"From a tax point of view we are not competitive"
Maria Luisa Garcia
Business Angel Association of Andalusia and More Industry
Francisco Moreno Muruve points out that "the business future passes through technology but everything that is technology requires investment And today investment is very complicated due to the stage fright that all companies have due to the constant change in regulations. Many business projects are for ten years and the rules of the game can change every four years".
The president of Fedeme, an association that includes aeronautical, lifting, industrial refrigeration or mechanical workshops companies, highlights the importance of the fNext Generation waves, «but -he says- we don't know where they are. On the other hand, 99% of the companies in Seville and Andalusia are SMEs or micro-SMEs. There is no capacity to present projects that fall within the characteristics of these funds. The PERTEs are being taken over by the leading companies, and in Seville and the region there are few companies of this type. It is important to channel these funds so that the business network can have access to it.
For all of them, it is The merger of companies is essential to create large corporations although they agree that both in Seville and in the rest of Spain «personalisms abound a lot and the small businessmen who have given birth to their companies resist. You have to have a very open mind to create large groups," says Moreno Muruve. As an example of business integration, María Luisa García cites the Seville company alliance Success with the Mondragón group to create a factory to prolong the life of household appliances, scooters and bikes. «To grow you have to seek alliances, stop being individualists, but businessmen are often afraid of not having 100% of the social capital. The entry of partners into the company -he defends- often makes you grow ».
The Airef has indicated that Seville is the province that has received the least investment for infrastructure since 1985, to which Fernando Faces recalls that «the pretext for not investing in infrastructure is that it is needed for social spending: cultural bonuses, minimum wages… and without limit. We are a subsidized country."
"There are job vacancies that cannot be filled because there are no prepared people"
Fernando Faces
Economist and Professor San Telmo Business School
Regarding the labor market, Fernando Faces highlights that "it is a key factor of competitiveness. The adaptability of workers and the labor supply is important. One of the problems we ran into Now it is that the offer does not match the labor demand. There are vacancies that cannot be filled because there are no people prepared for it. Public institutions and business associations have to face it. There has been a gap between the formation of human capital and the advancement of technologies, and this may be one of the reasons why new technologies are not having an impact on productivity, as was the case with the Industrial Revolution".
For his part, Francisco Moreno warns of the risk of not act quickly to be competitive. «In Seville we have the most important aeronautical auxiliary industry in Spain. It exports to other countries but the Moroccans are going to eat us, who are taking leaps and bounds because they are protected by the United States, because they are not improvising but bringing people from outside to tell them how, when and where. Boeing does not care about collecting aeronautical parts in Seville than in northern Morocco, which has ports that compete with ours.
1

1. Create an attractive tax framework

2

2. Administrative simplification and agility of the Administration in bureaucratic procedures.

3

3. Create a 'project manager' for investors in the City Council

4

4. Legal certainty. Do not change the rules every four years.

5

5. Public-private collaboration

6

6. Incentives to attract the industry.

7

7. Invest in technology and digitization

8

8. Continuously innovate the business model, as Malaga does

9

9. Approve a strategic plan to know where the city wants to go, with clear objectives to be able to measure the degree of compliance.

10

10. Training adapted to the needs of the labor market
For Faces, García and Moreno, public-private collaboration is important to increase competitiveness, "but -Faces warns- cooperation is not substituting one for the other, but for the public administration to support or complement the private initiative".
To compete, the economic and institutional environment is essential, and there Francisco Moreno laments that "in Spain businessmen are being demonized, who are seen with horns and a pitchfork. You have to value what a company and an entrepreneur are.
«How can you have a competitive system with an inefficient Administration? We are talking about licenses to open establishments or urban procedures", asks Faces, who defends the need for "legal certainty, help to unblock projects, reliability and qualified labor and if we cannot find it, it is brought".
"The City Council does good tourism management but lacks industrial vision"
Francisco Moreno Muruve
Pte. Federation of Metal Entrepreneurs
Regarding the situation of companies from Malaga versus those from Seville, Fernando Faces admits that «I don't like comparisons but that's where Malaga is. The economic environment is important to compete and the Malaga's transformation can be explained by the fact that it has a mayor and a City Council with vision. In that city there has been planning and a strategic plan, like in a company. The largest technology groups are settling in Malaga because today's industry is digitized, robotic, Artificial Intelligence industry…»
How to attract foreign investment to Seville? For that economist the recipe is simple: «Administrative simplification, creating an attractive tax framework, building trust.. The Junta de Andalucía created a position that is an investment manager, a 'project manager', who not only attracts investment, but also deals with unblocking any project. It would be good to create a 'project manager'r in the Seville City Council to manage the investments".
For her part, María Luisa García highlights that "the case of Malaga is an example of continuous innovation and model change. Malaga has a startup mentality, a newly created company. It is capable of innovating in its business model on a continuous basis. In fact, he changed the model of sun and beach tourism, and included the cultural part with the new museums, he did all the transformation of the Center, of the port… In other words, things do not happen by chance. Malaga has not stayed in its comfort zone, but has been continuously innovating, be it with the digital content pole, with the video game sector, with a network of business accelerators focused on different sectors… In Malaga Within Promálaga there have always been professionals dedicated to investment management, both to help local people and someone who comes from abroad».
Francisco Moreno Muruve acknowledges that "Malaga is now an envy in quotes, a healthy envy, because they are doing great, all the industrial fabric has stepped up.to and the Administration. In Seville, however, there is a dichotomy between the industrial fabric and the Administration. Seville City Council is doing good tourism management but lacks industrial vision. Tourism is compatible with the industry. The City Council should listen more to businessmen and create an industrial development department.
To correct the course, all the speakers at this round table consider it vital to execute a strategic plan in Seville. "The city needs a strategic plan, like any company does, but a real strategic plan", points out Moreno, while María Luisa García specifies that "it is about undertaking concrete actions, instead of talking so much. There are strategic plans that have been drawn up but if they remain in general terms and do not have specific objectives to measure compliance, they are useless".
Fernando Faces also calls for a strategic plan «to know where we want to go, adapting every day to changing circumstances. The problem with Seville is that when you have a lot of history, a lot of monuments, you can fall asleep in history. and in the glory of that story. Seville has so much that it can end in immobility. What does an investor ask for to invest in Seville or Malaga? Some institutions that support them, the elimination of bureaucracy, legal certainty and reliability»
Seville is not just tourism, and Francisco Moreno Muruve claims that its industry will contribute 20% of its GDP. «In industry we have a very clear deficit. The industry has a historical innovative capacity and market opening capacity that other sectors have not had. That the industry develops does not mean that tourism does not continue to develop. How to encourage the industry? That is where legal certainty and incentives are very important.
María Luis García assures that "we have a privileged location, but the costs of the pension reforms have been assumed by businessmen. We compete with Portugal but from a tax point of view, at the moment we are not competitive.