Reviews
AGON by AOC launches the 32″ gaming monitor AG325QZN/EU with 240 Hz, up to 1 ms GtG and HDR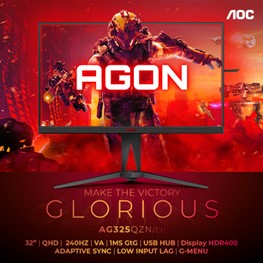 AGON by AOC, one of the world's leading brands of gaming monitors and computer accessories, announces the next model in the AGON 5 series of gaming monitors. AGON AG325QZN/EU 31.5″ (80 cm) incorporates a Fast VA panel, which can operate at a dazzling 240 Hz refresh rate. With an impressive 3000:1 contrast ratio, vivid colors, and DisplayHDR 400 certification, the AG325QZN/EU delivers stunning visuals, and its response time up to 1ms GtG and 0.5ms MPRT It shows that it is made for high competition games. Thanks to its imposing size, the AG325QZN/EU accommodates a wide range of use cases, from large gaming stations to couch gaming to dedicated simulators.
The bigger the better
While FPS eSports players prefer smaller screen sizes (27″ or even 24″) to better focus on all the action going on, eSports and competitive gaming run the gamut of genres where a 32" screen size ″ may make more sense. Action/RPG titles, fighting games, real-time strategy and turn-based games, or simulation games all benefit from a larger screen size to better display detail and/or immerse the player in the action itself.
A 31.5″ display like the AG325QZN/EU offers more real screen space while maintaining the usual 16:9 aspect ratio, making it easier for gamers to adjust. The AG325QZN/EU features a QHD (2560×1440) resolution, which is the sweet spot for rich detail and high frame rates. Compared to 4K, for example, modern GPUs can hit 240 fps on a QHD resolution with much more ease, allowing gamers to take advantage of high refresh rates from day one. And thanks to the combination of high refresh rate and high resolution, the AG325QZN/EU is a future-proof gaming display that can serve gamers for years and years.
Fast action, fast response
The AG325QZN/EU employs a Fast VA panel, offering fast pixel transition times (up to 1ms GtG) and low pixel dwell (0.5ms MPRT), with different levels of overclocking to choose from, so gamers can can adjust the responsiveness of the monitor to their liking and get a blur-free experience. compatibility with Adaptive-Sync guarantees flicker-free gaming on both platforms. While on a 60Hz monitor, the user will see a new image every 16ms, this drops to just 4ms on a 240Hz refresh rate monitor. With less time between images, gamers will feel more connected to the game. game, which will allow them to react faster to the actions of their opponents and ultimately win the competition.
versatile and flexible
Outside of gaming hours, the large 31.5″ screen size makes the monitor a productivity beast for everyday tasks. The large screen area allows users to open and work in multiple application windows simultaneously. Thanks to the certification VESA Display HDR 400, the AG325QZN/EU plays HDR content in videos and games. And with a maximum brightness of 400 nits and wide viewing angles (178/178°), the monitor is also suitable for use in bright interiors. In addition, it is included USB 3.2 of 4 ports and a USB upstream port to the PC, allowing users to connect peripherals directly to the monitor, reducing clutter.
Like other AGON 5 models, the AG325QZN/EU features an elegant design with very slim bezels and a adjustable metal bracketwith a tilt (-5/23°), height (150mm), swivel (-20/20°) and pivot orientation (90°) allows comfortable use for any user and occasion.
He AGON AG325QZN/EU will be available from March 2023 for a price of €579.