News
Riot Games finally renews its collaboration with Prime Gaming for its games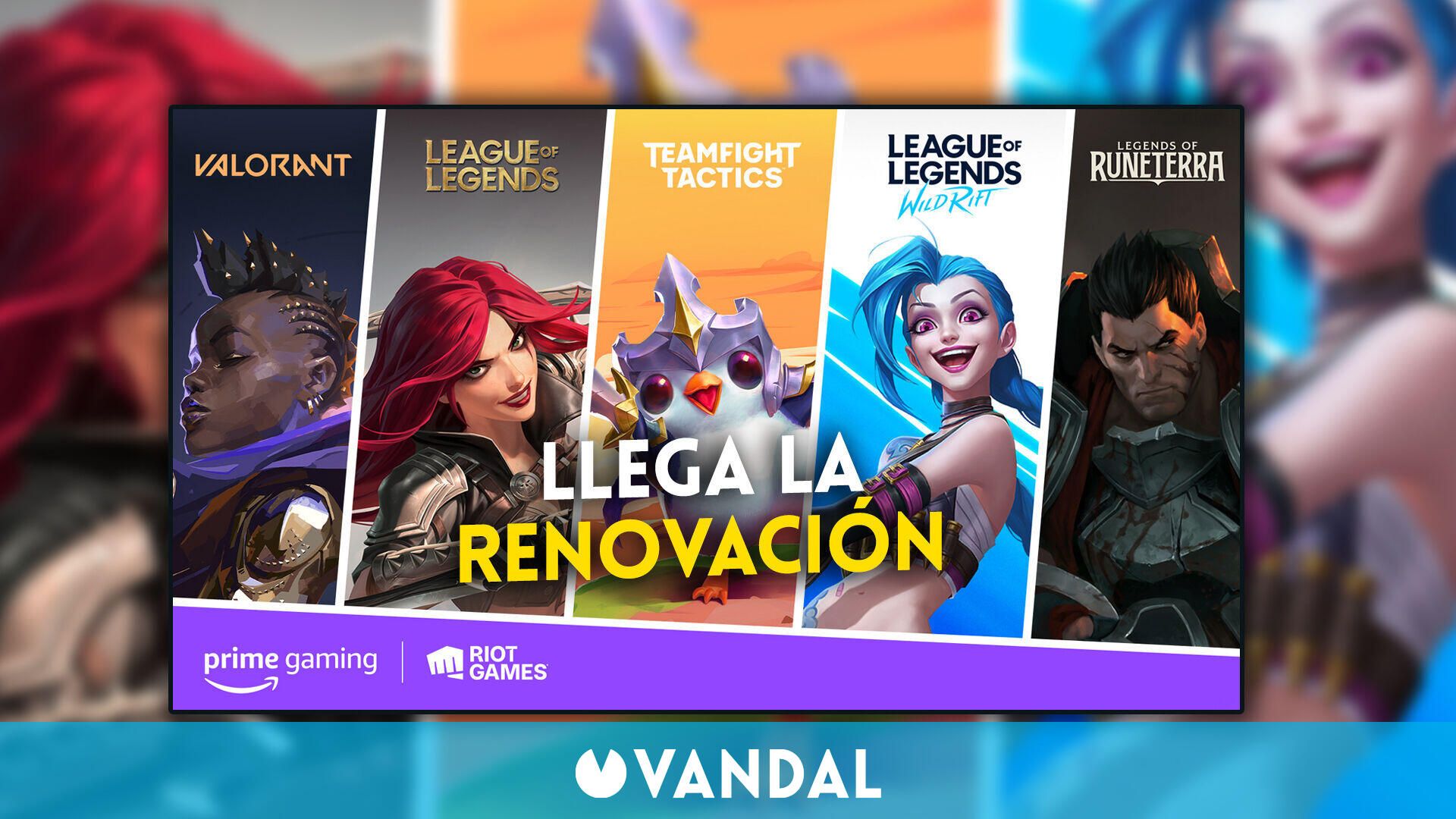 Fans of Riot Games video games and especially League of Legends that they are subscribed to Amazon Prime They can finally breathe easy. Just yesterday, March 20, the company and publisher of hits like Valorant confirmed its renewal with the promotion of Prime Gaming for its main video games, so in the coming months there will continue to be exclusive content in the developer's titles, and yes, that includes the Prime Capsules of LOL.
Amazon Prime Gaming will continue to collaborate with these offers in Riot Games games
Through a publication on the official website of Riot Games we have learned that the developer has finally renewed their agreement of collaboration with Amazon Prime Gaming, which had been on the air for a few weeks. This agreement, from what has been disclosed, involves major games from Riot Games, which means that exclusive Prime Gaming content will be offered for League of Legends, Legends of Runeterra, Valorant, League of Legends: Wild Rift and, new this year, Teamfight Tactics.
The new deal that has been closed includes the following offers Prime Gaming specials that will begin to be available on these dates:
League of Legends: Starting in March, the Prime Gaming Capsule will include a Mystery Permanent Skin (Guaranteed Epic), a Permanent Champion, 350 Riot Points, 4 Champion Shards, a 30-day XP boost, a Mystery Ward Skin, 2 Eternals shards from Series 1 and 200 of Orange Essence.
Teamfight Tactics: Starting in April, for the first time, Prime members will be able to get content every month for a whole year (12 drops in total) for the world's leading autobattle game. Pack content includes Emotes, Icons, Little Legends, and Star Shards.
League of Legends: Wild Rift: Starting in March, Prime members will be able to get content every month for a whole year (12 drops in total) for the mobile game. The content will include trinkets, emotes, recalls, skins, and skin poses.
Valorant: Starting in March, players will be able to get exclusive content every month for a whole year (12 drops in total) for Valorant. Planned content includes player cards, gun buddies, and sprays.
Legends of Runeterra: Starting in March, Prime members will be able to get content every month, such as Tier 3 Prismatic Chests, Epic Cards, and Rare Cards.
"We are happy to continue our successful promotion with Riot Games"said Josh Dodsondirector of Prime Gaming. "We're clear that Prime Gaming members deeply value regular content for some of Riot's biggest and most popular games we've offered to date. We're excited to build on this success and continue to deliver incredible value for Prime Gaming members. and Riot fans".
"Expanding the partnership with Prime Gaming across all of our games and esports it's a win for the players from around the world, who will continue to enjoy benefits that enhance their hobby"said Max BoigónDirector of Strategic Alliances and Partnerships at Riot Games. "As our games portfolio grows and we expand our entertainment experiences, we are excited that Prime Gaming continues to join us on this journey and that we share our long-term mission of improve the experience for the player across the Riot ecosystem".
Prime Gaming will continue as a global sponsor of esports
Along with the renewed Prime Gaming collaboration it has also been confirmed that Amazon will continue to be the global sponsor in the titles of the esports from Riot: League of Legends Esports and Valorant Esports (in addition to will add up to Teamfight Tactics Esports). This collaboration will extend throughout the current year 2023 and will be present at multiple LoL Esports events, both for the LCS, the LEC and the VCT and EMEA competitions.
"Prime Gaming is a long-time partner of Riot and we're proud to share a mutual commitment to delivering deeper experiences than will gratify the fans"said John Needhampresident of esports at Riot Games.
Prime members will have the opportunity to get exclusive emotes of esports during global LoL Esports events such as MSI and Worlds. During VCT events, Prime Gaming will continue presenting key moments on stream, like Operator Pick, Flawless, and post-match highlights.
Finally, it should be remembered that, as up to now, Prime subscribers will be able to claim all exclusive content within each game as it becomes available on gaming.amazon.com.