News
"The price of silence is unacceptable": the letters that the Russian activist Vladimir Kara-Murza sent to the BBC from prison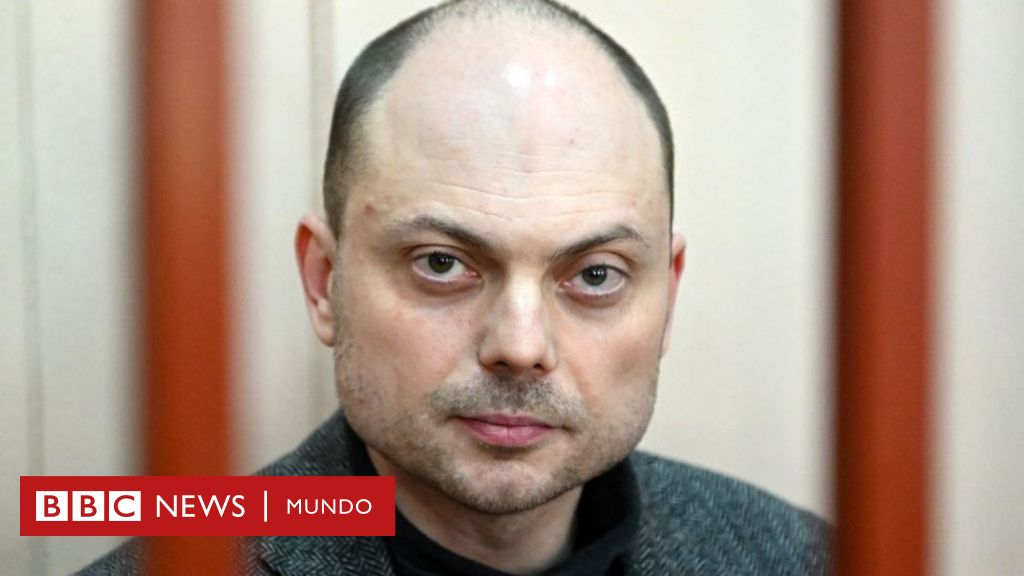 Sarah Rainsford
Correspondent in Eastern Europe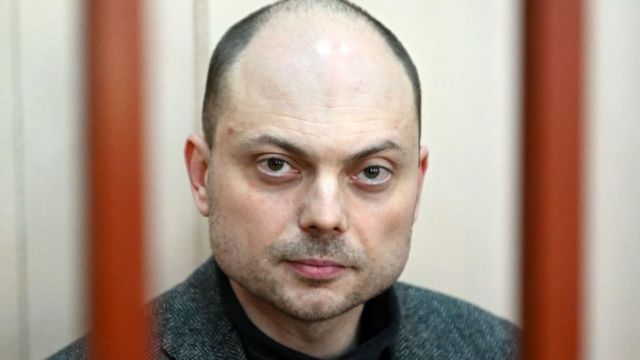 When Vladimir Kara-Murza announced that he would return to Moscow earlier this year, his wife Evgenia knew the risk, but did not try to stop it.
Russia had invaded the Ukraine. Thousands of protesters had been arrested and it was a crime to call the invasion a war. Still, the activist insisted on returning to Russia.
Vladimir is a staunch critic of Russian President Vladimir Putin and an outspoken critic of the atrocities committed by his country's army.
He is imprisoned and accused of treason. Evgenia has not been allowed to speak to him since April.
However, in a series of letters he sent me from Detention Center No. 5, Vladimir says he has no regrets because "the price of silence is unacceptable."
Opposing Putin was dangerous even before the invasion, but the crackdown on dissent has intensified since. Almost all of the prominent critics have been arrested or have left the country.
Vladimir has twice been the victim of a mysterious poisoningand now the treatment towards him is especially harsh.
Although the charges against him stem solely from his opposition to the war and to Putin, his lawyer estimates that he could spend 24 years behind bars.
"We all understand the risk of opposition activity in Russia. But I could not remain silent in the face of what is happening, because silence is a form of complicity," he explains in a letter sent from his cell.
He felt that he could not stay abroad either. "I didn't think I had the right to continue my political activity, to call other people to action, if I was sitting safely somewhere else."
"I could kill him"
Evgenia learned of her husband's arrest thanks to a call from her lawyer, who had traced the activist's phone, as he always did when his client and friend was in town.
On April 11, the phone stopped at a Moscow police station.
Finally, Vladimir was allowed to call his wife, who lives in the United States with their children for safety. He barely had time to say: "Don't worry!".
Evgenia smiles at the absurdity of that instruction.
Both were children during Perestroika and grew up during Russia's democratic awakening after the Soviet collapse. Vladimir studied history at Cambridge, and simultaneously began a career in Russian politics as an adviser to the young reformer Boris Nemtsov.
This is the longest they've been apart since they got married on Valentine's Day in 2004.
The activist says that the most difficult thing is not seeing his family. "I think of them every minute of every day and I can't imagine what they are going through," he says.
"I love and hate this man for his incredible integrity"Evgenia told me on a recent trip to London.
"I had to be there with these people who went out on the streets and were arrested," referring to the many Russians detained for opposing the war.
"He wanted to show that you shouldn't be afraid of that evil and I deeply respect and admire him for that. And he could kill him!"
Vladimir was initially detained for disobeying a police officer, but once in custody serious charges began to rain down on him.
The activist was first accused of "spread false information" about the military and the "top leadership" of Russia.
Since the war began, the rights group OVD-Info has recorded more than 100 prosecutions under the so-called "fake news" law: a local councilor, Alexei Gorinov, was sentenced to seven years in July and activist Ilya Yashin he will soon go on trial after referring to the murder of civilians in Bucha.
The charges
Vladimir's case is based on a speech he gave in Arizona. He claimed that Russia was committing war crimes in Ukraine with cluster bombs in residential areas and "the bombing of schools and maternity hospitals."
It's all been independently documented, but according to the charge sheet I've seen, Russian investigators consider their statements false because the Defense Ministry "does not allow the use of prohibited means… to wage war" and insists that the civilian population of Ukraine "is not a target".
The facts on the ground are ignored.
Another charge stems from an event for political prisoners where the activist referred to what investigators call Russia's "allegedly repressive policies."
Then last month he was charged with treason to the state.
Regarding this accusation, the activist responded in his last letter: "The Kremlin wants to portray Putin's opponents as traitors. The true traitors are those who are destroying the well-being, reputation and future of our country for the sake of their personal power, not those who are speaking out against it."
political persecution
The treason charge is based on three speeches abroad, including one in which Vladimir said political opponents were persecuted in Russia.
Investigators say he was speaking on behalf of the US-based Free Russia Foundation, which is banned in Russia, where any "consulting" or "assistance" to a foreign organization deemed a threat to national security can be classified as treason. .
"Betrayal of the state by public speeches? That's just absurd. It's just a persecution for freedom of expression. By opinion. Not for any real crime," Vadim Prokhorov, Vladimir's lawyer, argues by phone from Moscow.
Prokhorov says that the activist had no ties to the foundation at this time.
"This is a political case. They are trying to stigmatize the absolutely normal and civilized Russian opposition."
Vladimir himself notes that the last person charged with treason for exercising political opposition was the Nobel Prize-winning writer Alexander Solzhenitsyn in 1974. "All I can say is that I am honored to be in such company."
"That fight is bigger than their fears"
Evgenia finds it more difficult to keep calm.
This is not the first time she has been afraid for her husband. She nearly died twice in Moscow, and the cause of her poisoning has never been identified.
In 2015, when she first collapsed and went into a coma, Evgenia was told that had a 5% chance of survival.
She nursed him back to health, helping him learn to function again, including holding a spoon. He would then insist on working on his laptop from the couch, despite being assailed by ailments every half hour.
"By the time she could walk, she packed her bags and went to Russia. That fight is bigger than her fears."
For Evgenia, that has meant seven years of sleeping by the phone, "afraid to receive that call him or someone else because he can no longer speak.
She stopped persuading her husband not to go to Moscow a long time ago: her only protest was the refusal to help him pack his suitcases. But before his last visit, after the war began, Evgenia first accompanied him to France.
"I wanted the trip to be beautiful," she recalls, holding back tears as she recalls long walks through the streets of Paris, talking non-stop. "Deep down, I knew what was coming."
Nemtsov's place
Since Vladimir's arrest, Evgenia has taken up her cause: speaking out about the war in Ukraine, political repression in Russia, and her husband's case.
On Monday, Evgenia opened Boris Nemtsov Place in London, the result of a long-running campaign by Vladimir to honor his mentor and friend.
In 2015, the prominent opposition politician was shot near the Kremlin in a contract killing for which the perpetrator has not been caught.
"The idea is that all the cars that arrive at the big gate will see Boris Nemtsov's license plate," explains Evgenia. Her husband hopes that a different Russia will one day be proud of that name.
For several years, the politician worked closely with Vladimir to pressure Western governments to sanction senior Russian officials for human rights violations. His success infuriated a political elite that enjoyed traveling abroad and funneling funds there.
Once in Moscow, Vladimir told me that he had come to the conclusion that these sanctions are the reason why both he and Nemtsov were attacked.
Evgenia's fight
Replacing her husband is costing Evgenia dearly, but it is also keeping her on her feet.
"I'm doing what I have to do so it can be returned children and this horrible war is stopped and this murderous regime can be brought to justice."
Vladimir is also not silent.
His lengthy, handwritten letters in prison reveal his convictions that Russia is not doomed to autocracy and that not all of its inhabitants are brainwashed devotees of Putin.
He points to the large number of letters he receives from supporters who are openly critical of the invasion of Ukraine and the Kremlin, and from those who are still protesting publicly, despite the risk. He urges the West not to isolate that part of Russian society that "wants a different future for our country."
He also warns that the war in Ukraine will not stop as long as Vladimir Putin remains in power.
"For Putin, compromise is a sign of weakness and an invitation to further aggression," he says. "If he is allowed out of the war to save face, in a year or two we will have another one.".
Vladimir tells me that he is dealing with imprisonment with a mixture of exercise and prayer, books and letters. As a historian, he has a particular interest in Soviet-era dissidents and has been reading more about them while he awaits trial.
"His favorite toast at the time was: 'To the success of our desperate cause!'" he writes. "But as we know, he wasn't that desperate after all."
Now you can receive notifications from BBC Mundo. Download the new version of our app and activate them so you don't miss out on our best content.