Exhibits Coppel before Profeco for raising prices in Hot Sale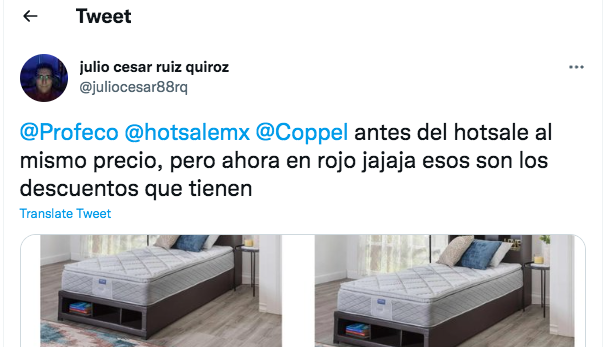 They claim Coppel for raising prices in Hot Sale and alert Profeco.

A consumer assures that Coppel raised the price of a mattress prior to Hot Sale 2022 to later launch his "offer".

The Hot Sale will end on May 31 and continues to generate several consumer complaints.
According to a consumer's tweet, Coppel raised the prices of its products prior to the "offers" of the Hot Sale.
We live in a context in which eCommerce continues to position itself in various parts of the world, including Mexico, as a response to the arrival of the pandemic caused by Covid-19.
In short, what has happened since March of last year, when the Covid-19 pandemic was decreed worldwide, is one of those events that have marked history forever, which is why it is sowing new habits and several significant changes. in society.
One of them, among a long list, is the adoption of a much broader digital life; If before we already lived in a hybrid world, now, after the arrival of the pandemic, this had a much greater acceleration and, although reluctantly for some, it was time to learn more than necessary to survive in an era where digital, more than a luxury, became a necessity.
Starting from this premise, society at a global level, accustomed to old consumption habits, adapted to something that had been making a lot of noise for several years, eCommerce, and that thanks to the effects derived from the presence of Covid-19 had great growth.
According to data from the consultancy Adobe, it is estimated that in 2021 alone, eCommerce grew by 20 percentwhich, in figures, represents sales of 4.2 billion dollars.
These days, from May 23 to 31, the Hot Sale is presented as one of the most important events for online purchases, as well as being a great opportunity for brands to reach more consumers and Incidentally, raise your income.
And it is that, according to data from Statista, the value of online retail sales during the Hot Sale in Mexico in 2017 it registered figures of 4.89 billion Mexican pesos, an amount that, by 2020 (the year of the pandemic) reached the sum of 20.16 billion pesos.
Consumer exposes Coppel for raising prices in Hot Sale
On the consumer side, the Hot Sale is one of those periods where you can find an interesting window of offers for all kinds of products; however, there are times when the consumer is scammed by some offers that are misleading.
An example of this is disclosed by a user on Twitter, who exhibits Coppel before the Federal Consumer Protection Agency (Profeco) because, as he mentions, the company raised the price of a mattress prior to the Hot Sale and then launched its "offer".
The images presented by the consumer show that said individual mattress, before the Hot Sale, had a price of 2,299 pesos; however, by the time the "offers" period began, Coppel raised the price to 3,299 (a thousand pesos more).
@Profeco @hotsalemx @Coppel before the hotsale at the same price, but now in red lol those are the discounts they have pic.twitter.com/x3418CMpkh

– Julio Cesar Ruiz Quiroz (@juliocesar88rq) May 23, 2022
Notably these types of practices, of course, are not exclusive to Hot Salesince in other periods of offers, such as El Buen Fin to mention an example, they are constantly reported.
Let us remember that this type of season is one of the most anticipated by consumers themselves, who have always been on the "hunt" for the best offers and to purchase products that, in general, they could not acquire at another time of the year. , or that they would take a little longer to do.
This only reflects the opinion of the consumer and the conversation that it generates in the digital pulse, Therefore, Merca 2.0 requested the position of the brand in order to tell both versions of the story; however, so far it has not been received. The note will be updated in case of a response.
Now read: