Anne Hathaway is our new fav style icon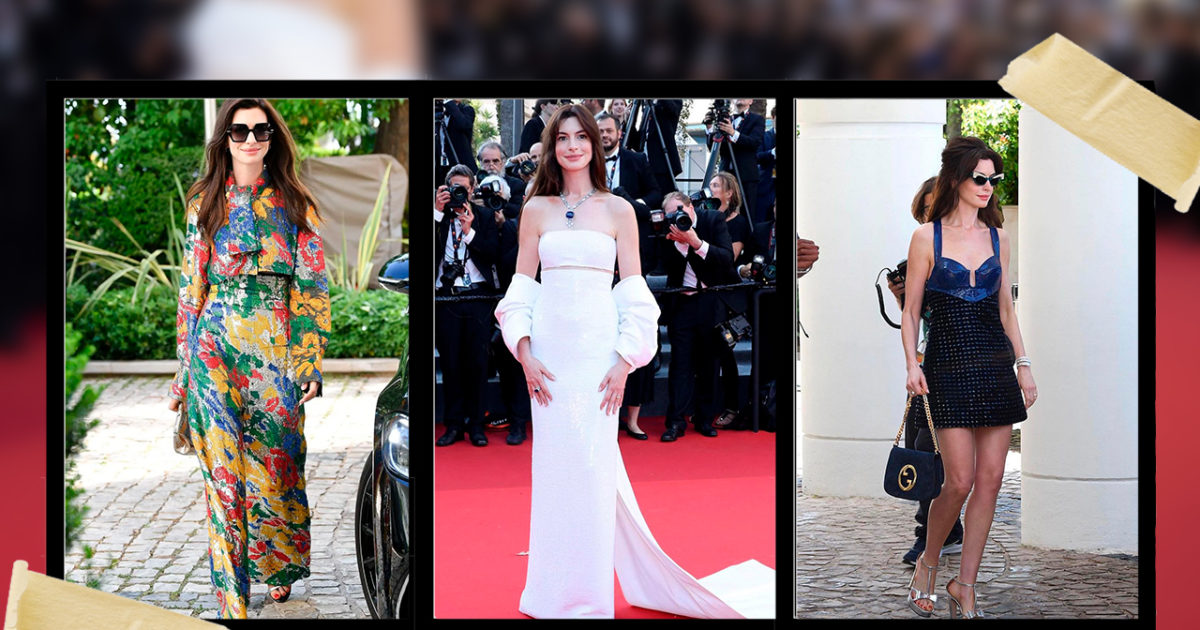 Can we take a moment to appreciate Anne Hathaway's new style? It is more than clear to us that the actress of we crashed is the undisputed style star of the 2022 Cannes Film Festival. Anne stole the show everywhere she went and we are so excited to witness her fashion rebirth with her new stylist, so we did a recap of his best fashion moments that we have seen these days.
Actress Anne Hathaway lives on in our childhood memories as the princess we all wanted to become. For a couple of years she managed to go unnoticed on red carpets, but today she has all the spotlights in the world on her (especially Cannes), after becoming a 21st century princess in that Giorgio Armani dress she wore for her debut in the festival and once again it has made us want to reincarnate in her or at least, have that incredible style.
But the choice of color for this dress was no accident. The actress commented in an interview with People on the special piece for her first Cannes appearance: "You can never go wrong with a little sparkle. You can never go wrong with something that looks elegant and glamorous, and I noticed that many of my favorite actresses had their first experience wearing all white. That was how I chose my look." Chef's kiss.
The keys to Anne Hathaway's style this 2022
With the help of her new stylist Erin Walsh, Anne became a Cannes Festival favourite, both at the red carpet as it were, and as soon as he landed on the French Riviera, he hit us with an extra polished look from Louis Vuitton: a slightly oversized black suit combined with a white t-shirt and obvious sneakers to give it the finishing touch. effortlessly cool.
But this outfit was just to warm up engines and from that, the impact looks did not stop being served on the streets and red carpet of Cannes.
The next look was in charge of Maison Valentino, and it was almost impossible not to recognize the bubble gum pink so characteristic of the latest collection. A jumpsuit in this striking color and some XXL platforms were the only thing Anne needed to have a feminine and extra elegant outfit in seconds that we love.
The style jet set of this escape to the French Riviera was noted in the third look by Gucci, which revived the bunny bra with a very 80's retro vibe in this mini dress in blue. The choice of accessories was subtle and very much in keeping with the era Anne was tuning into, with silver heels with little bows and matching sunglasses. cat eye green with beige details from Gucci too.
Anne added one more Vuitton look to the Cannes agenda with a dress from tweed in beige leather contrasts and oversized hexagonal lenses that made the perfect match. The hairstyle also played a very important part in this look and it is the ideal complement to achieve a perfect look very much in style. Old-Hollywood.
Schiaparelli pieces are always a guarantee and Anne chose well this set of sequins with a floral print that makes it clear that these shiny materials are worn at night but they look much better during the day. The bag gold continues the glam style of this look and the glasses oversized little by little they become statement of the celeb
But Anne Hathaway's style had a twist long before the week on the French coast and New York witnessed the change in her style before anyone else. styling. While on tour to promote the WeCrashed series, Anne gave us a healthy dose of looks that marked the start of her new partnership with Erin Walsh. this dress with cutouts and black bralette by David Koma was the official inauguration of Anne's new era as an it-girl and definitely one of our favorites.
Impossible to forget this iconic look with which he broke the Internet a couple of months ago, an explosion of color with a geometric print that makes it clear that more is more. Christopher John Rogers' outfit was chosen for his presentation on The Late Show to talk about WeCrashed, which if you haven't seen it, we recommend you turn on your television ASAP, as this mini-series is totally worth it.
Anne Hathaway is now the new image of Bulgari's campaign with Zendaya and considering her new style, we are sure that her path in the fashion industry is just beginning. We can't wait for her to become #TrendingTopic again with another of her appearances.
Explore more at: Instyle.mx