Playball! Opening Day starts TODAY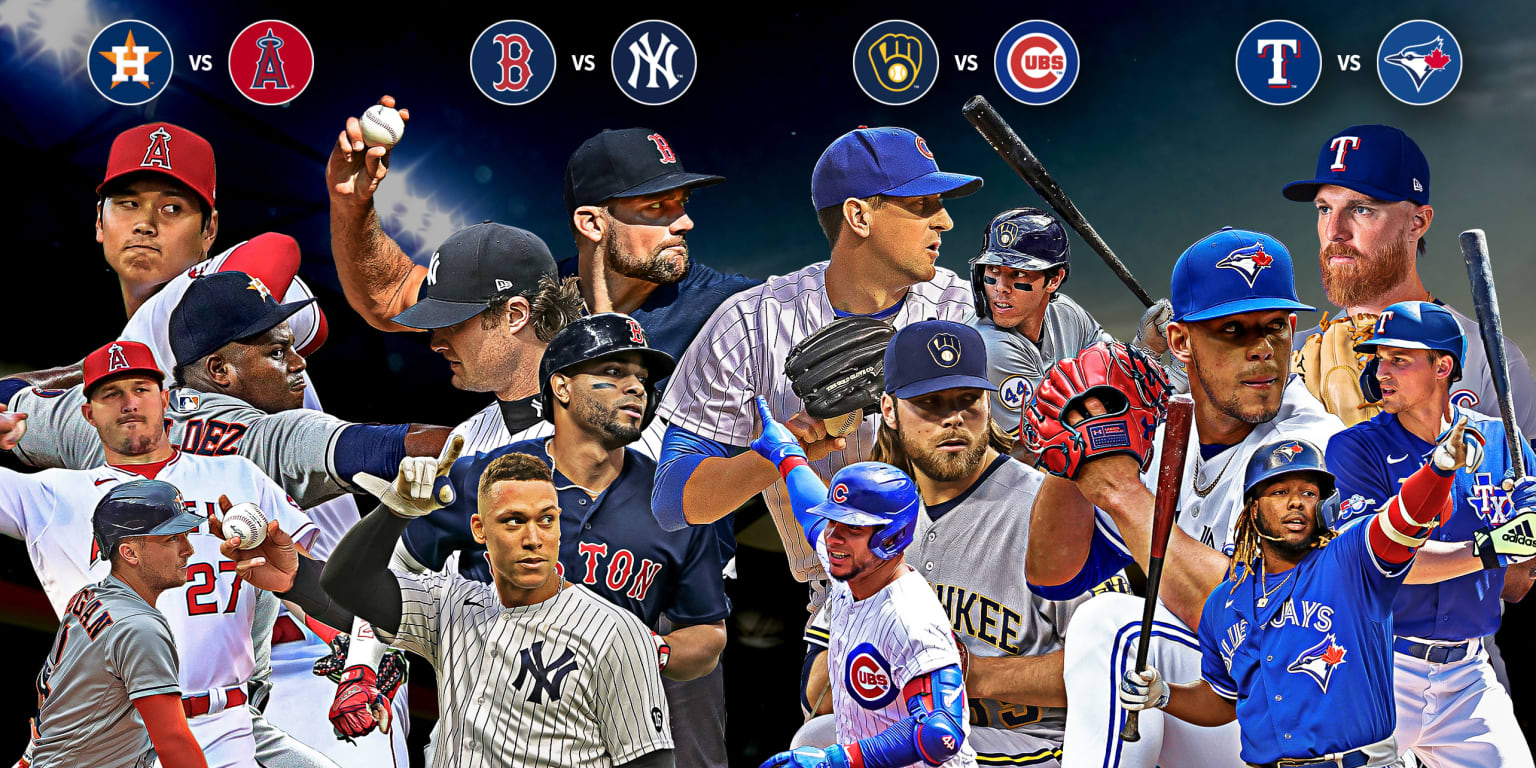 The Major League season starts today. Each team will play Thursday or Friday – some will play both days – and we all need to find a way to get our priorities in order. The easiest answer about which game to watch is clear: the one with your favorite team. But apart from that, here we leave you a ranking of the clashes of the first day of the 2022 season.
Starting pitchers – who carry a lot of weight in these rankings – are listed in parentheses. All times are listed in US Eastern Time.
1. Astros (Framber Valdez) visit Angels (Shohei Ohtani)
This game is a potential preview of this year's key fight in the AL West, depending on whether the Angels have enough pitching to survive, but make no mistake here: Throw Ohtani! On Opening Day! Oh, and he'll also be joined by Mike Trout, something we saw very little of in 2021. The Astros are the defending NL champions, and they're still the side story on this one. Can Ohtani do it again?
2. Red Sox (Nathan Eovaldi) visit Yankees (Gerrit Cole)
I know what they're saying: There's the big media again, inflating the Yankees-Red Sox matchups, the East Coast bias, when will they stop selling so much what's happening in the AL East? Well, first of all, I was born in the Midwest of the country and I live in Georgia. But more importantly: Who doesn't want to watch this game? These eternal rivals, who just met in the last postseason, are two of the favorites in the best division in baseball, and both are coming off an offseason that some of their fans might find a bit frustrating, which will set off alarm bells if Some start bad. One of these teams may finish fourth this year. Wherever you are, you will want to see this game.
3. Sailors (Robbie Ray) visit Twins (Joe Ryan)
There are many stories here! These were two of the most active teams in the winter and they are exactly the type of ninths you want to see moving like this. The Mariners appear well positioned to end their postseason drought, the longest in professional sports in the United States, with their new Cy Young winner on the mound and the listed prospect Dominican Julio Rodriguez ready to debut in the major leagues. And on the flip side… Puerto Rican Carlos Correa shook up the baseball world by signing with the Twins, and now grateful Minnesota fans will get to see him in uniform for the first time.
4. Dodgers (Walker Buehler) visit Rockies (Kyle Freeland)
One of the most anticipated moments of every Opening Day is seeing stars donning new uniforms, and no matchup offers more of that than this one. The Dodgers were already the best team in baseball and now they will be able to show off their new toy, Freddie Freeman. (And look how many toys they have). The Rockies also have a new gift, Kris Bryant, the centerpiece of what they are putting together in Denver.
5. Pirates (JT Brubaker) visit Cardinals (Adam Wainwright)
Now that Albert Pujols has returned to St. Louis, an Opening Day at Busch Stadium is irresistible. As for the pitching matchup, Brubaker is the type of pitcher — right-hander, throws hard, lots of sliders — who gives Pujols trouble at this point in his career. During the season, Pujols won't start many games against pitchers like Brubaker. But on Opening Day? In Bush? With Adam Wainwright on the mound and Yadier Molina behind the plate? All (probably) in their last season? This must be seen.
6. Reds (Tyler Mahle) visit Braves (Max Fried)
You may not remember this, but the Braves won the World Series last year. It was super exciting! They are going to raise the champions flag and deliver the rings on Thursday night, and although some of the key players will not be there (Freddie Freeman, Cuban Jorge Soler, Joc Pederson), there is no doubt that it will be a very exciting night for the Braves and their fans. It's been 26 years since they had a night like this. Enjoy it, Braves fans.
7. Mets (Tylor Megill) visit Nationals (Patrick Corbin)
This could have been the No. 1 game on this list. We got to see Jacob deGrom in his first game since getting injured last year. We have been able to see Max Scherzer against his former teammates. But no, the stupid injuries had to show up. deGrom is out at least a month with an elbow problem and Scherzer will not start with a sore right hamstring, though he could start Friday. If we can see deGrom or Scherzer, at least we will see Dominican Juan José Soto and his compatriot Nelson Cruz (in his new team!), Pete Alonso and Puerto Rican Francisco Lindor. Not bad for a consolation prize.
8. Brewers (Corbin Burnes) visit Cubs (Kyle Hendrick
First of all, they'll be playing at Wrigley Field, which will remind you once and for all how happy you are that baseball is back. But here we also have the Cy Young winner starting for Milwaukee against a Cubs team that's a little more fun than you might think. The big draw will be Seiya Suzuki, the Cubs' new slugger straight from Japan who could become quite popular in Wrigleyville. And let's not forget the Brewers: They're still the favorites in the NL Central, after all.
9. Marlins (Sandy Alcantara) visit Giants (Logan Webb)
A very good duel between two of the best young pitchers of the moment. The Marlins have a young pitching rotation that is the envy of almost any team in the Majors; the Giants won 107 games last year and would love to have Miami's rotation. Speaking of those Giants, they have nearly every player who led that unlikely season back, except for Buster Posey and Kevin Gausman. Whether the Giants will be able to pull a rabbit out of the hat again is one of the central questions of the 2022 season. On Friday we will have a first idea.
10. Rangers (Jon Gray) visit Blue Jays (José Berríos)
The Blue Jays will finally be able to play all 81 of their home games in Toronto this season. The fans of the team missed a very good team for almost a couple of years. Now, maybe they'll get to see the best version of themselves all of 2022. The Rangers will see their new midfield combo debut, Corey Seager and Marcus Semien, with the latter returning to where he finished third in 2021 MVP voting.
11. White Sox (Lucas Giolito) visit Tigres (Eduardo Rodríguez)
The White Sox look poised to easily win this division — though that news of Lance Lynn's knee injury isn't good news — but the big fun here will be seeing Spencer Torkelson, the Tigers' top prospect and source of hope for the entire franchise, starting the game at first base. This could be a clash between the current owner of the AL Central against the future boss.
12. Guardians (Shane Bieber) visit Royals (Zack Greinke)
None other than MLB's No. 1 prospect (Royals third baseman Bobby Witt Jr.) making his Opening Day debut. It will also be the first time we see the Guardians in action, with the new logo, the new name and all that. That's progress, anyway, and something new. But the best, in fact, might be seeing Greinke donning a Royals uniform for the first time since 2010. Both of these teams will be trying to excel in the AL Center this year and this will be the first chance to see what they're all about. able.
13. Orioles (John Means) visit Rays (Shane McClanahan)
The Rays will have Wander Franco on this Opening Day, the first of many, and that's exciting enough on its own. This is a fascinating division and it's impossible not to wonder if the Rays are going to surprise everyone again. As for the Orioles … there's reason to think their ascent begins now.
14. A's (Fracelis "Frankie" Montas) visit Phillies (Aaron Nola)
Will Phillies fans be okay if they don't make the playoffs this year? They are now the team with the second-longest playoff drought in all of baseball, a club that has made a lot of money in that time. They're probably close to breaking that losing streak, right? They have a chance to start strong against a team that seems to lose an important piece every day.
15. Padres (Yu Darvish) visit D-backs (Madison Bumgarner)
This matchup could be a little higher if Fernando Tatis Jr. wasn't injured, but there's still plenty to see here, from Yu Darvish trying to get back on his feet (something the Padres desperately need) to Bumgarner looking to keep up the pace. in the second half of last season (which would make the D-backs trade him in July).