4 Big Records That Roman Reigns Made At WWE WrestleMania 38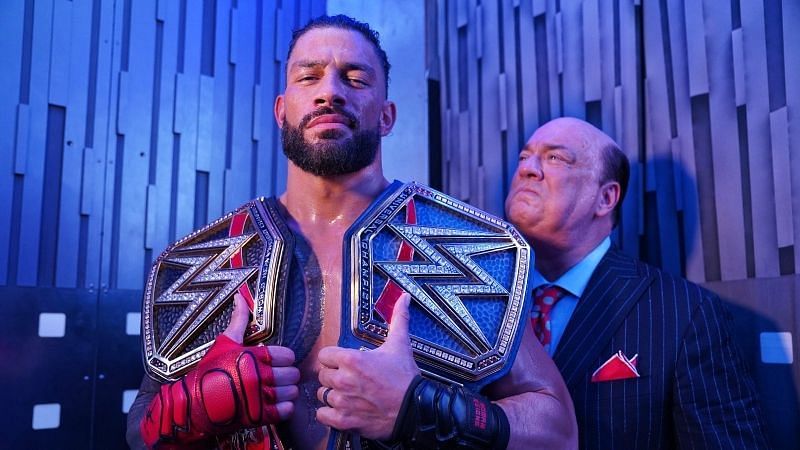 Roman Reigns has been the face superstar of WWE for the past several years and his heel character has been on the lips of pro wrestling fans for the past year and a half. He fought his most recent match at WrestleMania 38, in which he defeated WWE Champion Brock Lesnar to become the Unified Champion.
Since taking on the role of Tribal Chief, Reigns has been regularly setting big records and achievements to his name and has also set many records at WrestleMania 38. So let's know about those 4 big records, which Roman Reigns has made in his name at WrestleMania 38.
#) defeated Brock Lesnar at WWE WrestleMania
Roman Reigns and Brock Lesnar have clashed many times in WWE and it may surprise you that Reigns and Lesnar's matches have headlined WrestleMania many times. His match was also headlined on the second day of WrestleMania 38, which saw a lot of action from start to finish.
In the past, Reigns has won over Lesnar several times, but till date he has not defeated The Beast in a match at WrestleMania. They had fierce matches at WrestleMania 31 and WrestleMania 34, both of which the Tribal Chief lost. But this year, the former member of The Shield not only defeated Lesnar for the first time at WrestleMania but also became the Unified Champion of WWE by setting a big record.
#) Ranked third in terms of having the most WrestleMania main events
Roman Reigns has just completed almost a decade working on the WWE main roster, but it may surprise you that he has headlined WrestleMania 6 times during this period. From 2015 to 2018, he headlined 4 consecutive mania shows, while he retained his Universal Title in the main event of 2021.
This year he headlined WrestleMania for the sixth time. With this, Rance has reached the third place in terms of headlining Mania the most times. In this case, only Triple H and Hulk Hogan are ahead of them, who have main evented WrestleMania 7 and 8 times respectively.
#) First Superstar to retain the Universal Title at WrestleMania for the second year in a row
Roman Reigns became the new WWE Universal Champion at the Payback 2020 premium live event and still holds the title. During this time he has successfully defended his championship belt several times. Remind you that last year at WrestleMania, he defeated Edge and Daniel Bryan to retain his Universal Title.
At the same time, at WrestleMania 38, he once again defended his title by defeating WWE Champion Brock Lesnar in a Winner Takes All Title Unification match. With this, he has become the first superstar to retain the Universal Championship at WrestleMania for two consecutive years.
#) Became double champion for the first time
Many other big superstars in WWE history including Randy Orton, Becky Lynch and Daniel Bryan have achieved the distinction of becoming double champions by winning 2 titles at the same time. Now the name of Roman Reigns has also been added to this list, who has done this feat in WrestleMania 38.
Not only did he retain his Universal Title by defeating WWE Champion Brock Lesnar in the main event of the second day of WrestleMania 38, but he became the Unified Champion by winning Lesnar's championship belt. Let us remind you that before this, Brock Lesnar and Goldberg have also been a part of Universal Championship matches at WrestleMania twice, but could not win both the consecutive times.
---