WWE 2K22 analysis, from the Performance Center to heaven
Wrestling is one of the most important entertainment sports in the world, having its greatest exponent in wrestling. WWEthe well-known company wrestling which has the two most important shows in the sector, Raw and SmackDown (in addition to NXT and NXT UK on a small scale), as well as well-known events such as Wrestlemania.
Great icons and stars of pop culture have emerged from this sport (the latest example being John Cena) and it is also notably present in the world of video games with all kinds of deliveries having a core saga, WWE 2Kwhich had been fallow for a while to adapt to the new times and correct the errors of WWE 2K20.
Today finally arrives WWE 2K22a game full of content and full of guides to fans of this sport who will be able to enjoy hundreds of hours with their favorite stars thanks to a title that is the first step on a new path that this license must travel to return to be big.
A fast combat and with a more arcade touch
Let's start by talking about combat which, after all, is what we are going to do the most in a wrestling game like this. As soon as we took the controller for the first time on PS5 and got into the virtual ring, we already realized that this time bet on a faster pace that allows us to have shorter fights, charging faster recoveries, finishing touches and other special movements to make our rival bite the dust.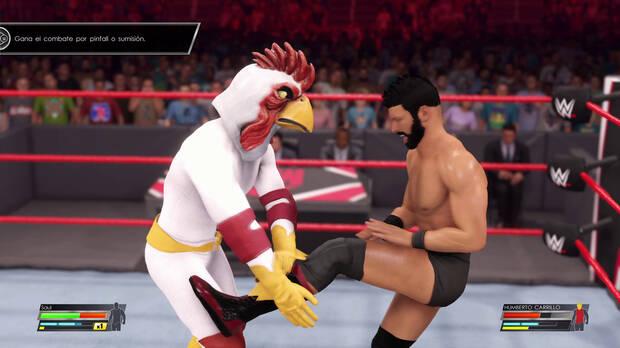 One of the main novelties at the playable level is found in the improvement of defensive movements being able to block blows if we keep the triangle button pressed in the case of the DualSense, the same button that we will also use to carry out counterattacks if we press it at a specific moment. Also, as far as defense now we can also interrupt a combination of blows of the opponent if we guess what his next move is going to be and press the button he will use to do it, thus stopping the combination and making a counterattack.
In general lines we are much happier with the combat mechanics than in previous installments, also simplifying some movements such as submission defenses or interactions with objects, allowing us to carry out more spectacular combats in a simpler way and enjoying the formula of WWE 2K22 inside the ring. An you have to polish some things like making an interface more attractive during the fight, tweak the camera a bit and improve the targeting system that continues to fail as in the past but, of course, this new fast and more arcade feel suits the game very well. WWE 2K22.
Game modes and content to enjoy many hours of WWE
Outside the ring we find a title that, as usual in the saga, has a lot of content to offer usstarting with the 2K Showcase that returns this time so we can review Rey Mysterio's career, one of the most important figures in the history of this entertainment sport. Thanks to this mode we can play some of the most important fights of this spectacular fighter, fulfilling all kinds of objectives during the fights to relive with our own hands what we saw one day and left us open-mouthed in front of the television, with combats that we believe are very well chosen for the occasion and that they offer us a good variety.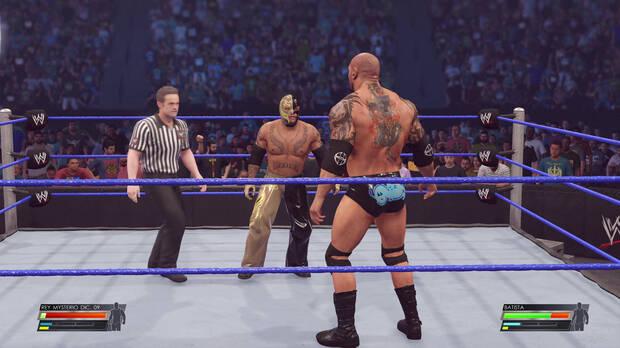 Another one of the returning modes is MyRise thanks to which we can create our own fighter or fighter and start a journey that begins in the Performance Center of the WWE in which we take our first steps in the world of wrestling to then go signing up for the different brands in our search to become a legend in the ring. This time this mode it does not have a predefined story as such but we can carry out different missions that lead us along different plot lines. There are many and let's go to be able to play in this mode for dozens of hours without exhausting them all (in addition to the fact that there are some exclusive plot lines for male and female fighters which makes it quite replayable) although, on the "bad" side we find a HUB that is outdated and sometimes the conduction between history and history can be somewhat monotonous or repetitive.
In addition to these two classical modes we also have the typical online modes (which work quite well if we can play with someone from Europe) as well as the possibility of tinkering, retouching and creating everything we want thanks to a very complete editor in which we can create new stars, competitions and much more, giving free rein to our imagination and creating a WWE universe just the way we want.
MyGM and MyFaction, two interesting novelties for the future
If we look at new game modes we find MyGMwhich we talked about long and hard a long time ago in some impressions that you can read here and MyFaction. Beginning with MyGM It is a game mode in which we have to become a manager of one of the WWE brands, select our roster of players and compete with the rival brand to get to Wrestlemania with the best possible audience. Along the way we must manage the fights, the rivalries and even the material that we use in events to make them profitable and grow both in popularity and economically, being a way that makes us enjoy for a few hours even if sin of being too simple and its formula can be exhausted quicklyalthough it is also a perfect base to expand and improve it in future deliveries in which it could grow to give us many possibilities.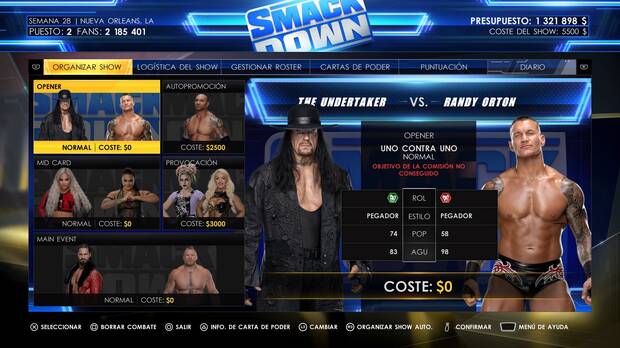 As soon as MyFaction we are before a game mode similar to the MyTeam of the NBA 2K or to FUT of the saga FIFAbeing able to collect, manage or improve different cards to create our own faction of superstars to rival The Sield, Evolution or nWobeing able to play different combats and weekly challenges to improve our faction with new points, tokens and cards, with a business model similar to that of MyTeam from 2K games, we already know that, controversy aside, it is quite sustainable, without the need to spend money to form a good team (or faction in this case) thanks to all the activities that are presented to us and even to the usual dress codes that they publish on social networks and that allow us to access more envelopes.
WWE 2K needs a technical leap
Turning to the technical level, it is clear that WWE 2K you need to take a leap in this direction since the engine change, at least for now, is barely noticeable on a visual level except for small details in the lighting or the suits, with graphics that are still stuck in the last generation. It is noted that after all the problems of the previous installment the development team has gone with lead feet and has not wanted to risk with WWE 2K22 which, luckily, It has far fewer bugs than its predecessor.although we have found some classic bugs in the saga such as some strange behavior of the ring ropes or some very strange bounces of the metal ladder that helps us to access the ring… and that we also like to use very much to give a little "wax" to our rivals.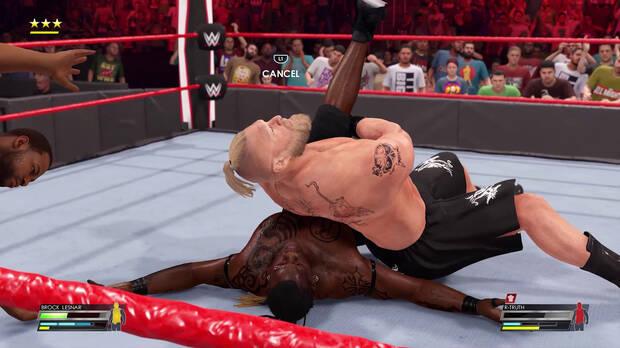 The performance of the game, removing some of these bugs that, as we say, are much less serious and common than in WWE 2K20, it is very stable offering 60 fps at all times on our console even in combat with many fighters, although I know that we must criticize the long waiting times of the game on PS5, with loading times that can last even 30 seconds on the Sony console and that are too long now that with the current generation we have become accustomed to practically saying goodbye to them.
Conclusions
WWE 2K22 it's a very entertaining game that offers us a lot of content to all wrestling fans, being able to relive classic fights, carve our own path within the "company", manage our favorite brand or create a WWE universe tailored to us with a complete editor to later enjoy some fights with a special touch. more arcade and fast that suits the formula quite well.
That yes, it shows that the development team has gone with lead feet in this installment and that they have not risked anything on a technical levelwith a visual aspect that does not stand out compared to other years and load times that are too long, as well as some menus or somewhat outdated systems.
It is evident that WWE 2K22 It is a title that lays the foundations for a reboot for the sagaof a new life for the games of the most important brand of wrestling that, retouching certain details and polishing some things in future deliveries can reach the highest levels within its particular genre.
We have carried out this analysis thanks to a code for PS5 offered by 2K Spain.