Greater tensions due to war in Ukraine 'bring down' the stock markets – El Financiero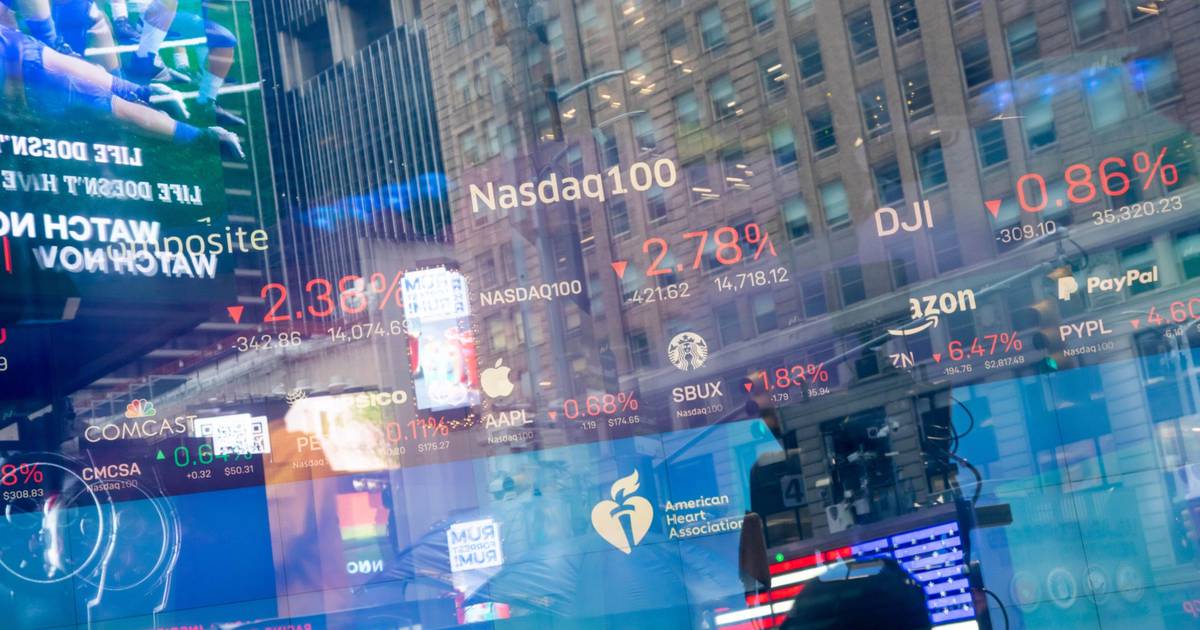 Stock markets reported heavy losses globally on Monday, amid concerns about the impact that the war between Ukraine and Russia could have on economic activity, as the conflict drags on and tensions grow, which has led to the price of crude oil to 130 dollars.
Investors are also on the lookout for economic sanctions on Russia, in particular around crude oil supplies, which have sent prices soaring.
the dow jones It fell 2.37 percent, which represented its biggest drop since November 26, 2021, and stood at 32,946.44 units.
---
On the other hand, the S&P 500 ceded 2.95 percent, to 4,201.09 points, in what was its worst loss since October 28, 2020, while the Nasdaq it fell 3.62 percent, its worst negative variation since last February 3, and stood at 12,830.96 units.
"US stock markets fell sharply on Monday as rising oil prices fuel inflation concerns and the global economic impact of the escalating Russia-Ukraine situation continues. We believe that stocks are already trading on a considerable degree of policy tightening, but it is likely that Markets remain volatile. analysts from the consulting firm Edward Jones mentioned.
"US stocks fell as rising commodity prices continued to raise concerns that economic growth prospects would take a major hit as uncertainty over Ukraine persists," said Edward Moya, an analyst at Oanda.
He added that oil prices above 130 dollars would lead many European economies into a recession and that caused losses in the markets of the region.
---
In Europe, Germany's DAX fell 1.98 percent, Italy's FTSE MIB lost 1.36 percent and Spain's IBEX-35 fell 0.99 percent.
In Mexico, the Index of Prices and Quotations fell 1.96 percent, to 52 thousand 274.57 points, while the FTSE BIVA it yielded 1.93 percent to remain at 1,77.17 units.
"We expect it to remain an environment of widespread risk aversion before the conflict in Ukraine; the possible tightening of economic sanctions against Russia, and the uncertainty about the effect of the above on world economic activity; raw material prices; inflation and monetary policy (this week there will be an announcement from the ECB). After a ceasefire to evacuate civilians from Ukraine failed over the weekend, there is little chance of a deal in the third round of talks between Russian and Ukrainian officials, with President Putin saying he the war will continue until their demands are met", indicated analysts from Ve por Más.
Diego Laviada, analyst at Masari Casa de Bolsa, He pointed out that what has had the greatest weight in recent weeks in the financial markets has been the conflict in Ukraine and in this week concern has been generated about the implications of closing the trade to Russian oil. "This week what is generating some concern in the markets is the fact that the United States could ban imports of Russian oil, and that is definitely putting pressure on the price of crude oil."
Bitcoin closed this Monday with its third consecutive fall and is trading at a price of 37,736.07 dollars per cryptocurrency, that is, 4.21 percent less than on Friday.
risks increase
The country risk of Mexico reached a level of 260 points, which meant an increase of 4.84 percent and its highest score since October 7, 2020.
On the other hand, the CDS (Credit Default Swap, for its acronym in English) for five years, referring to Mexico's sovereign debt, is reported at a level of 120.24 points, its highest score since November 26, 2021 and with an increase of 4.84 percent compared to Friday.
The sharpening in the perception of risk with respect to Mexico has occurred within a negative external context, caused by fears of Russia's invasion of Ukraine.
weight loss
Given this situation, the Mexican currency depreciated 2.02 percent yesterday, with which the exchange rate closed at 21.3182 units, its biggest loss since September 23, 2020 and its worst level against the US currency since December 3. from last year.
In the global financial markets, an episode of risk aversion was once again observed, due to the uncertainty regarding the economic impact of the war, since the disruptions in the supply of some raw materials and the increases in prices can affect industrial production at the global level. and the consumption of goods and services", said Gabriela Siller, director of analysis at Banco Base.
oil skyrockets
The possibility of restrictions on Russian crude exports triggered hydrocarbon prices yesterday. WTI advanced 3.6 percent to $119.84 a barrel, the highest since September 2008, but touched a high of $130.50 a barrel overnight, a level not seen since July 22, 2008.
Brent rose 4.66 percent to a price of $123.61 a barrel, its highest price since April 2012, but reached a level of $139 a barrel on the day. For its part, the Mexican mixture closed at 115.66 dollars per barrel, with an advance of 5.33 percent.
Siller indicated that the market is awaiting the restrictions that the Biden administration may impose on oil imports from Russia, which could cause additional upward pressure on energy prices.
The price of gold at times exceeded 2,000 dollars yesterday, but closed at 1,974.8 dollars an ounce, with an advance of 1.36 percent.