Roblox
Roblox: How one student became a virtual fashion celebrity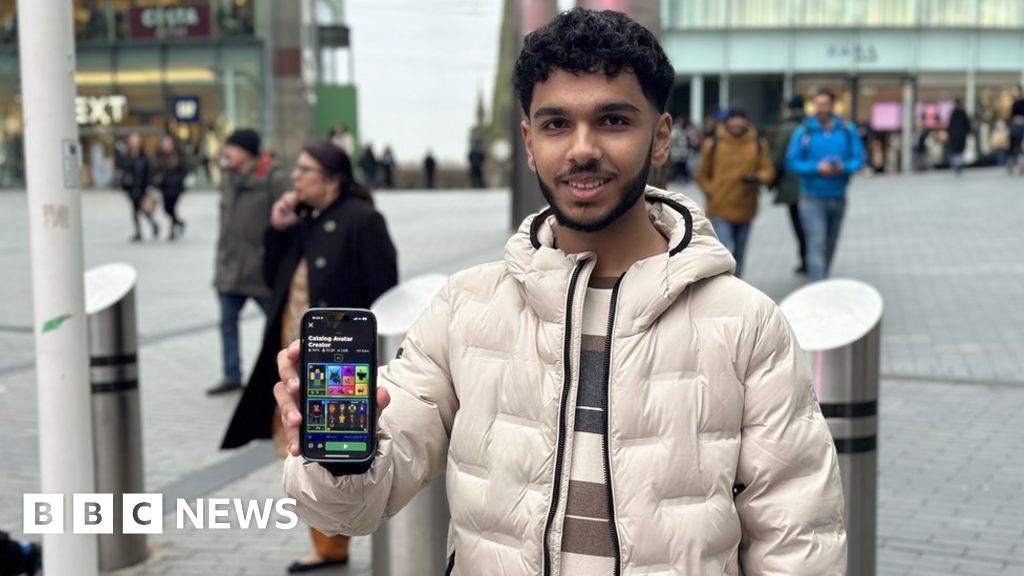 Andrew Rogers
BBC Newsbeat
Head to the main street in your town and maybe search a few stores for a new outfit.
In the popular online game Roblox, you can do the same for your avatar by going to the in-game Avatar Catalog store.
It has been visited over 1.6 billion times, making it one of the most popular online stores on Roblox.
But it was not created by a major global technology company, but rather by 19-year-old Birmingham student Muneeb.
"A lot of people don't expect it because they don't think a young university student can be a popular games developer at the same time," Muneeb told BBC Newsbeat.
Starting as something he created in 2021 for fun, his app (known as an "experience" in Roblox) quickly grew into a one-stop shop.
Essentially, it acts as a large digital virtual fashion department store where items can be purchased for real money.
Dressing up as your avatar is an important part of the Roblox platform, and some of the biggest brands in the world have taken advantage of the potentially lucrative partnerships it can spawn.
Although Roblox is free to play, in-game purchases such as clothing and accessories are a source of income for its creators, and the daily player count is estimated at over 70 million, which is likely high.
Given the young audience that Roblox attracts, this is also a source of criticism, especially when stories of children spending huge amounts of money online make headlines.
Roblox says it is introducing additional security and age verification measures to prevent this from happening, while continuing to promote online shopping.
Charging for in-game items could benefit creators like Muneeb, who could get a cut if their apps are successful.
Better than Gucci
And his app was definitely a success.
At this month's Roblox Innovation Awards, Muneeb's experience won in the fashion category, beating competition from major global brands including Gucci and Karlie Kloss in what he calls "surreal."
"I didn't expect to win this award myself, but I'm so glad that people in the community really liked my creation," he says.
"You can go around and try on different items from different stores, and mix and match any of those items to create the look of your dreams."
Muneeb says his success came as a surprise because his creation started as a "side project just for fun."
"But after I had a few hundred players, I started adding new updates," he says.
"From then on, it just grew next to the platform."
The University of Birmingham computing student believes his virtual wardrobe has now expanded to include more than 10 million outfits.
Virtual fashion, real money
Paying for virtual fashion may seem strange, but Roblox internal communications director James Kay says some "don't realize the value people place on their online identities."
For some players, he compares dressing up a character or avatar to "opening up your wardrobe in the real world and choosing what you're going to wear."
James says creators like Muneeb have received more than $2 billion since 2018.
But in the past, some have complained about being paid with the in-game currency Robux rather than cash, arguing that it encourages people to keep money on the platform.
Like many other major online social platforms, Roblox depends on creators to create apps, games, and experiences that people want to use.
"Our philosophy is to allow our community to be creators," James says.
"I think they're doing a much better job than we ever did because they'll be thinking about things we didn't even think about."
He adds: "I think it's amazing that a university student from Birmingham single-handedly can build something that has been visited by 1.6 billion people, and we're very proud that we have a community that can do that."
Major brands are now approaching Muneeb for collaborations, giving him hope that after his studies he can turn his online fashion experience into a full-time career.
"This is a completely new opportunity that I'm very excited about," says Muneeb.
What dream brand would you like to work with?
"Probably Nike, because I'm a big fan. That would be amazing," he says.
Listen to Newsbeat live at 12.45 and 17.45 on weekdays – or listen back Here.