News
Emirates Premium Economy celebrates first year of service with over 160,000 customers – Prisma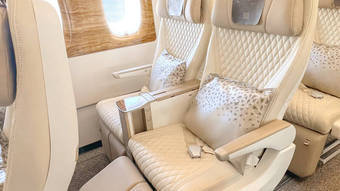 After setting new industry benchmarks with its premium economy cabin, Emirates is celebrating an exceptional first year of operations for this highly popular full-service cabin class. More than 160,000 customers have flown in Emirates Premium Economy since the service launched in August 2022, with strong demand forecast for the coming months. The airline is providing more opportunities for passengers to avail of its acclaimed Premium Economy product, which is currently available on flights to 11 cities. This number is expected to increase to 13 cities by the end of the year, as more aircraft will be fitted with the refurbished cabins and used on scheduled flights.
Customer response to Premium Economy has been overwhelmingly positive, with demand exceeding expectations and bookings increasing month on month from a wide range of travelers who wish to enjoy the understated luxury of this cabin and a great value Want to live an enhanced experience. About half of customers flying Emirates Premium Economy are solo holiday travelers, with the other half being couples and families. Over 60% of premium economy customers last year were Emirates Skywards loyal members and also regular customers of the airline.


Emirates A380 aircraft currently offer the latest premium economy cabins to London Heathrow, Sydney, Melbourne, Auckland, Christchurch, Singapore, Los Angeles, New York JFK, Houston, San Francisco and Dubai, with flights regularly recording full premium occupancy economy Are. The airline plans to make premium economy available to customers flying from Mumbai and Bengaluru from October 29, with additional cities to be announced soon. Emirates currently operates 20 premium economy-equipped aircraft, 14 of which have been retrofitted in-house by the Emirates engineering team in Dubai over the past nine months.
Since August 2022, the airline has operated around 4,500 flights with premium economy covering a total of over 36 million kms worldwide. On these flights, more than 192,000 meals were served from its carefully prepared menu, which featured the best of regional cuisine and the best ingredients in generous portions. Unique touches include delicious desserts decorated with edible gold leaf. The Premium Economy menu is updated monthly to ensure a variety of tastes and dishes, especially for customers who travel frequently. Over 126,000 chocolates were served to give premium economy customers a full meal. Emirates also served 6,700 kg of walnuts and nut mixes and 8,650 liters of fresh lemon and mint juice free of charge in premium economy. The strong selection of beverages in Premium Economy includes a global special for Emirates customers: Australian sparkling wine Chandan Vintage Brut 2016, as well as a white wine and a red wine exclusive choice.
The airline's philosophy of constantly innovating and redefining service excellence with the introduction of Premium Economy has won multiple cabin category awards at the 2023 Skytrax Awards, Business Traveller, Airline Ratings Excellence Awards and 2022 Business Traveler Middle East.
In May, Emirates launched a global campaign with Academy Award-winning actress and philanthropist Penelope Cruz, showcasing the premium economy cabin and its spacious seats. The airline also promoted premium economy through guided tours to influencers and media and government representatives from airports and travel agencies in cities such as Sydney, Melbourne, Auckland, Christchurch, Singapore, New York JFK and San Francisco, as well as commercial partners. promoted.
Premium economy is a key component of the airline's multibillion-dollar aircraft modernization program, which will include refurbishing the interiors of 67 cabins on Emirates A380 aircraft and 53 cabins on Boeing 777 aircraft. 4,000 premium economy seats, over 700 first class suites with modernized interiors and 5,000 business class seats.
Tickets in premium economy can be booked on the website, in the Emirates app or through physical or online travel agencies.

about emirates
From its global hub in Dubai, Emirates serves customers on six continents, providing high-quality air transport services that facilitate tourism and commerce. The airline has earned customer recognition for its industry-leading services on the ground and in the sky by an enthusiastic staff representing more than 160 nationalities. Emirates operates the world's largest fleet of wide-body Boeing 777 and Airbus A380 aircraft, offering spacious cabins and prestigious inflight amenities such as the A380 Shower Spa and Onboard Lounge, and its 14-award-winning inflight entertainment system ICE. "Best in the Sky", available on every seat in its fleet. Emirates is committed to environmentally responsible operations and focuses on three areas: reducing emissions, responsible consumption and protecting wildlife and habitats.
(tags to translate) Emirates