Health
Malnutrition is another threat to the future of Syrian children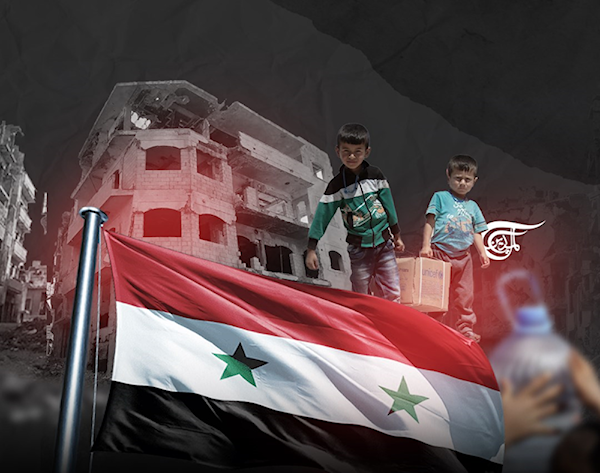 In her exclusive article for Al Mayadeen English, the author reported UNICEF's confirmation of an increase in acute malnutrition among Syrian children. The number of minors in this condition between the ages of 6 and 59 months increased by 48 percent from 2021 to 2022.
According to the United Nations, 600,000 children are stunted and will soon suffer from impaired immune systems.
The severe nutritional deficiencies that many Syrian families are currently suffering from as a result of the country's economic blockade is no longer a secret. Consequently, the siege resulted in the depreciation of the Syrian pound exchange rate and rising food prices in an environment of low wages, as well as displacement conditions and loss of resources.
Syrians, who were self-sufficient in the pre-war years and exported their surplus crops and industry, are now waiting for subsidies and food packages from various international organizations, including the International Committee of the Red Cross, which confirmed in a tweet that more than 9 million Syrians do not know where their next meal will come from.
Syrian children suffer the most from these conditions, with over 48 per cent suffering from malnutrition.
According to the United Nations, 600,000 children are stunted and will soon suffer from compromised immune systems and are 11 times more likely to die than well-nourished children.
My son can't tell a banana from a carrot
Nour works as a hired helper in Damascus after her husband passed away, leaving him with two children, one of whom is four years old and the other is still a baby.
A young woman in her twenties stood in front of the entrance to the building, counting the money she had received for cleaning the house. He carefully pocketed 15,000 Syrian pounds, equivalent to two dollars, and said: Al Mayadeen Spanish: "My family forced me to marry at a young age due to difficult economic conditions, but poverty continues to haunt me and my two children to this day."
Noor didn't know what to buy as her list of needs was long and they were all "priorities, not luxuries". He says: "I suffer from severe anemia due to malnutrition. The state hospital diagnosed me for free, but it is difficult for me to buy medicines, since the price of an iron preparation is equivalent to two weeks of work."
Can you believe that I haven't eaten meat for a year and a half and that my four-year-old son can't tell a banana from a carrot?"
Recently, a mother has lived in a state of great anxiety after doctors diagnosed her young son as severely malnourished, as evidenced by his weight of only 8 kg. The MUAC tape had 10 written in red, signifying that he had reached the dangerous stage of severe acute malnutrition (SAM).
She explained, "I couldn't eat well during my pregnancy so I couldn't breastfeed enough or afford expensive formula, no, so I used starch made with sugar or tea and ground rice. We try to make do with the food aid we get and the supplements we get from the medical center, hoping that one day things will get better."
Due to malnutrition… the rate of stunting among Syrian children is the highest in the world
The results of a survey conducted by the Syrian Ministry of Health concluded that the rate of stunting among children has reached 12.6 percent, which is almost the highest in the world, according to Dr. Sahara Idlibi, secretary of the Syrian Pediatric Society. Mayadin Spanish: "The most important cause is malnutrition in early childhood. The child's diet does not contain all the necessary nutrients, or his diet is limited to a certain type of nutrients, resulting in a lack of energy and immunity.
"The role of the glands is only five percent of the causes, except for genetic ones. Despite their direct influence, they do not affect the extent to which a child's height is below average, by a wide margin."
An endocrinology, growth and diabetes consultant at the Damascus Children's Hospital said the effects of war and natural disasters have resulted in extreme poverty and loss of essential nutrients. Consequently, children who do not have access to food are severely malnourished and require great effort to treat.
And he concluded: "Despite the benevolent policies of international organizations to provide public health centers with essential nutrients such as vitamin powder and peanut butter, especially for infants, we need great effort and solidarity from all participants, because we are facing critical cases requiring record time for treatment."
Worsening warnings at the end of 2023
Last March, UNICEF warned that 12 years of war and recent deadly earthquakes have put millions of children in Syria at greater risk of malnutrition.
They estimate that more than 609,900 children under the age of five in Syria suffer from stunting caused by chronic malnutrition, which causes irreversible physical and mental damage to children, affecting their ability to learn and productivity in adulthood.
The organization confirmed that acute malnutrition among Syrian children is on the rise, as the number of malnourished children aged 6 to 59 months increased by 48 percent from 2021 to 2022.
UNICEF has calculated that high prices and insufficient income in Syria are leaving millions of families struggling to meet their expenses amid an unprecedented economic crisis, with 90% of the Syrian population living below the poverty line, negatively affecting the nutrition of their children.
The organization said in a statement that more than 3.75 million children across the country were in need of food assistance before the earthquakes, and the situation is expected to worsen by the end of 2023, with access to basic health and nutrition services becoming more difficult.