Technology
Lightsabers and "ketchup effect": some clues from the world's largest futures festival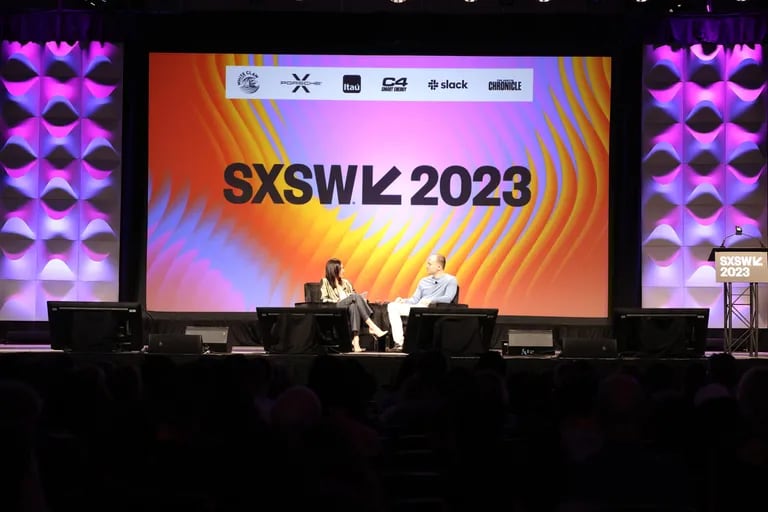 It could be called "mayonnaise effect" or "mustard", but for some reason, in English it was baptized "Heinz effect", for the well-known ketchup brand in the United States. It refers to what usually happens when there is little sauce left in a pot: you hit the container from behind, thinking that perhaps there is nothing left, and, suddenly, a lot comes out. More than previously thought and can cause a crash.
John Maeda, a designer and technology expert at the Massachusetts Institute of Technology (MIT), used this analogy to describe what is happening in 2023 with artificial intelligence (AI): everything seems to be happening slowly until , suddenly, rushes in large quantities. Maeda resorted to this metaphor during his presentation at the festival of Austin SXSW 2023, which ended last week with close to 300,000 visitors from all over the world who came to see the latest in film, music and cultural and technological trends.
The event had been suspended in 2020 due to the pandemic, it was virtual in 2021 and, with the return to face-to-face, it lived its own "ketchup effect" on call, with hundreds of talks happening at various hotels and convention centers, celebrities to be found in the coffee queue, and two big news as a backdrop: OpenAI's announcement of the release of its GPT4 natural language system (the current ChatGPT uses version 3) and the bankruptcy of Silicon Valley Bank (SVB), which hit the markets hard and, in particular, the technology sector.
"If last year the star agenda was that of Web3, this year definitely 80% of the conversation and of the panels focused on what is happening with artificial intelligence", summarizes the trend specialist Ximena Díaz Alarcón, from Youniversal, who for several years has attended a "Casa Argentina" with a small local delegation that settles for a few days in Austin. The question where everything collides, says Díaz Alarcón, has to do with the contribution and human identity in a context where there is more and more talk about other types of beings, intelligences and consciences, from AI to life in space and plants. (There were music sessions co-created with vegetables, for example).
"It's not that Web3 and the metaverse weren't talked about, but the feeling is that it was an old topic, which continues to convene panels due to a kind of inertia and investments that were made a few months ago, and now it is necessary to deploy commitment", adds the creative Nicolás Pimentel, from the Becoming agency, who also participated in the "Casa Argentina". Pimentel liked a talk by futurologist Amy Webb, director of the Future Today Institute, who argued from the main stage at SXSW: "We won't lose our jobs, we will lose our job description. The future that AI brings seems dystopian, but we are going there headlong.
There was much discussion about the social and educational impact, Argentinian visitors Ramiro Fernández (Youniversal) and Sebastián Edreira (Pro-Woman) coincide. "It is not that artificial intelligence is going to replace us, but that it has never been so essential to learn to ask the right questions and, for this reason, educational institutions have to integrate into this phenomenon as soon as possible, so as not to widen the gap to future," says Fernández.
Tim Ferris, one of the star disseminators of the "what's new" agenda, made one of the best presentations, says Diego Luque, from Picnic, who is also a regular at the festival. Ferris remarked that the owners of the audiences are the platforms and not the content creators, so everyone should somehow return to the blog and send emails. As a brand strategist, Luque stuck with the concept that It is not necessary (for a brand) to get on every trend that triggers on social networks, because that brings an ephemeral and short-term gain. "Instead of tactical moves and quick wins, brands should focus on reliable, durable construction—they don't need to run after everything," says Luque.
What other topics had spaces for discussion at SXSW 2023? The attraction for psychedelics continues to grow, there was a lot of biotechnology (Colossal, with its promise of cloning simil-mammoths, dodos and manatees filled the room) and immersive technologies increasingly sophisticated, for commerce or for gaming (which included Argentine projects, such as the Eggscape game). The star of the coverages was the unveiling of a lightsaber, like the ones used in Star Wars.
The immersive sensory experiences they allow us to feel, see, hear and smell as if we were in another living being. Forager, for example, invites us to go through the life cycle of a fungus: "We think we are the dominant species, but the largest organism on the planet is the honey fungus in Oregon, a species more prevalent than humans and has survived to five mass extinctions", they remarked from the company.
"Everything happens so fast: It is a unique moment in the history of humanity, where for the first time someone alive, someone who was born in the 60s or 70s can have one foot in one world and the other in a completely different world from a cultural, moral, the technological or the geopolitical," says Sebastián Yumatle, founder of the Super agency and member of the Argentine delegation that traveled to Austin. "This used to take generations, hundreds or thousands of years. Now we can see it in a lifetime, "he adds.
The amount of talks and content displayed at the event is so large that it is inevitable that anxiety will be generated among the attendees by the famous "FOMO": fear of missing out on something important "At night we would discuss what had caught our attention the most and we all had the feeling that the other had gone to a better talk," says Pimentel.
For the creative, this game of "different futures" In the short, medium and long term, it poses a difficult trap to solve. "What works for a person or a company at a strategic level is a medium-term future, three to five years, that allows decisions to be made now and anticipate. But what abounds in these discussions are very long-term scenarios (symbiotization between humans and other species or the metaverse, to name a few) and short-term things that are already happening and that have exploded in our hands, such as artificial intelligence. , says Pimentel.
The feeling is that we arrived late, that at most we can be "catch-up innovators" and see the mess caused by the "ketchup effect".
Get to know The Trust Project