eSports
Zaragoza finalizes its details for the Super League final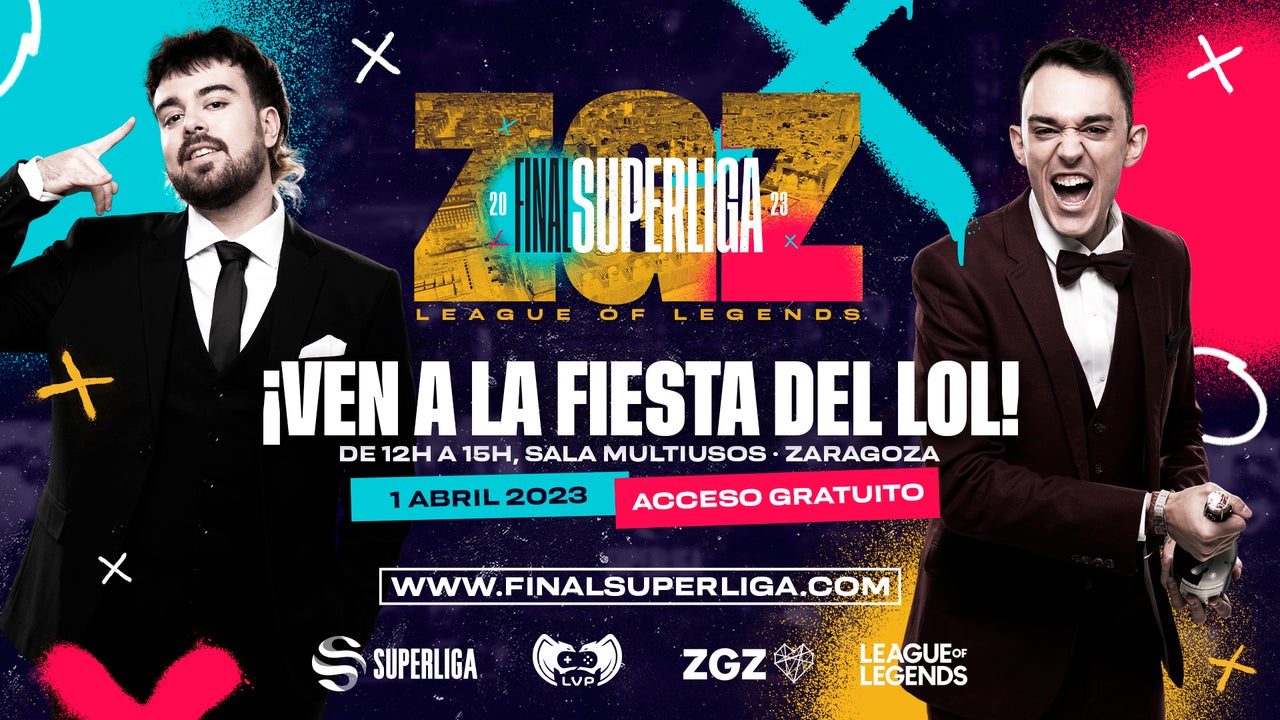 eSports
The Multipurpose Room of the Zaragoza Auditorium will host the final, while in the square you can enjoy the fan zone during the preview

The super leaguethe highest national League of Legends competition organized by LVP (MEDIAPRO GROUPS)you will know the next April 1st its new champion in the final of the competition that will be held in Saragossa in front of 2,000 people. As a great novelty, LVP promotes in this edition a large fan zone open to all audiences which will feature activations by LVP, Riot, teams and brands to turn the day into the League of Legends party in Spain.
In this way, the program of events for the grand final on April 1 will begin at 12:00 in the Multipurpose Room of the Zaragoza Auditorium with the opening of the doors of the new fan zone space, which will have 15 stands. In this space, LVP, Riot, the finalist teams and brands such as Imagin, Cacacolat, Mahou and Intel-OMEN-El Corte Inglés, among others, will carry out activities for all visitors: the final of the Imagin Challenges with Manute, the Forge Domino's to check who is the strongest, Mahou ball pool, food trucks, the Cierzo Esports Academy of Juventud Zaragoza with a virtual reality experience…
Access to the fan zone will be free, that is, it will not be necessary to have a ticket for the final. The fan zone will remain open for three hours, until 3:00 p.m., when it will close to prepare the venue for the grand finale. The doors of the Multipurpose Room will open again at 4:15 p.m. to welcome the almost 2,000 fans who sold out just over 24 hours after going on sale. Already on the big stage, attendees will be able to enjoy the preview of the competition before the first map is played at 6:00 p.m.
The big League of Legends party is here!

In @ZaragozaTourism We are waiting for you in the fan zone with free access for everyone 🥳#SuperligaLoL | More information at https://t.co/kRfUccKHyV pic.twitter.com/sSBVBQfDry

— Super League – League of Legends (@LVPesLoL) March 23, 2023
"We want the Super League final in Zaragoza not only to highlight the best team of the season, but also for all the fans, both those who were able to get tickets and those who were not, to experience a very special day. For this reason, in collaboration with the Zaragoza City Council, we are going to organize a great fan zone before the final with a multitude of activations to turn the Zaragoza final into the great League of Legends party", he assures Jordi Soler, LVP CEO.
The final will be played by Los Heretics, who defeated the regular season champion -Rebels Gaming- last Thursday, qualifying directly for Zaragoza. The second finalist will be announced this week: Movistar Riders will face Rebels Gaming (Thursday, 6:00 p.m.), where the last ticket for the final of the competition will come from.