Reviews
MSI MEG Ai1300P PCIE5 Review
Maker: M: YES

Model: MEG Ai1300P PCIE5

Power: 1,300W

Efficiency: 80PLUS Platinum

Format: ATX

Special features: ATX 3.0 / PCIe 5.0
The MSI MEG Ai1300P PCIE5 is the most powerful ATX 3.0 PSU from the manufacturer. It has been awarded at CES 2023, it stands out for its compact size (160 x 150 x 86 mm) and its Gaming Intelligence technology, which allows adjustments and monitoring of its operation. The extended warranty is 10 years.
MSI has added a sticker to the top right corner of the top face noting support for peak power consumption up to 2-3 times the GPU connectors and total power specifications, ie: supports 2,600 total loads W and 1,800 W on the 12VHPWR connector for 100 microseconds.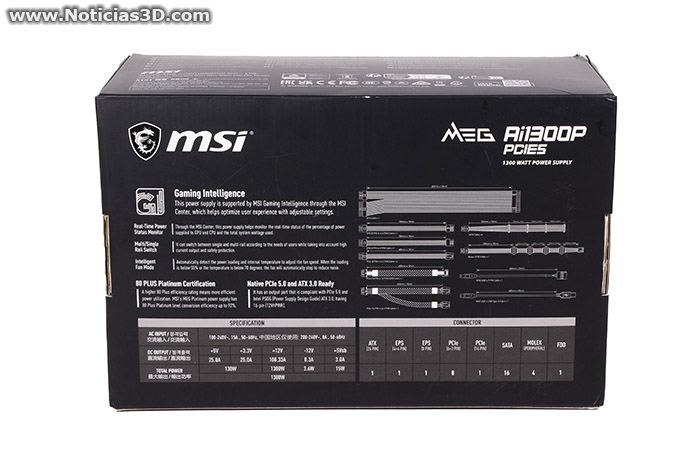 The fan is 12 cm, on the side where it is located, its MEG family is engraved in gold tone, next to the edge of the outer face there is a perforated plate with triangles glued, aligned with the magnetic trims on the sides. Adjacent to this band is the factory seal on the casing screw.
The golden magnetic plates show the name of the manufacturer and the MEG family, we can exchange or remove them if we prefer a sober design in black. Alongside these golden rectangular plates is a trapezoidal one on each side in pitch black with the MSI logo.
Connectors are conveniently marked on each rail. As we will see below, all the cables have been supplied for each connector, including an extra 12VHPWR one. The PCIe and CPU connectors are the same, but they are indicated to perform a correct consumption measurement with Gaming Intelligence, for which it will be necessary to connect the Mini USB to a header or USB type A.
These are the types of cables included, with their lengths and thicknesses:
ATX 24-pin: 1 – 600mm – 16/18 AWG
EPS / ATX12V: 2 – 710mm – 18 AWG
PCIe 6+2 pin: 8 – 610mm – 16 AWG
12VHPWR: 1 – 610mm – 18/24 AWG
4-connector SATA: 3 – 500 + 150 + 150 + 150 mm – 18 AWG
4-connector Mlex and FDD: 1 – 500 + 150 + 150 + 150 + 150 mm – 18/20 AWG
Mini USB: 2 – 600mm – 24/28 AWG
One CPU cable is EPS, the second is 4+4 pin. 2 of the PCIe cables come from the 12VHPWR socket, this cable and the other native PCIe 5 with 16 pins are shielded. Both cables are shielded, USB cables are smooth, and the rest are 3-layer sleeved design. MSI includes combs for managing these cables, 16 for 8-sleeve cables 2 for the 24-pin ATX cable.
Official product page: MSI MEG Ai1300P PCIE5.