Guides
Full to see how Game of Thrones was filmed in Cáceres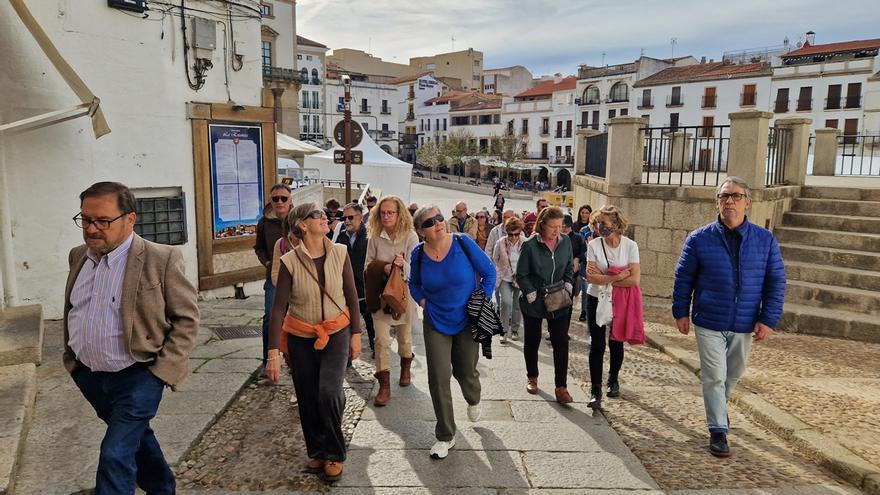 25 stages of the monumental city of Cáceres, among them the Arco de la Estrella, the squares of Santa María, San Jorge and San Mateo, Amargura street, the Adarve de Santa Ana or the Cuesta de Aldana. They were the locations used by the HBO production company to record Game of Thrones in 2016 and The House of the Dragon between October 11 and 21 of last year. Today they have been visited by those attending the Innovative Tourist Routes organized by the town hall and which occupied all the available places. There has also been a tour of Caleros street. Ana Moreno takes care of them.
Cáceres will host the Eurofiesta for Game of Thrones Fans with its best content creators
The capital of Cáceres has historically hosted major film and television productions thanks to its heritage value. The old part is a luxury setting to which in recent years the urban area has also been added. On the list: La Catedral del Mar, Inés del alma mía, Isabel or Invisibles, the film by Gracia Querejeta strolls through the magical Parque del Príncipe and through the life, disappointment and fears of three women who speak for all. She won five Goyas.
The Councilor for Tourism, Jorge Villar, has indicated that "The filming of the series 'Game of Thrones' and its prequel 'La Casa del Dragón', have meant for the city of Cáceres to be known worldwide and at the same time recognized as one of the best locations for filming due to its perfect state of conservation. In this guided tour we will learn how our monumental complex is transformed into King's Landing".
the caleros
The 'Caleros street route', has added, "It has brought us closer to this street and the trade that gives it its name. Lime makers have been one of the traditional trades in our city, it is important that we know all aspects of this essential work in the economy of our city".
The departure was at 4:30 p.m. from the Tourist Office in the Plaza Mayor. The councilor recalled that the objective "is that both visitors and the people of Cáceres can enjoy themselves, who will be able to see with different eyes some of the magnificent attractions of the city that they visit daily. In this way we create new tourist products, we give more alternatives of leisure and we support the tourist guide sector of the city".