Guides
Samsung Dex: So you can turn your Smartphone into a PC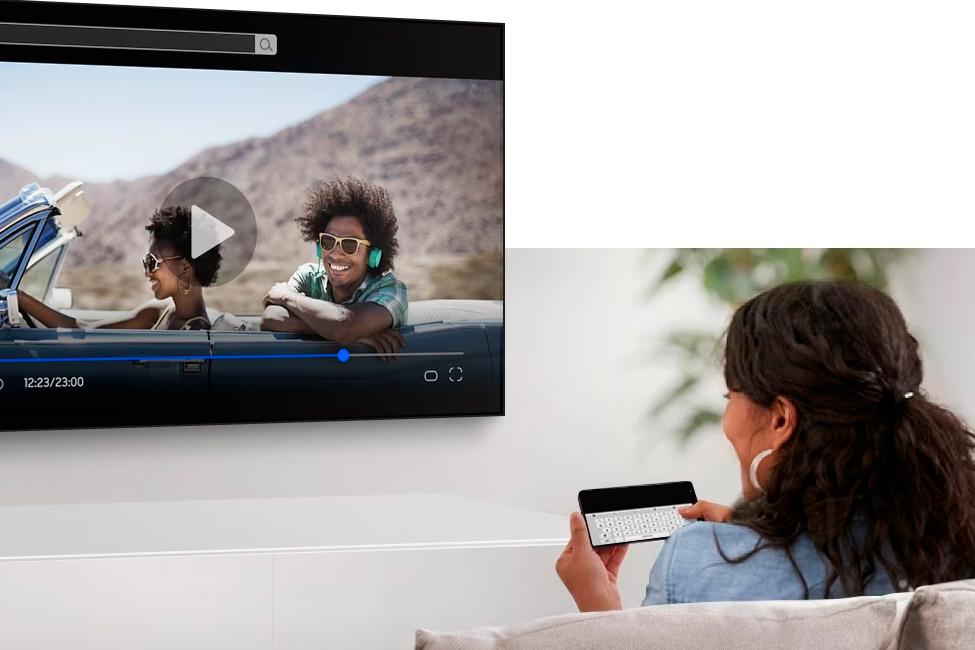 Sometimes we may need write some documentlook at spreadsheets or we feel like watch a movie on the big screen. But for this it is not necessary to take your laptop, you even need an iPad or a tablet, you can use your mobile phone. To make all this more comfortable for you and if your phone is Samsung, you can use its DeX appthat will turn your mobile phone or tablet into a computer improvised with just connect it to a monitor or Smart TV either with USB-C, HDMI cable or also wireless on the latest models.
With Samsung DeX you will get a small operating system based on Android and adapted to the big screen with which to work more comfortably. It is also very comfortable to be able play media on a larger screen, be it a TV or a computer monitor.
With Samsung DeX you will be able to play the content you have on your mobile phone on a larger screen, this includes gallery photos or videos that you have stored You can also use the playback apps of streaming video to watch the movies or series and the apps for office automation that will allow you to work more comfortably without the complications of taking documents from one place to another or storing them in the cloud.
Samsung already has this feature integrated into its mobile phones and tablets so you won't have to install anything on your phone or tablet. You should not do it either if you want to connect it to a PC monitor or a Smart TV wirelessly or with a cable, you will only need to install software when you want to connect it to your PC. Compatible Samsung devices are phones Galaxy S9 onwards and Galaxy Tab S4 and newer tablets.
Connecting your Samsung phone or tablet is very simple, whether it's to a TV or monitor, wired or wireless, let's see how in a few simple steps.
For this you only need a cablesince all the necessary software is already included in your mobile phone or tablet from Samsung. So all you have to do is connect with a cable your device to TV or monitor using the only outlet that phones and tablets (usually) have, USB-C.
The monitors or TVs have as most extended input the HDMISometimes they also have DisplayPort, especially we can find the latter in monitors. Lately the monitors also include USB Type-C DisplayPort compatible, which can be a solution to use a single cable. In the latter case, it would be enough to connect a USB type C cable on both sides directly from the phone or tablet to the monitor, if the same charging cable is of quality, you can use the same one.
If you are going to use the HDMI input, the ideal is to find a USB-C to HDMI adapter and connect it to the phone or tablet, so you will have an HDMI output available from your device with which you can use a standard HDMI cable to connect both. to make sure that connecting an HDMI cable will work Samsung Dex you will have to check that the option is enabled. For this you will have to follow these steps:
Go to the settings from your Samsung phone or tablet.
Write in the search "Samsung Dex".

Access to option.
Make sure that the option "Auto start when connecting HDMI" this activated.

Now you can connect the cable to both devicesOnce connected, the Samsung DeX operating system will appear on the screen of your monitor or TV, which is adapted to larger screens to work more comfortably.
If you like forget about the cables (or if you're at a makeshift site where there isn't one) you can also connect from wireless way to use samsung dex, this feature has been dubbed Dex Live. For this it will be necessary that both the Smart Monitor or Smart TV are connected to the same Wi-Fi network than your mobile phone and it is recommended that both devices are synchronized, in order to have all the necessary permissions.
The TV or monitor must be compatible with Miracast, it does not necessarily have to be of the same brand as our Samsung phone. For this it is recommended to have a recent Smart TV or Smart Monitorfrom 2019 onwards.
Connecting Samsung DeX wirelessly is very simple, follow these steps:
Be sure to fulfill the previous stepsTV or recent monitor, synchronized and same Wi-Fi network.
Swipe down on your Samsung phone to show quick panel.

Click on the icon "DeX".

Select the TV that should appear automatically.

Click on start now. if you ask for any permission you will have to accept it.
Samsung DeX is now available so you can work more comfortably on your big screen and all wirelessly.
You can too connect it to your PC wirelesslyfor this it will be necessary to use the samsung dex software which is installed on Windows. The result is the same, only you will see the Samsung DeX system like another app with the advantage that you can work directly with all the content on your phone. In addition, you have the advantage of have a physical keyboard and mouse.
Before you can connect wirelessly to your PC and use Samsung DeX, you must be connected on the same network with Wifi or cable, then just follow these steps:
The first thing you have to do is install the Samsung DeX app for WindowsYou can download it from their website.
Launch Samsung DeX on your PC and leave it started.

On your phone, swipe down to open quick panel.

Tap on the icon Samsung DeX.

will now appear the name of your PC and you must tap on it to connect.

You already have Samsung DeX on your PC wirelessly.

You may think, I can do this on my mobile phone, but surely using Samsung DeX you have many advantages. Mainly being able to use a larger screen, this is much more comfortable when writing documents, viewing web pages, filling out a form, etc. You can also use some apps to view larger and full screen, such as watch a series or movie in any of the available streaming applications. You can too play cloud games on a larger screen.
Another advantage is power use a small computerespecially oriented to office automation and multimediaof improvised way. It can usually be used wirelessly on newer TVs, but just carry a small adapter or the corresponding cable to connect and use a pc.
This also includes power use all the content you have on your phonesomething that is very useful if you travel and you don't want to carry a laptop And forget about saving in the cloud or poor internet connections, all the content will be locally on your phone.
In addition, Samsung DeX allows us to use the phone as a trackpad and keyboard, simply by clicking on the notification, you can even use your usual keyboard and mouse if you connect it to the PC. It also allows us to work with the phone while Samsung DeX is running on another screen, it's like having two devices.
A very simple way to have a small PC using the most common resources what can you find, your Samsung phone and a Smart TV or monitorand what can you get out of a lot of trouble or perform actions in a much more comfortable way.