eSports
Prime Gaming and Riot Games return to the fray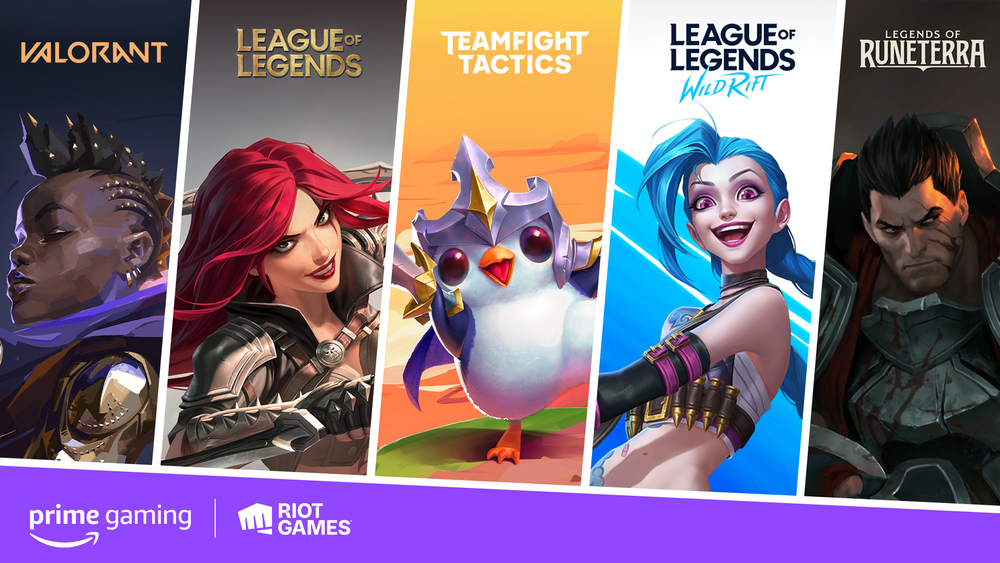 SEATTLE and LOS ANGELES, March 20, 2023 – Amazon Prime Gaming and video game developer and publisher, Riot Games, have renewed a promotion that will make Riot games even better for Amazon Prime members through exclusive content within the game for Riot's biggest titles including: League of Legends, Legends of Runeterra, VALORANT, League of Legends: Wild Rift and, new for this year, Teamfight Tactics.
Prime Gaming will also continue to serve as a global sponsor of Riot's esports titles League of Legends Esports and VALORANT Esports, as well as becoming the first global sponsor of Teamfight Tactics Esports, which will offer free content during various events throughout the year. anus. This collaboration, which will run through 2023, shows Prime Gaming's support for Riot's growing portfolio of world-class esports events, which remain the most popular in the industry and have sold-out some of the most emblematic stadiums in the world in record time.
Prime members will have the opportunity to get these offers:
League of Legends: Starting in March, the Prime Gaming Capsule will include a permanent mystery skin (guaranteed epic), a permanent champion, 350 Riot Points, four champion shards, a 30-day XP boost, a mystery ward skin, two shards of Series 1 Eternals and 200 Orange Essence.
Teamfight Tactics: Starting in April, for the first time, Prime members will be able to get content every month for a whole year (12 drops in total) for the world's leading autobattle game. Pack content includes Emotes, Icons, Little Legends, and Star Shards.
League of Legends: Wild Rift: Starting in March, Prime members will be able to get content every month for a whole year (12 drops in total) for the mobile game. The content will include trinkets, emotes, recalls, skins, and skin poses.
VALORANT: Starting in March, players will be able to get exclusive content every month for an entire year (12 drops total) for VALORANT. Planned content includes player cards, gun buddies, and sprays.
Legends of Runeterra: Starting in March, Prime members will be able to get content every month, including: Tier 3 Prismatic Chests, Epic Cards, and Rare Cards.
"We are happy to continue our successful promotion with Riot Games," said Josh Dodson, director of Prime Gaming. "We're clear that Prime Gaming members deeply value regular content for some of Riot's biggest and most popular games we've offered to date. We're excited to build on this success and continue to deliver incredible value for Prime Gaming members. and Riot fans."
"Expanding our partnership with Prime Gaming across all of our games and esports is a win for gamers around the world who will continue to enjoy fan-enhancing benefits," said Max Boigon, director of strategic alliances and partnerships at Riot Games. "As our game portfolio grows and entertainment experiences expand, we're excited that Prime Gaming continues to join us on this journey and that we share our long-term mission of improving the player experience across the Riot ecosystem."
As part of the annual collaboration, Prime Gaming will be a global sponsor of League of Legends Esports, VALORANT Champions Tour (VCT) and Teamfight Tactics Esports competitions, as well as a sponsor of multiple LoL Esports events for the LCS, LEC and competitions. from VCT in the North American and EMEA regions in 2023. Prime members will have the opportunity to earn exclusive esports emotes during global LoL Esports events such as MSI and Worlds. During VCT events, Prime Gaming will continue to feature key moments on the stream, such as Operator Pick, Flawless, and post-match highlights.
"Prime Gaming is a long-time partner of Riot and we're proud to share a mutual commitment to deliver deeper experiences that will delight fans," said John Needham, president of esports at Riot Games. "We are proud to have a partner like Prime Gaming supporting our fans through LoL Esports, the VALORANT Champions Tour and Teamfight Tactics."
Prime members will be able to claim in-game content for Riot titles as they become available on gaming.amazon.com.
To stay up to date with Prime Gaming news and content offers, visit primegaming.blog or follow the official Prime Gaming social media accounts at Twitter, Facebook and Instagram. Customers interested in starting a 30-day free trial of Prime Gaming can visit gaming.amazon.com for more details.
About Prime Gaming
With Prime Gaming, Amazon Prime members enjoy loads of free, exclusive content for their favorite games on PC, consoles, and mobile devices. In addition, they can get a collection of free PC games every month that they can keep forever and a monthly subscription to the Twitch channel. Prime Gaming's selection of free PC games and in-game content is constantly growing and rotating to keep up with new items and free games every month.
This is in addition to the many other benefits available with Prime, such as the best of Amazon shopping and entertainment, including free and fast shipping, along with exclusive savings, early access to Prime Day deals and more. Members can enjoy unlimited streaming access to a vast collection of TV shows, movies, sports and more with Prime Video, ad-free listening to 2 million songs plus thousands of stations and playlists with Amazon Music, unlimited access to a free rotating selection of over 1,000 books and magazines with Prime Reading and free unlimited photo storage with Amazon Photos.
About Riot Games
Riot Games was founded in 2006 to develop, publish and support the world's most player-focused games. In 2009, Riot released its first title, League of Legends, which was acclaimed worldwide. LoL has become the world's most popular PC game and a key driver of the explosive growth of esports. LoL is entering its second decade and Riot continues to evolve the game. At the same time, it offers new experiences for players with Teamfight Tactics, Legends of Runeterra, VALORANT, League of Legends: Wild Rift, riot forge and various titles in development. Riot is also expanding the world of Runeterra through various multimedia projects including music, comics, board games, and the Emmy-winning animated series. Arcane.
Riot, founded by Brandon Beck and Marc Merrill and led by CEO Nicolo Laurent, is headquartered in Los Angeles, California and has more than 4,500 Rioters in more than 20 offices around the world.