Sports
Jorge Alfaro leaves the Aguilas Cibaeñas on the field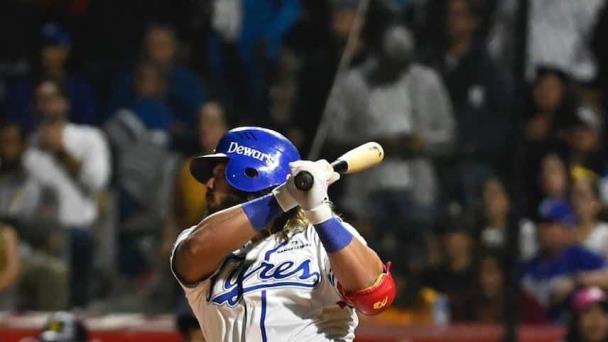 The Colombian Jorge Alfaro hit a single to right field to drive in Ronny Mauricio with the game-winning run for the Tigers of the Licey about the Cibaeñas Eagles at the Quisqueya Juan Marichal stadium.
The Tigers (27-13) defeated the Cibaeño team (28-14) with a score of 2-1 in a pitching duel between the leaders of the Dominican winter ball standings.
The victory corresponded to Jairo Asencio (1-1,2.61) who worked the ninth inning without any type of complications, while the defeat fell on the also reliever, Yohan Ramírez (0-1,1.13) who allowed Alfaro's indisputable.
the openers
The right-hander Albert Abreu (0-1, 6.75) worked 3.2 innings in which he allowed three hits and no runs, struck out four and issued no walks, for the Cuban team Roenis Elías (3-0, 1.09) dominated the blue bats, during 5.2 innings he allowed one hit and one unearned run, walked two and struck out seven opponents.
The races
The eaglets took control of the game 1-0 with a single by Geraldo Perdomo, a balk by pitcher Jonathan Aro and an RBI single by Yairo Munoz in the sixth inning.
The Blues evened the score at the end of the same episode due to a walk after two outs to Emilio Bonifacio by Roenis Elías that led to the departure of the lefty. Julián Fernández took charge of the mound. Bonifacio moved to second on the pitcher's wild pitch and then scored on the catcher's eaglet error throw to third base on a steal by Bonifacio.
The most outstanding
For the Tigers, Jorge Alfaro 1CE 4-1, Ramón Hernández 4-1, Alex Call 3-1 and Luis Barrera 1-1.
For the Eagles, Yairo Muñoz 4-2 and Yerar Encarnación 4-2.
next matches
The Águilas receive the sight of the Tigres starting at 7:30 p.m. at the Cibao stadium in Santiago, for the last game of the year between these two teams.