World
It is not a fence, it is militarization done in Soyapango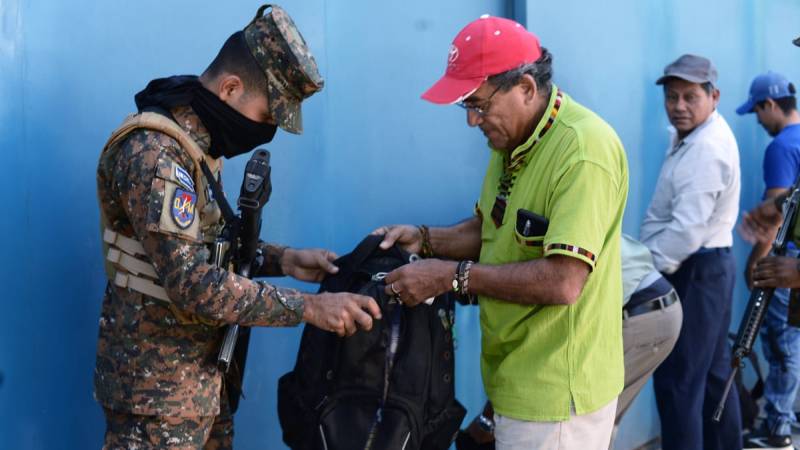 Two deputies criticized the measure. One says that it is part of the advertising and propaganda strategy on the security issue by Bukele
The military deployment that has been seen in the municipality of Soyapango since this Saturday is not a military siege but a militarization, assured a brigadier general, in a retired situation, who requested anonymity.
The general said he had serious doubts that the Armed Forces have the capacity, in terms of human resources, to employ 8,500 elements in a single municipality, as the President of the Republic, Nayib Bukele, assured yesterday morning.
The retired soldier also made an assessment regarding the deployment: it is a screen (demonstration) that they are shooting in that municipality, he affirmed, estimating that at most, there would be some 3,000 military elements that have been mobilized.
It may interest you: Government installs military fence in Comasagua after murder of farm manager
In that same sense is the appreciation of the deputy Anabel Belloso, of the FMLN party.
"I believe that this government continues to handle the security issue from an advertising strategy and propaganda perspective. Generating perceptions", stated the legislator.
Belloso also maintained that this government is "increasingly militarizing citizen security, something that had been regulated after the signing of the Peace Accords.
"If at some point they really encircle and prevent free transit, they would be violating another right that, at least with the exception regime that they have approved, is not suspended," said Belloso who also said that it is a way of stigmatizing the municipality.
For her part, Vamos deputy, Claudia Ortiz, affirmed that resorting to militarization is typical of authoritarian leaders.
"Authoritarian leaders always have good excuses to militarize a country. He has a good example in Nicaragua. We want justice and security, but… Who is in charge of public security? She is the PNC, not the Armed Forces ", he claimed.
In Ortiz's opinion, it is no coincidence that so many resources are being used to strengthen not the National Civil Police, but the Armed Forces.
"Is the Armed Forces going to determine the innocence or guilt of a detainee? No. For that, an independent Prosecutor's Office and an independent Supreme Court of Justice are needed, but we know that there are none," Ortiz said.
"Leaving public security in the hands of the Armed Forces and a justice system folded to power has already caused the country arbitrary detentions, deaths in prisons, annulment of the right to defense. We want security, but not at the cost of the fear of honest people." pointed out.