Health
The importance of paying attention to emotional well-being to take care of our health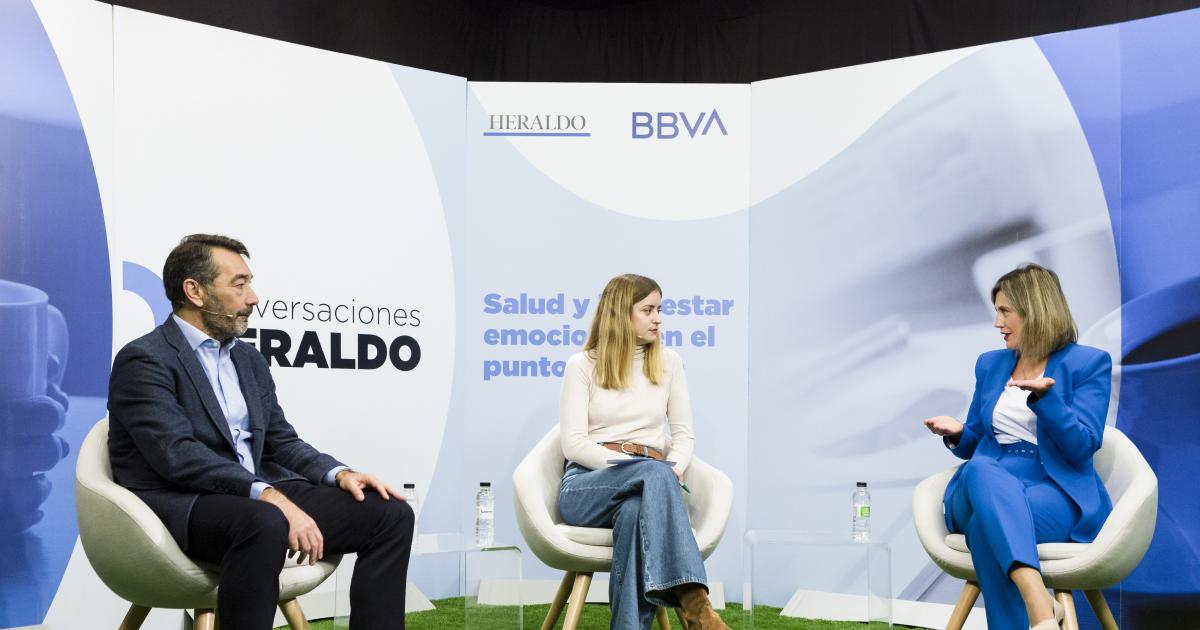 As many experts point out, the coronavirus pandemic has caused an increase in mental health problems in the population. According to a survey by the Carlos III Health Institute (ISCIII), published on November 4 and carried out as part of a series of surveys on the evolution of the health crisis, 47% of Spaniards report a deterioration in their access to health care; 33%, a worsening of their social life; 32%, worse mental health, and 28%, worse physical health.
In order to analyze this problem and shed light on possible solutions, a HERALDO Conversation on emotional well-being was held last Thursday at the newspaper's facilities, organized by BBVA and moderated by journalist Nerea Tirado. In it they participated Francisco Rey, commercial and business development director at BBVA Seguros; and Silvia Álava, PhD in Clinical and Health Psychology.
The participants began by highlighting the magnitude of this problem. "One in eight people is suffering from a mood disorder. The pandemic has taken a heavy toll on all of us emotionally, both young and old. Before covid-19 we had emotion regulation strategies that we did innately, like going out for a drink after work. But they locked us up at home, and then, due to the restrictions, we couldn't do many things either," Álava explained, adding, however, that in 2019, 25% of the population had a mental health problem, which was "invisible" but that, thanks to the pandemic, it began to be given more importance.
For his part, Rey agreed that, although the problem came from before, the health crisis made it worse. "But aspects such as the war in Ukraine, the rise in the prices of consumer goods or job instability also have an influence. All of these are impacts that affect our emotional well-being. To give some data on the subject, in a recent study carried out by Sanitas in which Spaniards were asked about it, 8.7% said that their mental health was not good and 40% that it could be better; so that half the population believes that this aspect of their lives should improve," he added.
Video consultations
In this sense, the commercial and business development manager of BBVA Seguros highlighted the increase in demand for health insurance that has occurred since the beginning of the pandemic, a stage in which these products played a very important role. "BBVA policyholders had the possibility of video consultations with medical professionals, which alleviated the situation of many people. These have been increasing remarkably in all this time and continue at a good pace this year. In general, the purchase of health insurance has also increased. At BBVA, since 2020 we detected that it was necessary to promote specific health programs focused on emotional well-being, which have been highly successful," he pointed out.
Focusing on digital medicine and video consultations, for which the entity has been betting for years, Rey indicated that the latter are already "unstoppable" and that they are growing a lot in the field of health insurance that contemplates emotional well-being. "We often don't go to the doctor due to lack of time, so, these communications, which only require a few minutes a day from where you are, are very useful. In the last 12 months, our policyholders have made a total of 110,000 video consultations," he said.
On the need to invest in the well-being of each one, the psychologist emphasized the importance of maintaining a balance between one's own abilities to solve the problems of daily life. "By doing few things we can already improve and avoid many types of disorders. The first thing is to lose the fear of resolving those situations, learn to read that information and have strategies that contribute to achieving well-being, learning to focus on what is really important and living in the here and now. In addition, it is key to take care of sleep hygiene and sleep eight hours a day. Follow a healthy diet as well, since physical health is linked to mental health. As well as playing sports, which is an excellent regulator of emotions. Practicing relaxation, meditation or those activities that calm us down when we are fast can help and, of course, there is the issue of friends, since the social network is a protector to avoid certain disorders, "he said.
"One in eight people is suffering from a mood disorder. The pandemic has taken a heavy toll on all of us, both young and old"
The experts spoke of prevention as something essential to enjoy this well-being and that the BBVA health plans include up to 140 health professionals who tailor them for each user. They also warned of the risks involved in paying attention to certain medical information available on the internet without consulting a professional. In fact, the aforementioned Sanitas report reflects that 27% of those surveyed admit that they have at some time checked interesting data on their mental health on the Internet.
In this regard, both Rey and Álava highlighted the role that new technologies play in health. The head of BBVA Seguros spoke about the digital tool 'Take care of your mind' that the entity has promoted and that, Through a quick test, it allows the user to tell them how they are at that moment and what their circumstances are., after which he receives a series of suggestions in order to improve his state. With all this, and adding the face-to-face sessions, a series of data is formed that will help the medical professional responsible for the person to configure a diagnosis and treatment that is as complete and precise as possible.
"At BBVA we already detected in 2020 that it was necessary to promote health programs focused on emotional well-being, which are having great success"
"There are tools that can help reflect on the fact that there is something we can improve and that can perhaps help to raise awareness in many people who believe they may have a problem of this type and encourage them to ask for help. Even if they don't do the diagnosis, which must be carried out by a professional, having an app can make it easier for the person's mental health information to be recorded faster"said the specialist for her part.
Finally, and by way of conclusion, Álava stressed that we must invest in emotional health, and that this is done with small acts on a day-to-day basis. "You don't have to pretend to make big changes overnight, but things like sleeping eight hours, eating healthy or taking care of friends. These are tools with which you end up noticing improvements in the short and long term", summarized. Roca affirmed that health is the best investment that can be made and that "doing it in insurance in this area contributes to achieving that emotional well-being and, in short, to having a better life."
MADE BY BLUEMEDIA STUDIO
This content has been produced by BLUEMEDIA STUDIO, Henneo's Branded Content unit.