Business
Google alerted Android phone users seconds before tremor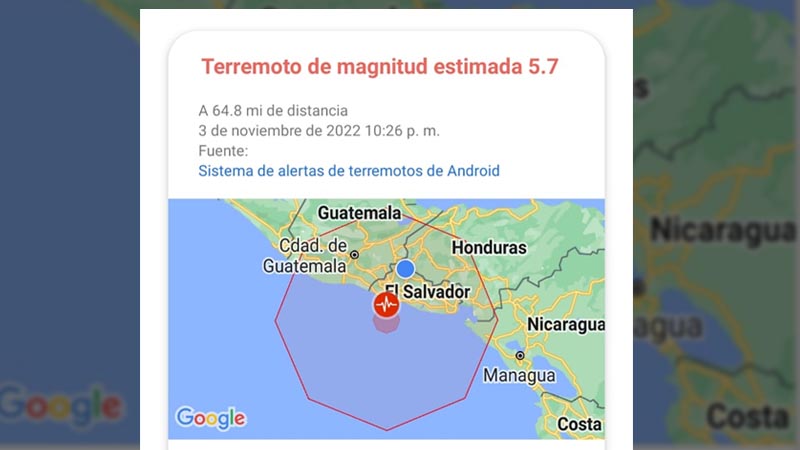 This Google alert uses the functions of Android phones to detect this type of natural phenomenon, something that surprised Salvadorans.
At least ten seconds before a strong earthquake shook the Salvadoran territory, at about 10:26 p.m. this Thursday, the Google company alert services sent a push notification warning of the telluric movement, followed by a series of recommendations.
The function, which was activated on most Android mobile devices in El Salvador, is known as Shake Alert, and its precision is such that it even predicted the approximate magnitude of the tremor, which was estimated at 5.7, very similar to the magnitude of 6.0 that the data of the Ministry of Environment and Natural Resources (MARN) showed.
You can read: Strong earthquake is registered in several points of El Salvador
The new functionality did not go unnoticed among the population, because minutes after the earthquake, many began to share screenshots of the notification on their social networks.
Some of them pointed out that it helped them prepare for any eventuality, especially due to the quite strong intensity that Google's forecast estimated.
"Google's excellent service (…) A few moments ago he just sent me the result of the magnitude and replica alert," explained user Christian Zayas through a tweet.
Other Salvadorans also thought, although in a more humorous way, that the new function is similar to the barking that dogs do before an earthquake, and which also warn about this type of phenomenon.
These types of systems already work in countries like the United States, a territory in which there are constant alerts, especially on the west coast that includes the states of California, Oregon and Washington.
The official site of Google Crisis Response, the unit under which that functionality operates, describes the notice as an "Android earthquake alert system is a free service that detects earthquakes around the world and can alert Android users before Let the shaking begin."
In addition: Lightning kills a young man when he protected himself from the rain under a plastic in Sonsonate
In this sense, Google's technology even uses the devices' own functions to detect a tremor threat. "All mobile phones contain very small accelerometers that can detect vibrations and speed, signals that indicate that an earthquake could be taking place," indicates the official Google site.
In this sense, when there are many phones that record these movements, they send the signal to Google servers that then interpret the situation and send the alerts, a function that, according to salvadorans, will be very useful in a territory where earthquakes occur. With some frequency.