This is how we experienced the British GP and Checo Pérez's comeback to the podium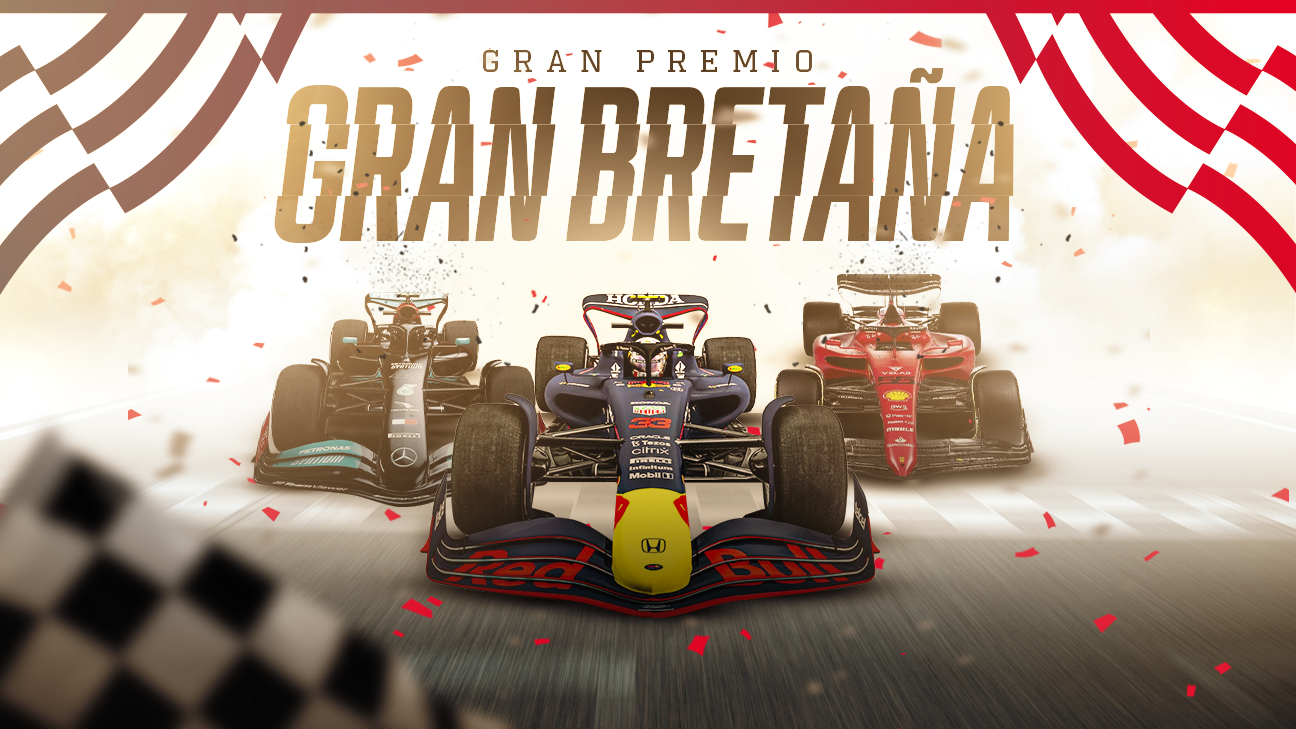 Checo Pérez at the British Grand Prix, 10th date of the F1 season
Max Verstappen is 7th, so despite car problems, he scores points at Silverstone. Checo Pérez was last in the race and came second. He is voted the pilot of the day in Great Britain, by the world public. The Mexican will maintain his second position in the championship.
PODIUM
SAINZ

PEREZ

HAMILTON
VICTORY OF CARLOS SAINZ. His first of the season… and in F1
Last lap…
Checo has to protect himself from any penalty and be very quick to get the necessary seconds. The FIA ​​is investigating two maneuvers in which he is involved, one with Leclerc and one with Hamilton.
Lewis Hamilton I pass Leclerc at Stowe. He resisted as much as he could. Now Alonso and Noris are attacking him, both also with red tires.
Hamilton continues his attack on Leclerc. Checo already escaped 1.8 seconds behind Leclerc. Alonso P4, attentive to everything that happens…
Leclerc and Hamilton remain at a distance from DRS. FIA will investigate the maneuver between Pérez and Leclerc.
Sainz escaped. Checo attacks Leclerc and Hamilton at both… they hit it all in several corners… Checo P2!!!
Leclerc has sustained Pérez and Hamilton has the opportunity to attack Checo.
LAP 45/52

Incredible racing!

Leclerc, Perez and Hamilton fight for the podium positions!

Perez has grabbed P2 and, at the moment, Leclerc is P3 #BritishGP #F1 pic.twitter.com/0nQZsowNeN

— Formula 1 (@F1) July 3, 2022
Sainz fastest lap: 1.30.886.
Carlos Sainz now P1. Checo Pérez attacks Leclerc.
RESTART: He wins the position from Hamilton and Leclerc supports Sainz as best he can.
Sainz says: "I'll be faster than Charles…", suggesting that they let him pass on the fast tire. Hamilton and Pérez also in red. Leclerc vulnerable with the hard tire.
Pérez Sainz and Hamilton went on to the red tire. Possibility of a podium for Czech.
SAFETY CAR. Ocon stays on the straight and they have to bring out the safety car. Czech Perez to the pits being 4th. It suits the Mexican pilot very well.
Hamilton fast lap: 1.31.521 vs. Leclerc's 1.31.6. Sainz already fell to 1.32.1
Max Verstappen couldn't resist Ocon's attack, and now Max is P9.
With all the pit stops that have been given, Checo Pérez is P4. His pace: 1.32.305, good pace from the Mexican with average tires of… 30 laps!
Hamilton to the pits. There will be 19 laps left, they have put hard compound on it. Leclerc will have a deficit of 8 laps at the end of the competition. We'll see if that works in favor of Lewis, who is now P3.
The British excited. They see Lewis' victory as possible, the first of the season for both him and the team. Leclerc just did the fastest lap: 1.31.837.
Charles Leclerc passed Sainz. The Spaniard let him pass because he did not reach the pace that the team asked for. Leclerc 18 seconds behind Hamilton.
Charles Leclerc already within shot of Carlos's DRS sainz. Again… "Free to Fight"they tell him
Lewis Hamilton says the tires feel good. They are means of 25 laps. In a state of grace the British multi-champion. He is faster than Sainz in P2; the Ferrari with cooler mid-rims.
Charles Leclerc pits, lap 26 of 52. They switch to the hard compound. So Leclerc could go to the end. Leclerc rejoins in P3, behind Sainz.
Another pit stop for Verstapen. It's lap 24 of 52. They now switched to the hard compound for the rest of the laps. Checo Pérez now P6, in good times: 1.33.020 with 18-lap wheels.
Hamilton, another fast lap: 1.32.435. Charles Leclerc: 1.32.796. It seems that Ferrari was wrong again. Hamilton is already 1.7 seconds behind, a shot from the undercut.
Czech Perez continues on his mission: P8 is already the Mexican, attacking Ocon's position.
Valtteri Bottas retires from the race. Some would say that it was a bad day, but on the contrary: Guanyu Zhou is fine, he is alive, after a terrible accident.
Carlos Sainz to the pits. It went from media to media. It's lap 21 of 52. Will he make it to the finish?
Czech Perez already in P12. Already attacking Schumacher's Haas. Verstappen P6, can't keep up with Fernando Alonso.
Carlos Sainz stops Charles Leclerc and the Monegasque is already complaining on the radio. Lewis Hamilton, P3, is faster than the Ferraris.
Radio to Verstappen: "Yes there is damage, but it is not critical. You can continue although you will lose performance…"
Ahead, Carlos Sainz holds his first position with pins. Leclerc attacks him with DRS and a fast lap.
Max Verstappen returns P6. Czech Perez P16. What a race for Red Bull… everything went wrong in the first stint. And Verstappen says that the car is not well…
Pitch in Max Verstappen's Red Bull. He has to pit and move to the medium compound. Incredible Grand Prix. And the British public, who do not want the Dutchman, exploded in applause and cheers.
LAP 10/52

Sainz runs wide coming out of Becketts and Verstappen makes the most of the misstep.

The Dutchman leads and Sainz now has Leclerc in his mirrors.#BritishGP #F1 pic.twitter.com/NB4yNStH5E

— Formula 1 (@F1) July 3, 2022
LAP 12/52

More drama at the front!

Verstappen reports a puncture and Sainz retakes the lead.#BritishGP #F1 pic.twitter.com/rSresorlya

— Formula 1 (@F1) July 3, 2022
LAP 12/52

Verstappen pits and comes back out in P6. #BritishGP #F1 pic.twitter.com/X2Sm17o8dn

— Formula 1 (@F1) July 3, 2022
Verstappen is already 1.4 seconds ahead of Sainz. Leclerc attacks Ferrari number 55.
Carlos Sainz's mistake. He lost the Ferrari and went to exhaust. Max Verstappen now P1. Sainz P2.
Sainz, Verstappen, Leclerc and Hamilton, can go to 1.33 average. The pilot gold that goes at that pace is Checo Pérez with 1.33. lows (did another fastest lap: 33.362)
Checo Pérez with the fastest lap: 1.33.425. He goes faster than the tip. Sainz: 1.33.7
Sainz keeps the lead, but Verstapen has him within range of DRS. Red Bull attack. Leclerc is P3, 1.6 seconds behind Verstappen. Czech Perez in P16.
Checo Pérez, change of front wing and tires, but they continue with the medium compound. He now plays a comeback race for the Mexican driver.
Checo Pérez couldn't keep up with the pace ahead. Leclerc couldn't keep up with Verstappen and Sainz either. Czech and Red Bull to pits.
There was a brush between Verstappen and Leclerc, but it seems that he will not be sanctioned; Checo's front wing seems damaged, he also had a brush against Charles's Ferrari. The two Ferraris defended and attacked very hard.
RESTARTED ON GRAND PRIX OF GREAT BRITAIN: Sainz kept Verstappen back. Checo Pérez almost passed Verstappen, but in the end he lost the position against Leclerc.
Safety Car on the track, to locate the starting grid…
It will reboot from 'scratch'. The starting positions will be respected, so Carlos Sainz will return to first position and Max Verstappen to second. Checo Pérez will start fourth again. Officially left out: Russell, Zhou and Albon. They managed to repair Ocon's AlphaTauri and Alpine. E 10 minutes restarts.
FIA indicates that the pilot is fine. They have already removed him and he has been transferred to the medical center, as has Alexander Albon.
The hit was violent and at an angle that flipped the Alfa Romeo which literally went head-first through the run-off in the first corner, Abbey. When it reached the gravel area, the car shortly before hitting the tire wall, got stuck and rotated through the air and passed that barrier and was stopped by the fence that divides the track from the stands, getting stuck between the wall of tires and the fence. That's why it took them a while to rescue him and get him out of the car.
Guanyu Zhou, a rookie F1 driver, the first from China to participate in Formula 1. He was hit in the back of his Alfa Romeo, the car was left in the lead and covered much of the exit of the Abbey curve, the first variant of the circuit. Nothing has been said so far. The transmission has not passed it and we do not know what the situation is with the emergency helicopter.
Red flag: a strong accident in the rear. Russell's Mercedes; Yuki Tsunoda's AlphaTauri, Alex Albon's Williams. O's Alpine with Guanyu Zhou's Alfa Romeo… Zhou's is the one they don't show.
STARTED THE GRAND PRIX OF GREAT BRITAIN, 10th calendar date. Verstappen takes the first position. Checo Pérez lost a position and is 5th.
formation lap at 9:00 am central Mexico.
Tires for the first ten:
Sainz – midfielders

Verstappen – soft

Leclerc – media

Perez – media

Hamilton – media

Norris – media

Alonso – midfielders

russell – hard

Zhou – means

Latifi – soft
Pirelli has brought the hardest compound in its range. They consider a three-stop strategy to be the best option, starting with a stint on the yellow tire, then the hard, and a final stint back on medium. There is a variable with a red tire at the end, but it depends on doing a second stint with a longer hard tire. Finally there is a third option of only two stops: medium to hard tire. But it is not considered fast because the rubber has to be pampered too much to last the entire competition.
There will be 52 laps of the 5.8-kilometre Silverstone circuit to complete the Grand Prix distance of 306 kilometres. A fast, technical circuit of 18 corners, very famous waters such as Copse, Abbey, the Maggots-Becketts-Chapel sequence. It is the circuit in which F1 began its history in 1950. There are two DRS zones and with this new generation of single-seaters it is expected that there will be more possibilities of overtaking -before it was very complicated due to the fact that the vast majority of the curves are medium speed and it takes a lot of charge, so the cars couldn't follow each other so closely.
Which strategy will provide the quickest route to the 🏁? 🔮#F1 #BritishGP #Fit4F1 #Formula 1 #Pirelli #Pirelli150 @F1 pic.twitter.com/zkvCmvC6SZ

— Pirelli Motorsport (@pirellisport) July 3, 2022
the mexican pilot Sergio Perez will start fourth on the grid in the British Grand Prixtenth date of the championship of Formula 1. The weather service was predicting that there would be little chance of rain, but the service has been very off the mark. Right now the sky is cloudy and there is a 50% chance. We'll see…
In the position of honour, Carlos Sainzof ferrariclaimed pole this Saturday, followed by Max Verstappen, from Red BullY charles leclerc.
In the end, the Mexican scored a 1:41.616, the same with which he remained in fourth position and was three definitions away from being among the top three.
This Sunday, there will be a fight in the first two rows between Ferrari and Red Bull, because Perez He will start alongside Charles Leclerc, in a fight that could mean keeping or losing second place in the drivers' championship.
After the qualifying session, Czech Perez He was forceful in mentioning that starting from the second row is key.
"The important thing about these conditions is to be able to have a good starting place tomorrow and that we can fight from there being fourth," he told the media.
Race day at Silverstone 🇬🇧

Don't miss it! ⏰#BritishGP @ROLEX pic.twitter.com/TbLMCHTDJG

— Formula 1 (@F1) July 2, 2022
Here's how they line up at Silverstone 👀#BritishGP #F1 pic.twitter.com/dKWLnrME3w

— Formula 1 (@F1) July 2, 2022
Czech Perez He acknowledged that, "without a doubt, I would have wanted to be further ahead, but considering the weekend I've done so far, it's not a very bad result".
During practices on Friday Czech he did not go out for the first session and in the second he finished seventh. Meanwhile, on Saturday at noon he was second in the second practice and was fourth in qualifying, for which he remarked that "we can fight from there. Today without a doubt we improved and that is positive for tomorrow".