Billie Eilish talks about her new song 'TV': "I just want to be able to put out music like before" | Music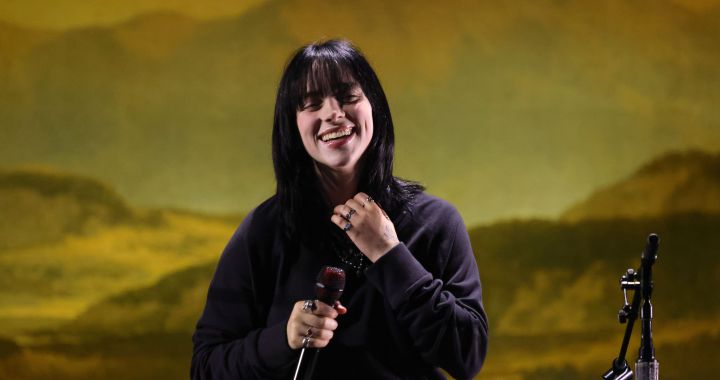 billie eilish continues to reap good results in his musical career. On July 30, it will be one year since the release of her second album, Happier Than Ever, with which he managed to be at the top of the charts, changing his look completely, with blonde hair. However, the artist keep composing and creating new songssurprising their followers with the unprecedented premiere of some of them live.
Another recent success is the confirmation of Billie Eilish as headlining the prestigious Glastonbury Festival, along with other artists of the stature of Paul McCartney. She thus becomes youngest person in history to lead this event. The singer is very emotional and tries to stay calm. In a Matt Wilkinson special, for Apple Music 1talked about how he feels: "It's something big, it's very big, many doubts always arise to know if everything is going well and everything is going to workbut in terms of doing it or not, no, there's no question about that."
Few women consistently front festival bills, but Billie Eilish does have that opportunity. "I am excited about what it can mean in the future"says the artist. The truth is that there are times when she suffers a kind of imposter syndrome because she questions why they have chosen her. "I constantly feel like I don't fully deserve it, I think that's a good thing."confess for Apple Music 1.
The one at Glastonbury, held from June 23 to 25, will be one of the many stages that it has stepped on and will step on this year. In his interview with Matt Wilkinson he confessed that before he did not do any kind of ritual before getting up to sing, but now he has started to perform some. "I get ready two hours before, work out for a while and then do my own makeup". After dressing up, all herself, she warms up her voice, combs her hair again and again warms up to go out and put on a brilliant show.
In one of his last concerts in Europe, the artist premiered live a new song titled TV. It could be the cover letter for her next album, although, at the moment, it has not been released on digital platforms. Billie Eilish was at the airport listening to songs that she had written on her phone and she had an idea: "What if we do them live?".
His brother and producer FinneasOf course, he did not hesitate to say yes. She sang it live and the public liked it very much. TV It is a desire that the artist has to make music and to come out without having to prepare a promotion strategy: "I just want to be able to put out music like before, I think the older you get, the harder everything seems."
TV wants to tell a story with which everyone can feel identified. "There's a sad image that I think most people who've been in love with can relate to, a relationship that may be falling apart or a friendship falling apartof the time that passes"said Finneas for Apple Music 1. "When things go wrong in life, most people worry that it is their fault.although I think that the reality of the world is that most of the things that happen also touch you "adds the producer.
The brothers are preparing to live one of their most special shows in Glastonbury and there is a good chance that they will continue singing TVwhich we really want to hear in a studio version.