Medicine, Biomedicine and Biotechnology: job insecurity almost guaranteed among the most demanding degrees | Education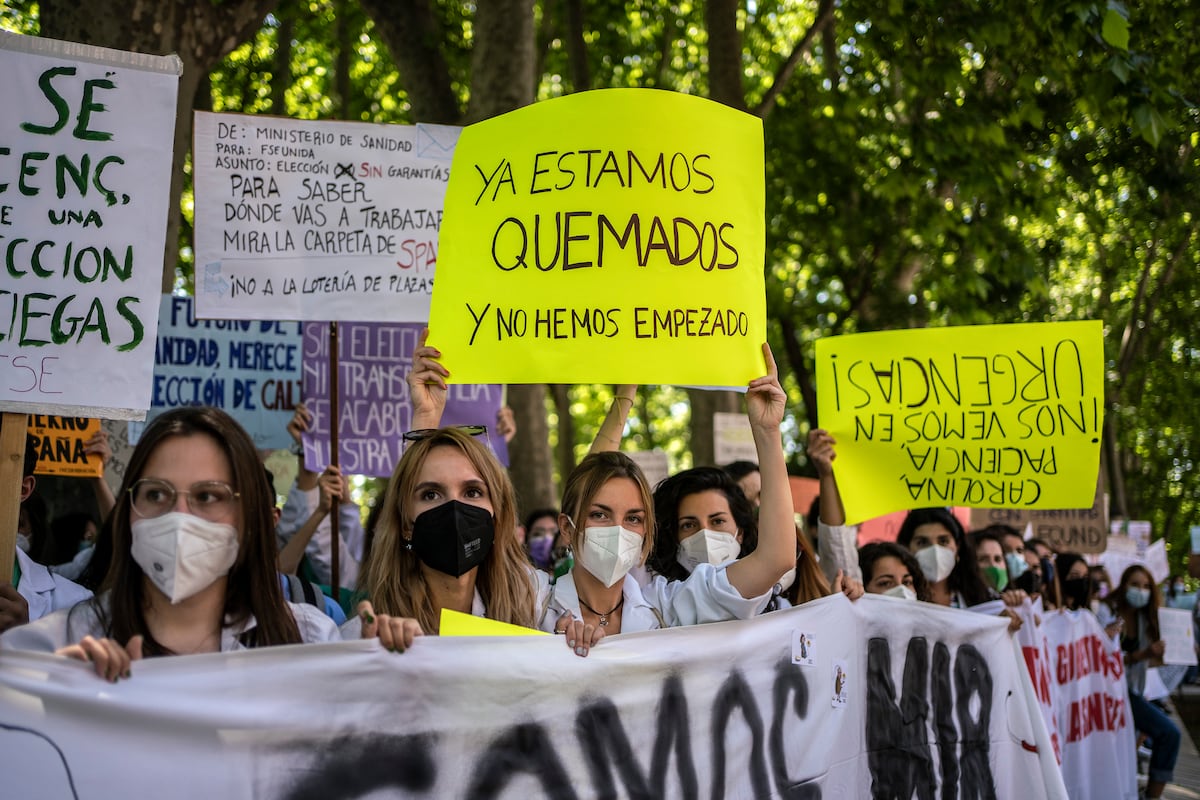 To enter the Biomedicine career, you have to be close to perfection, they ask for a cut-off grade of around 12.5 out of 14, and in Medicine a few tenths above. However, job prospects are not as rosy at the start as one might imagine. The Knowledge and Development Foundation (FCY) in its study The employability of young people in Spain: How is the insertion of university graduates?based on the Job placement survey of INE university graduates, concludes that 86.6% of the doctors who graduated in 2015 and 70.6% of the biomedical doctors, four years later, were in a precarious employment situation: that is, they were interns, employees with a temporary contract or internship or training workers.
In the case of the doctors who graduated in 2014, many were trained in 2019 as MIR (Resident Internal Doctor) with a salary that ranged between 1,450 euros and 1,800 euros and marathon shifts with almost no time to recover. They had managed to become a MIR with great difficulty, since since 2015 there have been fewer vacancies than the number of applicants, as the number of graduates has skyrocketed. And most of these doctors were and are doomed to years chaining short contracts: one in three currently has a temporary payroll, according to the Survey on the situation of the medical profession in Spain promoted by its official schools and unions in 2020.
On the list of precariousness, behind these health careers, are the graduates in Classical Languages ​​(72.4%) and biotechnologists (66%), who handle knowledge of biology and engineering, for example to teach computers to create medicines. Dentistry graduates are in the opposite situation: 96.4% have stable jobs four years after finishing, which is equivalent to employers with salaried employees, independent workers or with a permanent contract. Podiatrists and computer scientists are positioned behind dentists in this list of solvent careers.
Doctors, who usually have a huge vocation, work with uncertainty, but at least 99.9% in the field they have studied, in highly qualified positions. At the other extreme, a quarter of the graduates in History of Art, Criminology and Humanities are employed in positions that require little training: accountants, clerks, waiters or salespeople.
The instability generated by the previous economic crisis led many new doctors and nurses abroad – especially to the United Kingdom – and today those who emigrate, to further training or work, are biomedical doctors. A third (33.5%) of those who finished Biomedical Sciences in 2015 were out four years later, according to the FCyD study, just like biomedical engineers. Some very high figures that the biologist Francisco del Castillo, president of the National Association of Hospital Researchers (ANIH) that works on rare diseases, is not surprised: "With the blockade in the employability of the public sector, many graduates are looking for greener pastures. It is a shame with what has been invested in training them, that they leave. They are particularly appreciated even if they have language problems." In his case, he says that he has received six offers so far this year in the United States, Europe and Morocco, but he wants to be "optimistic" and for now he stays.
Spanish biotechnologists are also highly reputed abroad and one in five, the group calculates, leaves. Luis Getino, 26, who next year will defend his thesis at the University of León, has friends who finished their degree with Erasmus scholarships and have not returned because the laboratories raffled them off to get their doctorates there. He has a contract of 1,200 euros per month as a predoctoral fellow, compared to the more than 2,000 euros that his colleagues in Europe receive. León has become a pole of attraction for biotechnology companies, around the university, and he does not consider moving attracted by university teaching.
Instead, the biotechnologist Arantza Muguruza, 28, is finishing her thesis at the University of the Basque Country and her intention is to pack her bags. She is tempted by Sweden, Switzerland and Denmark, "places that have good science and good stability", but she is worried about the return: "you have to have a very good curriculum, because there are not many opportunities to do R&D in Spain".
500 euro contracts for biotechnologists
David Álvarez, 31-year-old president of the Spanish Federation of Biotechnologists (FEBiotec) of which Getino and Muguruza are part, was not willing to go through years of instability and, after completing a master's degree with internships at Roche in Barcelona, ​​continues in the pharmaceutical. "Doctors or interns are hired for internships. It is very difficult to enter a company without precarious conditions if you don't have a master's degree", he explains. A private postgraduate degree in biotechnology costs at least 10,000 euros, a barrier for the most disadvantaged.
Álvarez recounts a very common practice: "There are university foundations that offer first jobs for six months, one year, with a very low salary of 500 euros per month. Normally, later you can stay in the company with a slightly better contract, but these are very hard times. Impossible to live with that money in Madrid or Barcelona". Getino adds: "The problem is that companies take out that position with the foundation one call and another to not fill that position, because it is much cheaper for them."
This was the case of Lucía González, 24, from Ourense. She was for a few months with an internship contract of 612 euros gross in a private R&D company in A Coruña. "In principle it was a training contract, but in reality you were trained for two months and then you were just another worker, doing reports and experiments on your own. You contributed for retirement, but without unemployment". Many of her classmates have subsequently stayed in the companies, but doing auxiliary work for which the Vocational Training technicians are trained. González left the post and is now in the first year of a doctorate at the University of Santiago. The means are limited and her group seeks private investment for her research.
Del Castillo believes that in biomedicine – researching the functioning and behavior of the human body with knowledge of medicine and biology – there is "enormous investment potential, as has been revealed by the pandemic", but that in Spain it is not being taken advantage of . Biomedicine and Biotechnology are degrees that depend on the deanships of Biology and their graduates are not recognized as health professionals by the autonomies, which hampers the professional careers of hospital researchers because they do not have bonuses for seniority or recognition in the salary of the merits of the hospitals. "90% of geneticists and 75% of immunologists are biologists", recalls the president of ANIH. He, 51 years old, had to report to have a permanent contract after 11 years chaining temporary contracts. The Law of Science and the labor reform are going to allow those who begin to investigate, predoctoral students, to contribute to Social Security and receive compensation at the end of the contract.
Biotechnology is an area of ​​knowledge new; It emerged 30 years ago and was born as a bachelor's degree in Spain in 2014 (it is currently offered at 28 universities), and it finds it difficult to find its place among careers with a long tradition such as Biology or Veterinary Medicine. Their fight is constant so that their competitions are recognized in public calls. After years of struggle, FEBiotec managed to get the Public State Employment Service (SEPE) to create a professional category for them and for the Spanish Medicines Agency to take them into account, but other fronts are being opened, such as teaching in institutes. In the Valencian Community they cannot present themselves to professors of Biology and Geology, for which they say they are qualified. In many job offers, as happens to biomedical doctors, their career does not appear in the tab despite being trained for it.
The Ministry of Health intends to expand by 10% the number of vacancies in the degrees of Medicine and Nursing and the positions of MIR and EIR (Resident Intern Nurse), because the massive retirements are going to empty hospitals and outpatient clinics of specialists.
You can follow EL PAÍS EDUCACIÓN on Facebook Y Twitteror sign up here to receive our weekly newsletter.