Fortnite: Darth Vader and Indiana Jones will be in Season 3, according to leaks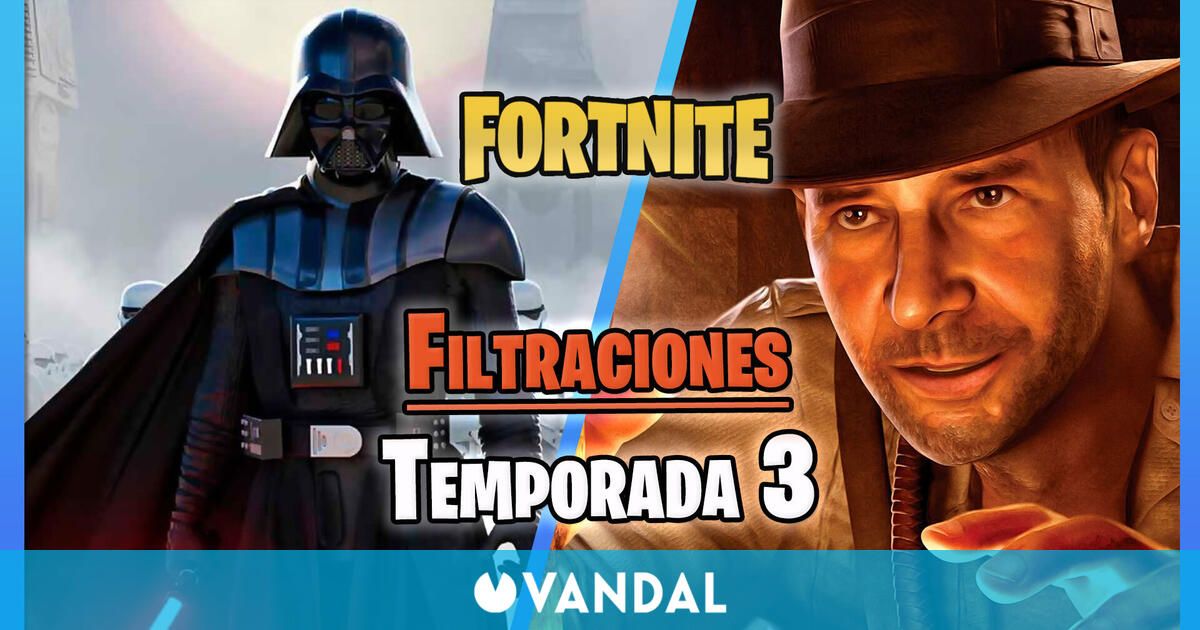 If you are an avid follower of free to play fortnite battle royale I'm sure you'll be interested in knowing the new leaks echoed by the community of data miners from the popular Epic Games game. The actual Season 2: Resistance of Chapter 3 is nearing its end and the leakers are going little by little discovering new details on Season 3. In the last few hours, for example, the presence of such emblematic characters as Darth Vader or Indiana Jones in the battle pass of the new season. Be true?
Will Darth Vader or Indiana Jones arrive in Season 3 of Fortnite?
We already know that it is usual to approach a new season of Fortnite and start receiving all kinds of leaks. In general, in addition, these tend to hit the spot. The one we share with you today could be one of them. the data miner @ShiinaBR on Twitter, a regular, has given enough credibility through his account to one of the most talked about rumors lately about the skins that we could see in the future Season 3. According to the leaker, Darth Vader and Indiana Jones They will be characters from the new battle pass that Epic Games is preparing.
RUMOR: FIRST LOOK AT THE CHAPTER 3 – SEASON 3 BATTLE PASS!!

This was posted on 4chan last night, the chance of it being fake is EXTREMELY low. pic.twitter.com/CcTMkuELpM Shiina (@ShiinaBR) May 25, 2022
As can be seen in the tweet posted by ShiinaBRwe have a first image which gives us a look at the battle pass from Season 3 of Fortnite. Supposedly this image appeared in the forums of 4chan and, in addition to the evil villain of the Star Wars saga, you can also see a skin for the charismatic Indiana Jones. Although as always this may not be final and remain in nothing (we recommend taking the image with tweezers), it could be true.
It would not be surprising if Darth Vader came to the game since the new Obi-Wan Disney + series will be released shortly, in which the character of Vader has quite a leading role, and Fortnite has already included many characters from the galactic saga in the past. Not to mention that donald mustardthe creative director of Epic Games, usually Give clues about upcoming collaborations, and has recently shared images related to Star Wars.
Donald Mustard has published ANOTHER teaser that includes the LEGO Star Wars AT-AT.. 👀

As always, it's very obvious that this is a teaser for the future, and considering we get Darth Vader next season (Maybe in the Battle Pass), this could be a vehicle in Season 3! https://t.co/MISfFCpC8O Shiina (@ShiinaBR) May 23, 2022
In case of Indiana Jones is more curious, but it is not unreasonable to think that the treasure hunter could be part of Fortnite. will have to be attentive to see where this all ends. For now, though Epic Games has not confirmed anything yetit is quite likely that the next Season 3 will start on June 4 or 5after a final event of Season 2 of which we already know some details.
Remember that you can visit our complete guide to know the best tips and tricks and easily overcome all the challenges of the season. Fortnite is a Battle Royale that is free to PC, PS4, PS5, Xbox One, Xbox Series X and Nintendo Switch and devices Androidyou can read our analysis.