the new Mastercard commercial with Lionel Messi made with artificial intelligence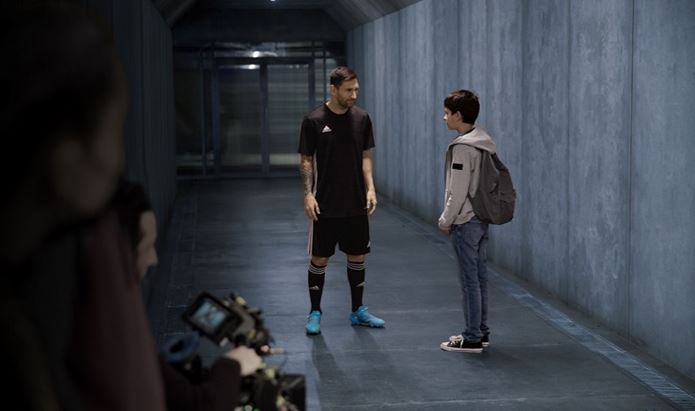 To celebrate the historical sponsorship with the UEFA Champions League, MasterCard presents a new commercial which has its own as its protagonist global ambassador Lionel Messi.
The film, unveiled by the Argentine footballer himself through his Instagram account, it will be launched in various international markets, including Italy. It will also be available to fans on the Priceless.com platform.
---
Read also: ADVERTISING 2022, ALL THE CAMPAIGNS AND THE NEW SPOTS IN DEPARTURE
---
Characterized by a high emotional impact, thanks also to the use of Artificial Intelligence (AI), the film focuses on the career of the player, four times winner of the UEFA Champions League, who, looking back at the past, traces the role that football he had and continues to have in his life, recalling the popularity of a real collective passion for such a powerful and stimulating sport.
"I would like to have the opportunity, in real life, to talk to my younger self to instill confidence in him and let him know that his hard work and sacrifices have paid off and that today he is continuing to play the sport he loves the most. "Said Lionel Messi.
"We are delighted to join forces alongside our global ambassador Lionel Messi, and to share his love for football. This is also an opportunity for us at Mastercard to remember how important it is to follow your passions and focus on what really matters – a philosophy of life that has become increasingly relevant to people in recent times, "he said. Luca Fiumarella, Head of Marketing Italy at Mastercard. "We look forward to celebrating all the charm and energy of football at the UEFA Champions League final in Paris and bringing the fans even closer to their passions."
Innovation applied to marketing
Giving a voice to Lionel Messi's younger self was one of the biggest challenges in creating this film, the press release reads. To make this possible, the production team used a new VFX (Visual Effects) method, the so-called 'Neural Rendering'. Instead of the traditional approach of using computer graphics, a 'Synthetic Render' exploiting the benefits of Artificial Intelligence (AI).
"It's amazing what can be done with technology," added Lionel Messi. "When I actually showed the commercial to my family and friends, all of them could not understand how it could ever have been made, so much so that I also gave goosebumps at the sight of my younger self".
This process involves entering data on an Artificial Intelligence (AI) platform with thousands of references to a very young Lionel Messi. Photos, videos and sound data of his likeness and his movements were provided to the Artificial Intelligence (AI), as well as videos recorded by actors who looked like him. Artificial Intelligence (AI) was then able to use this data to generate a digital image and subsequently integrate it into the live action footage we see in the commercial. It was working on the video Thiago Portopioneer of the VFX of The Millone of the leading specialists in this field.