Salud Edomex promotes vaccination as the most important process of preventive medicine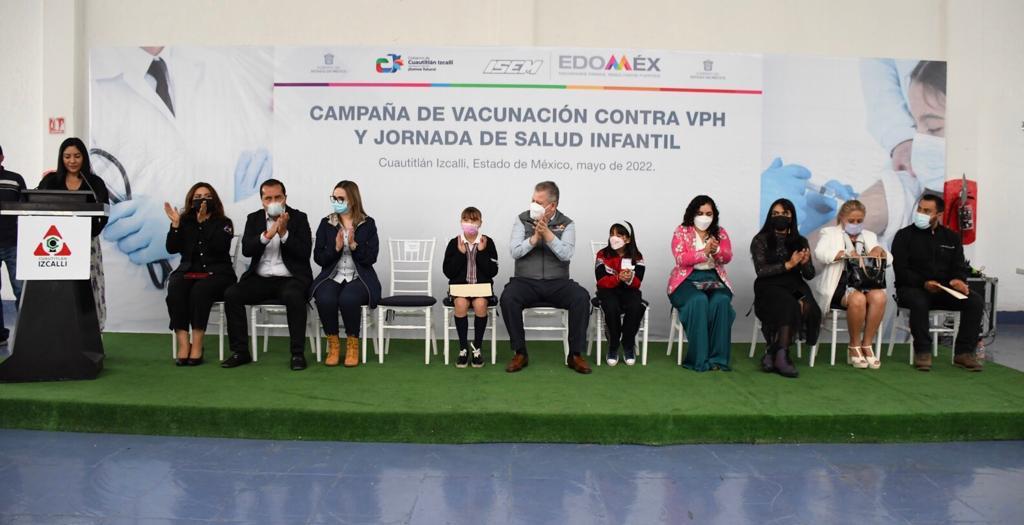 Preventive medicine is the most important action carried out by the Health Sector in favor of the well-being of the population, so vaccination is one of the noblest tasks carried out with this objective.
The head of the Secretary of Health of the State of Mexico, Francisco Fernández Clamont, pointed out the above when verifying the immunization process against the Human Papillomavirus (HPV), for girls between the ages of nine and 11, in the municipalities of Cuautitlán Izcalli and Melchor Ocampo.
He stressed that it is Governor Alfredo Del Mazo Maza's priority to promote health promotion, therefore, his administration acquired the biological, which is of high quality and protects against serotypes 6, 12, 16 and 18 of the virus, which can lead to cancer of the cervix.
The also General Director of the Institute of Health of the State of Mexico (ISEM), stressed that the institutions apply preventive medicine programs and actions; however, the participation of each person is required to adopt healthy lifestyles and prevent diseases.
For his part, the head of the Department of Health for Children and Adolescents and head of the ISEM Vaccination Program, Edwin Contreras Sánchez, specified that the entity celebrates 14 years of applying the HPV vaccine and since then there has been a important response from society.
He also emphasized that in the entity the task of immunization is permanent, so the participation of parents is essential to complete the basic scheme and in all medical units of the first level of care this important task is carried out.
Meanwhile, the municipal presidents of Cuautitlán Izcalli, Karla Fiesco García, and Melchor Ocampo, Victoria Víquez Vega, agreed that health care is one of the main demands of the population in their demarcations, so vaccination against HPV is especially important for the protection it provides to little girls.
Subsequently, in both municipalities, Child Health Conferences were held, where there were modules on Nutrition, Oral Health, Sexual Orientation, Psychology, Defense of Minors and Prevention of Diseases due to Hot Season.
Comments
comments