Amber Heard vs. Johnny Depp: Heard thought about Depp pushing Kate Moss down the stairs in one of their fights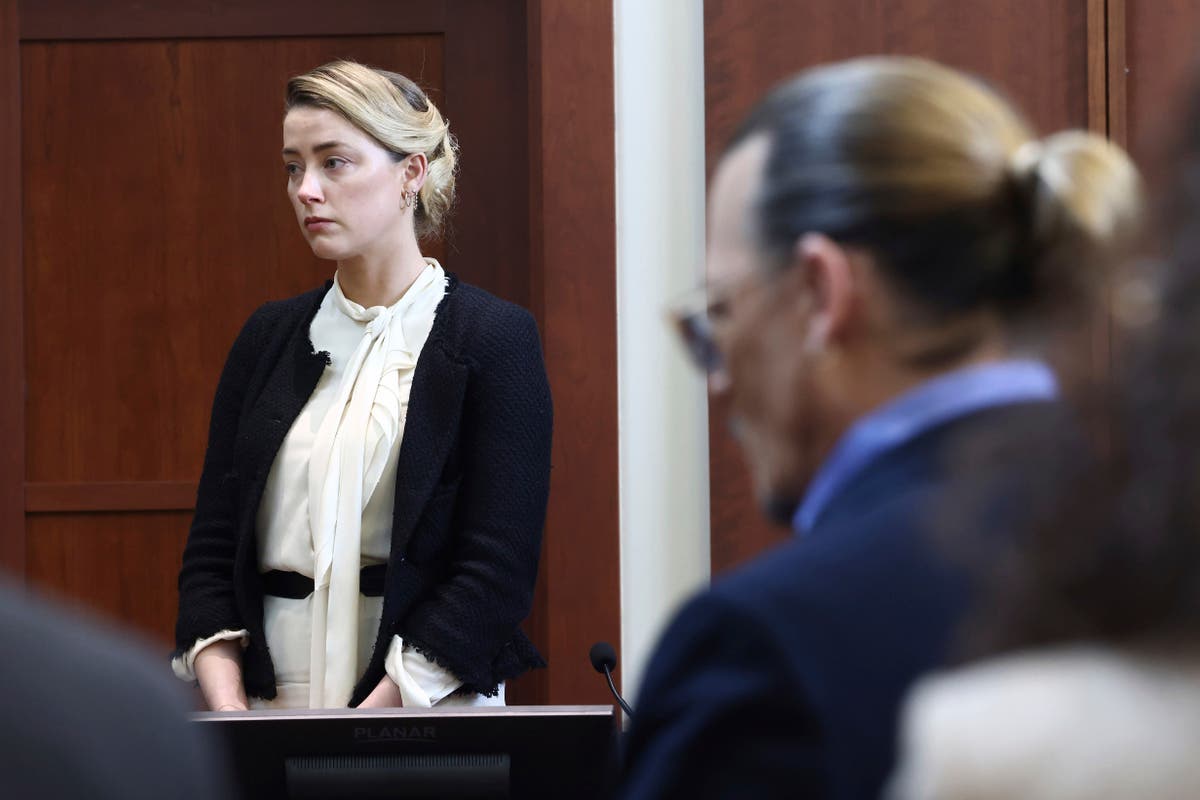 Amber Heard said she "instantly" thought "of Kate Moss and the stairs" when she recounted a fight with Johnny Depp involving her sister Whitney.
On the stand Thursday in the libel trial between the two actors, Heard reviewed one of the many fights between her and Depp, and this one occurred in March 2015.
Heard said he threw a can of Red Bull at Depp, which landed on his back, adding that he called him a "f******." She said he got mad and followed her down a stairway.
Heard said he grabbed her, at which point her sister Whitney intervened.
"She threw herself in the line of fire," Heard said. "She was trying to get Johnny to stop. She had her back to the stairs, and Johnny swings towards her… I don't doubt it for a second, I instantly think of Kate Moss and the stairs."
She said the thought prompted her to take action.
"I, for the first time, hit him, right in the face. And she didn't push my sister down the stairs. Up until that point in our relationship, she hadn't even given Johnny one," she said.
"Johnny looked stunned and then he laughed at me, and then he lunged at me again," she added, at which point security personnel stepped between them, according to Heard.
In the summer of 2020, Heard claimed that Depp pushed model Kate Moss down a staircase while they were dating in the 1990s.
During the 2020 UK libel trial between Depp and the newspaper The SunHeard said: "He pushed Kate Moss down the stairs, I heard this from two people, and this was fresh in my mind."
"I reacted in defense of my sister. For years he had been Johnny's punching bag, but I went years without hitting him. It was the first time after all these years that I hit him back," he added at the time.
The defamation trial between Depp and Heard began on Monday, April 11, in Fairfax, Virginia, following Depp's lawsuit against his ex-wife in March 2019. Depp argues that she defamed him in a December 2018 op-ed published on Washington Post titled "I spoke up against sexual violence — and faced our culture's wrath. That has to change" (I spoke out against sexual violence and faced the wrath of our culture. That has to change.)
In her 2018 op-ed, Heard wrote that "like many women, I was sexually harassed and assaulted by the time I was college-aged. But I kept quiet, I wasn't going to file complaints to do justice. And I didn't see myself as a victim."
"Then two years ago I became a public figure representing domestic abuse and felt the full force of our culture's anger at women speaking up," she added at the time.
While Depp is not mentioned in the article, his legal team argues that it contains a "clear implication that Depp is a domestic abuser," which they say is "categorically and demonstrably false." Depp is seeking compensation of "no less than $50 million."
Heard has filed a $100 million counterclaim against Depp for nuisance and immunity from his charges.