Ada Cosmetics joins the trend of emotional well-being with Be Different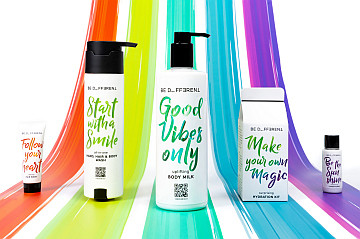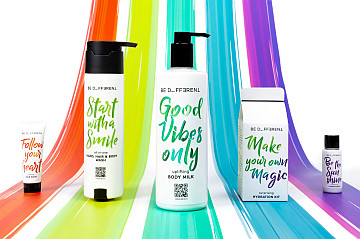 In a fast-paced, non-stop culture like ours, promoting personal health and wellness becomes more important than ever. Ada Cosmetics is aware of the value of emotional balance and individual happiness and celebrates them with Be Different, a range of hair and body care products that encourage customers to value, day after day, the little things in life .
Colorful and contemporary, the Be Different range is defined by its optimistic spirit and its mission to radiate positive energy. Inspiring messages in vivid colors decorate an unmistakable package: from "Let your heart guide you" to "Start with a smile" or "Make your own magic", the eye-catching texts invite customers to make the most of every last minute of their ride.
The three fresh and fruity fragrances in the range are the expression of the brand promise and provide a daily dose of happiness. The revitalizing body products combine the freshness of lime with an exciting hint of mint, while the scent of shampoo and conditioner evokes luscious watermelons and comforting berries. A stimulating sweet orange soap completes the collection.
Reflecting Ada Cosmetics' interest in sustainability and its desire to support responsible alternatives, the Be Different line is available in a wide range of dispensing systems with recyclable bottles (press+wash, dispenser, Smart Care and the new "Shape" ), as well as in miniature tubes and bottles. The products are totally vegan and are formulated with raw materials of plant origin. In addition, they do not contain parabens, silicones or mineral oils and only use easily biodegradable surfactants. The range of rinse-off and leave-in formulas has been created in Ada Cosmetics' own production plants.
"The ups and downs of the past two years have revealed a growing desire to approach health and wellness from a mood-lifting approach," said Gerd von Podewils, Marketing Director of the Ada Group. With its positivity and optimism, Be Different is our response to that desire of today's society. At Ada we are faithful to our motto, putting beauty into travel, and we enhance the beauty of traveling by encouraging customers to enjoy the unique experiences that Ada gives them a new day." www.ada-cosmetics.com/en