WWE RAW May 9, 2022 | live results
WWE RAW MAY 9, 2022.— Cody Rhodes defeated Seth Rollins again. His first victory was at WrestleMania; and got the rematch at WrestleMania Backlash. Although the rivalry might not end yet, the former AEW star may well seek other goals, in order to continue climbing steps in this new stage that lives in the company McMahon. The action of the WWE red mark is broadcast from the XL Center, in Hartford, Conn.
In another of the WrestleMania rematches, Omos was able to defeat Bobby Lashley after a powerbomb and timely MVP interventions. In this case, Lashley could ask for one more fight, since he won the first one.
And the now rude Edge beat AJ Styles again. At WrestleMania he won after a distraction from Damian Priest. This time he received help from Rhea Ripley, who thus joins Judgment Day.
WWE Raw May 9, 2022
After suffering defeat last night at WrestleMania Backlash, RK-Bro opened the show with Orton giving a welcome, and he referred to the match against The Bloodline saying that "they lost the battle" but "they will win the war". He also addressed the fact that Roman Reigns changed the stipulation of the initially scheduled match against The Usos.
Orton continued with the idea of ​​wanting to unify the tag team championships against The Usos. Riddle said they are going to SmackDown to force Roman Reigns into a title unification match.
The Street Profits interrupted and told RK-Bro that The Usos will not be their only concern, as they plan to take the titles from them and go unify them against the SmackDown Tag Team Champions.
And the fight happened right away.
WWE RAW May 9, 2022 | Live results | Who can with JUDGMENT DAY?
1. Raw Couples Championship: RK-Bro vs. The Street Profits
The good thing about not having unified the couples championships was precisely seeing more teams in contention for gold; however, it seems that they have not abandoned that idea and The Usos will be waiting on SmackDown. Riddle started dominating and then handed over to Orton; however, the challengers managed to tip the balance in his favor and Ford impressed as always with his attacks from the air, while Dawkins landed the heavy blows for his team. Riddle and Orton combined well, but the former missed a Moonsault and accidentally hit Orton after Ford moved away from him, and Orton landed his Frog Splash
RK-Bro won and they will go to SmackDown.
The public involved with the combat and the champions.
The commercial cut affected the flow of the fight.
The change to rude of the Street Profits had to come.
And in a fight with the public totally turned on, he retains RK-Bro, a good way to start #WWERaw

– WWE Argentina (@WWEArgentina_OK) May 10, 2022
The champions celebrated despite the misunderstanding.
Theory was introduced for an in-ring interview and said that he is just beginning his journey as the youngest United States Champion in history. He said that he is not interested in Cody or his past, but in the future and that is him.
The Judgment Day arrived in the ring with their brand new member, Rhea Ripley. Edge took the microphone and returned to unload against the public saying that they never cared about him and he knows that he is telling them the truth. He then he said that they are untouchable and the public messed with them telling them that they suck.
Priest said that together they are more and with Rhea Ripley they are even better and made his formal presentation. Ripley said that joining them was the easiest decision because she reflected on them and saw that they have changed for him. She said that she is sick of signing autographs and feeling used.
Ripley said that she still had unfinished business with Liv Morgan and told her that she will destroy her. Edge added that they were like ships without a course and he was in charge of prosecuting them. He added that he saw the potential of Rhea Ripley and said that he could exploit it even more and they will still look for more.
Literally the head of human resources about to cut you off #WWERaw pic.twitter.com/YYJQBPv0ZP

– WWE Argentina (@WWEArgentina_OK) May 10, 2022
Liv Morgan arrived for her match against Rhea Ripley.
WWE RAW May 9, 2022 | Live results | Who can with JUDGMENT DAY?
2. Liv Morgan vs. rhea ripley
The former teammates now have a bitter rivalry, and Rhea's move to the dark side, aka Judgment Day, made her look stronger. Edge and Priest watched ringside and there was little Liv could do to defend herself, but she did get some offense using her legs. From then on, Rhea's dominance was absolute, although she lost a lot of time just because she felt comfortable with the punishment she was delivering. However, Liv managed to block a Riptide and took a second wind to land a flurry of attacks for a count of two, but she missed a kick and was left at the mercy of her opponent.
Rhea Ripley looks more destructive than ever.
When she had time to attack, Liv Morgan looked pretty good.
Liv Morgan is helpless and at a disadvantage. Rhea is completely dominating this fight with Edge and Priest at ringside. #WWERaw

– Bethlehem 💛❤️💙 (@nuskita_love) May 10, 2022
At Edge's command, Rhea continued to punish Liv with the same key. However, Finn Balor showed up and so did AJ Styles for the next match.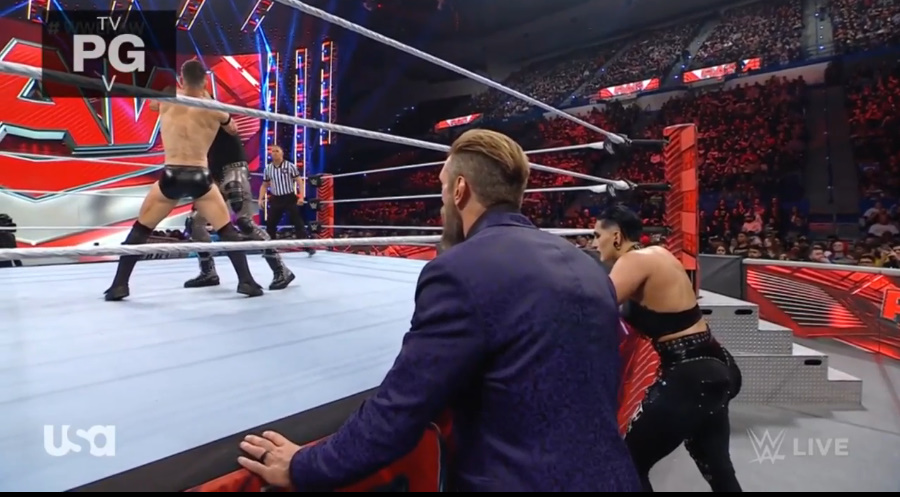 WWE RAW May 9, 2022 | Live results | Who can with JUDGMENT DAY?
3. Finn Bálor vs. Damian Priest
After recent events, this was another of the meetings that was expected to happen, despite the fact that at the time they already faced each other for the United States Championship. Bálor and Priest now reactivated the rivalry but as groups, The Judgment Day against two former members of the Bullet Club. Priest looked pretty aggressive and Bálor was showing off the best of his arsenal, but the fact that they both know each other well made this match very close and tight, until Bálor managed to get Priest out of the ring, but Rhea interfered.
And the disqualification came.
Very gentlemen Finn and AJ Styles#WWERaw #RAWCL

– Rodrigo Miranda (@rod_miranda45) May 10, 2022
After the match, AJ Styles wanted to help, but Rhea Ripley and then Edge took it upon themselves to neutralize him. The rude remained standing.
Behind the scenes, Kevin Owens and Alpha Academy commented on the fact that they will do a DNA test on Ezekiel and prove that he is Elias. KO said that "his older brother of him" will defeat Ezekiel tonight.
Omos came to the ring with MVP to be part of the VIP Lounge. MVP asked the crowd to show Omos some respect, but Omos was booed and called Lashley ungrateful.
Cedric Alexander arrived to congratulate Omos and MVP and intended to join them, but MVP stopped him. Lashley arrived to tear apart security and Cedric Alexander before coming face to face with Omos.
After taking him out of the ring, Lashley had intentions to attack MVP, but Cedric Alexander surprised him, although he ended up receiving the Hurt Lock. MVP and Omos fled.
Behind the scenes, Adam Pearce and Sonya Deville discussed the latter's situation and her possible rival tonight.
Sonya Deville arrived in the ring for her match, but Adam Pearce appeared to tell her that, after investigations, Management removed her from the role of official and she will now be a full-time fighter.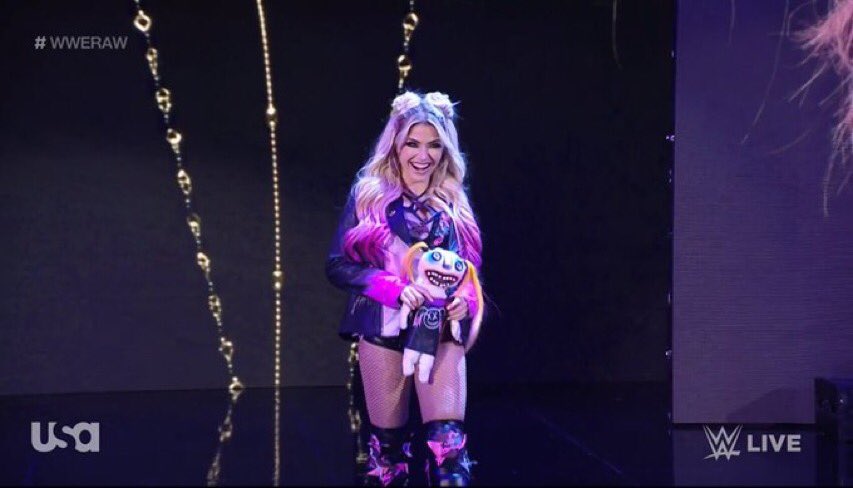 WWE RAW May 9, 2022 | Live results | Who can with JUDGMENT DAY?
4. Sonya Devillevs. Alexa Bliss
Alexa and her doll Lilly returned for the first time since Elimination Chamber and it was also one of the most anticipated returns in Sonya Deville's 're-release' as a full-time fighter, although the news really made her upset. Alexa retrieved the old entry topic for her.
Alexa Bliss is back. It was time
Today I win wrestling, welcome back Alexa! #WWERaw pic.twitter.com/MfTsBKfPbM

– Sebastian Cage (@FenixZoneando) May 10, 2022
Kevin Owens arrived in a wig posing as his older brother. He then asked the audience if Ezekiel was telling the truth, and was disappointed.
Welcome to #WWERawKen Owens! pic.twitter.com/dPLvYdWwXo

— WWE (@WWE) May 10, 2022
KO got so mad that he decided to take off his wig and Ezekiel said he wished Elias was there. KO launched on Ezekiel, but was dominated by him; however, the Alpha Academy arrived to support Owens and in a three against one, Ezekiel could do nothing.
stunner

Just like how KO does them, well there is his older brother 😌👌🏻#RAWCL #WWERaw

– TETRA CHAMPION Tomy Castañeda (@CMTomyRollins) May 10, 2022
And there was no combat, by the way.
Backstage, Adam Pearce told Asuka that if she beat Bianca Belair she would get a starting opportunity. Becky Lynch arrived and angrily claimed that she did not get her revenge and rubbed Asuka in the face who gave her the title. Pearce defended his decision, but seeing that they argued, he left.
Asuka teased Becky that she looked more like a baby and not a mother.
WWE RAW May 9, 2022 | Live results | Who can with JUDGMENT DAY?
5. Veer Mahaan vs.
WWE RAW May 9, 2022 | Live results | Who can with JUDGMENT DAY?
6.