Fortnite patch 19.30: New gyroscope controls, skins, changes and news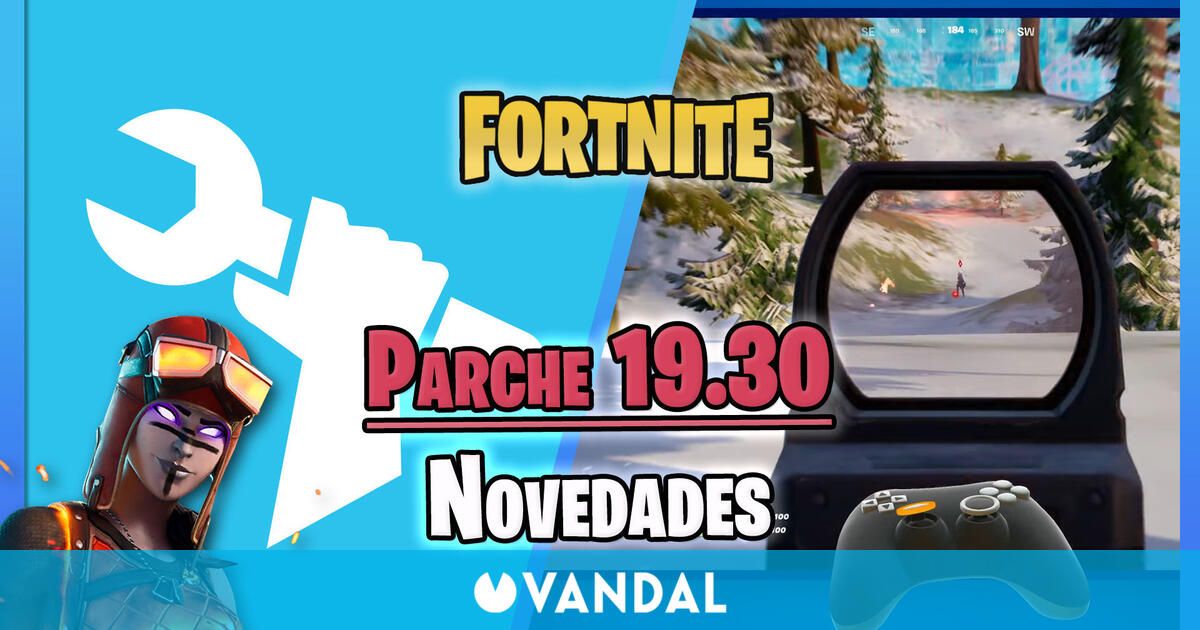 Fortnite: Battle Royale has received during the course of this Tuesday morning February 15, 2022 a new patch for the current one Season 1: Back of Chapter 3. The Epic Games game has been updated once again to bring us the version 19.30 which this time adds new features such as new and improved gyroscope controls, the removal of the initial mode selection screen and more. As always it also brings fixes and corrections to all platforms the game is available on. below we summarize the details most relevant and the changes that have been included with the 19.30.
We have started disabling matchmaking in preparation for the v19.30 update, and server downtime will begin soon.

We'll let you know when the downtime is over! pic.twitter.com/Sactn0aYKv— Fortnite_ES (@Fortnite_ES) February 15, 2022
New gyroscope controls and fast stick scrolling
Thanks to patch 19.30, and in collaboration with Julian "Jibb" Smartspecialist and creator of the rapid movement of the stick, Epic Games has added optional new gyroscope controls in Fortnite that are now available for all supported platforms. Until now, only the Nintendo Switch and Android mobile versions had gyroscope-based motion controls, however, as of today the PlayStation 4, PlayStation 5 and PC versions they also include more complete gyroscope controls.
They also include fast stick movement, which allows pointing the right stick to quickly move the camera in that direction. To give you a better idea of ​​these concepts, you can watch Jibb's video below or read more about this feature on Epic Games Blog.
With the gyroscope controls, you can control the camera by moving the joystick.
This gyroscope control option can be enable or disable from the "Contact and movement" tab of the Fortnite settings.
Gyroscope controls give more precision than the stick, but you can still use the stick if you want.
Clearing the Initial Mode Selection Screen
The other relevant change we have with Fortnite update 19.30 is that Epic Games has decided bypass the initial game screen that appeared on PlayStation, Xbox and PC and that allows us choose how we want to enter to play (that is, if we want to go to Save the world, Battle Royale or Creative mode).
As of version 19.30 players go straight into a Battle Royale mode roomready to join the party right away.

modes save the world and creative now appear in the "Discover" screenwhich can be accessed by clicking the "Change" button above "PLAY!".
Specifically, Save the world and Creative mode now are located in the "From Epic" row on the Discover screen, along with options like Squads, Impostors, the Creative Hub, or the Battle Lab. If you've recently played Save the World or Creative, they'll also appear in the "Recently Played", in the "My Library" tab. However you can add both modes to Your favorites to access them more easily whenever you want.
Patch 19.30 fixes and fixes
This update brings some general changes and fixes for the game, as always we can extract them from the Trello from Epic and from the press releases. They are the following:
balance changes
Removed the reinforced skins from the Supply Drop button in competitive queues.
Important bug fixes
Fixed an issue where some players only had two tent slots available instead of three.
Fixed an issue where building pieces would not be placed on mobile devices after players double-tapped the associated icon.
Fixed a bug that only occurred in competitive queues and caused eliminated players to drop Spider-Man's web shooters at 20 uses even if they weren't maxed out before the player was eliminated.
Creative Mode bug fixes
In some cases, creative islands were not loading after entering the island rift in creative hub
Players wearing the bush costume take explosive damage
Fixed an issue where the item dealer and Toggle Persistence options would not trigger the "Delete All Player Data" option when published
Fixed some collision bugs with elements in the elemental cube gallery.
Fixed a bug that caused soccer goals to appear when destroying sports halls in the sports gallery.
Fixed an issue where the ivy in the princess castle tower prefab was giving the wrong resource materials.
Fixed a bug that caused planter items in The Sanctuary set to not drop resource materials.
Fixed a bug that caused the Galleys tab to appear before the Prefabs tab.
All cosmetics and skins of patch 19.30
Naturally this version 19.30 of Fortnite also brings us a lots of new cosmetic items and skins that dataminers are responsible for collecting. Over the next few days we can have them in the in-game store if we want to acquire them with turkeys. Here below we show you the news in this regard:
All new Cosmetics, Variants & Shop Images with proper rarities & names! pic.twitter.com/Fda8gBXcGK— HYPEX (@HYPEX) February 15, 2022
New Shop Images pic.twitter.com/8zxEsFfVVZ— HYPEX (@HYPEX) February 15, 2022
???? New Cosmetics Added in v19.30#Fortnite #FortniteLeaks pic.twitter.com/MweZCvepYW— iFireMonkey (@iFireMonkey) February 15, 2022
Images of all new cosmetics/shop bundles added in v19.30 (posted since we now have mappings)#Fortnite #FortniteLeaks pic.twitter.com/CPwlDvZkWF— iFireMonkey (@iFireMonkey) February 15, 2022
Remember that you can visit our complete guide to know the best tips and tricks and easily overcome all the challenges of the season. Fortnite is a Battle Royale that is free to PC, PS4, Xbox One, Nintendo Switch and devices Androidyou can read our analysis.