The XRP price hit the high of $ 0.785 after a 19% rally.
The MRI has generated a sell signal, suggesting that a correction is likely before the next rally.
After the pullback, crypto traders can expect a new rally impulse that will catapult Ripple XRP above the $ 1 mark.
The XRP price has overcome the long-established resistance barrier and retested the subsequent upper limit of the trading range. Since Ripple did not manage to overcome the second stage, there is now a risk of a moderate pullback.
XRP threatens correction
The XRP price is up about 19% in almost four days, breaking the high at $ 0.785. In this uptrend, the resistance level was tested at $ 0.827, but the cryptocurrency failed to close above that level. Hence, a rejection at this barrier will result in a pullback. The Momentum Reversal Indicator (MRI), which shows a sell signal in the form of a red candle on the 4-hour chart, confirms this assessment.
This technical pattern predicts a four-candlestick correction. Should this correction occur, Ripple should find a hold at $ 0.785 or the support level at $ 0.725.
In some cases, Ripple could make an even low at $ 0.688 before a new uptrend kicks in. The double bottom would be the perfect precursor for a new uptrend. Assuming this starts, the rally will most likely go above $ 0.785 and $ 0.827. If the buying pressure continues, the bulls' next target would be $ 1.
All in all, if the XRP hit the $ 1 cap, profit would add up to 45% versus $ 0.688.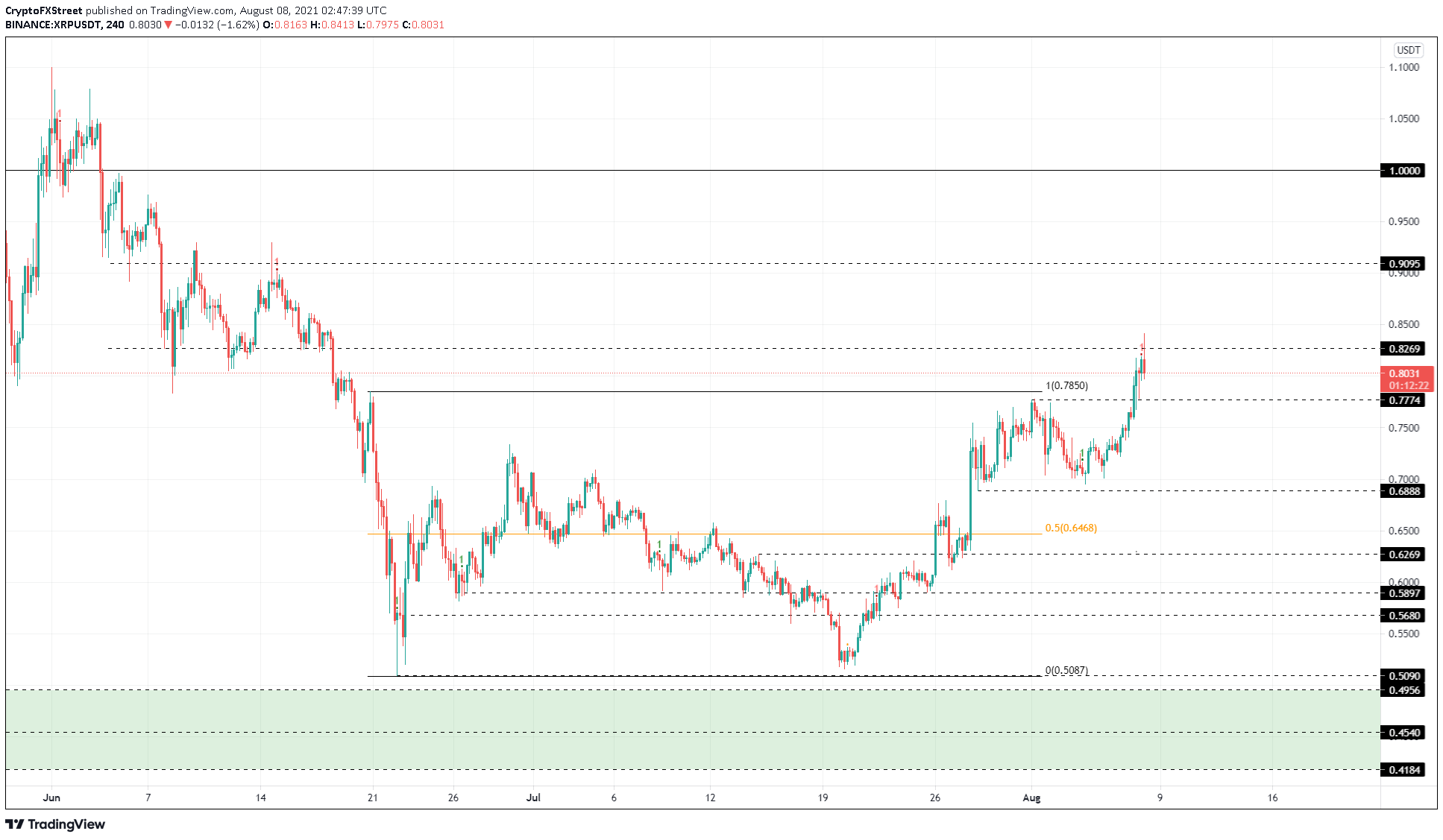 XRP / USDT 4-hour chart
Regardless of the bullish outlook for the overall market, the tide could turn if XRP breaks below $ 0.688. This move would create a deeper low and open the possibility of a trend reversal in favor of the bears.
Should such a move occur, Ripple could move to the 50% fibonacci retracement level at $ 0.647.