XRP price is slowing after the recent rally in preparation for the surge to come.
Uphold introduces XRP debit cards in partnership with GlobaliD.
A closing price on the 9 hour chart above $ 0.785 will start an uptrend.
The XRP price trades across two critical support levels. Retesting any of these barriers is likely to trigger a rebound that breaks the range high and targets new highs.
Uphold introduces XRP debit cards with cashback in XRP tokens
Uphold, a digital money platform, recently partnered with GlobaliD, a digital identity platform, to introduce XRP debit cards. Interestingly, these cards are from Mastercard and offer 5% cashback that is paid out in XRP tokens.
The announcement says
The XRP debit card seeks to combine the power and flexibility of the Uphold platform with the compliance and oversight that GlobaliD offers. The debit card allows users to pay in fiat or digital currencies, but the cashback will always be in XRP.
This development is fundamentally positive for XRP and promotes the acceptance of digital currencies, while users can passively accumulate Ripple. This news comes at a time when the lawsuit between the SEC and Ripple is still ongoing.
During Wednesday's Aspen Security Forum, Brad Garlinghouse, CEO of Ripple, commented on the case:
You know, to say we have certainty, we have clarity, is like saying an alcoholic, I have no problem.





A Ripple win in this case would be a huge moral boost for the community and could spark an explosive bull market.
XRP price targets higher highs
XRP price was on the verge of peaking at $ 0.785 but failed during the recent spike. Since then, Ripple has been in a slow and steady consolidation that is pointing downwards.
While it looked like XRP price was retesting the immediate support at $ 0.689, it didn't. Going forward, investors can expect the bulls to pick up pace after a retest of either $ 0.689 or the demand zone below that extends from $ 0.623 to $ 0.671.
This move would create a higher high and allow the reluctant investors to get in and start a new uptrend. The resulting upward move must break the $ 0.785 level and turn it into a support level to confirm the further rise.
If this succeeds, it could open the way to $ 0.90, which would be about 30% away from $ 0.689. In a very bullish case, the $ 1 level could also be reached.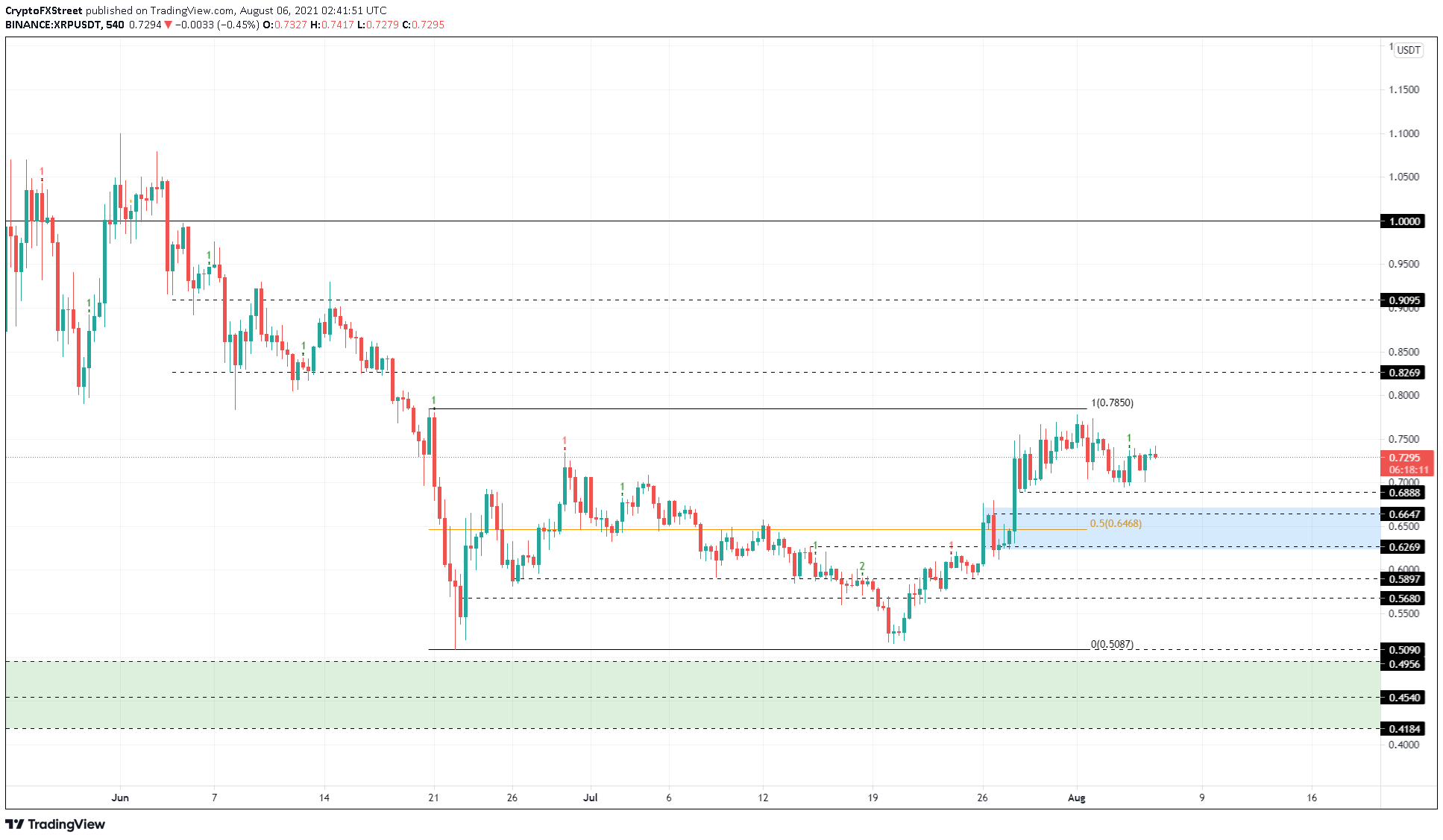 XRP / USDT 12-hour chart
Regardless of the bullish outlook, things could turn for the worse if XRP price shows no strength on retesting the demand zone, which extends from $ 0.623 to $ 0.671. Breaking this barrier would drop Ripple as low as $ 0.590.
If this support level is broken, the bullish thesis is invalidated and a sell-off up to the following support points may be triggered.