It's a summer like autumn, but despite headwinds, rain and punctures, Foreign Minister Jean Asselborn is enjoying his cycling vacancy in 2021.
Jean Asselborn on a cycling holiday
It's a summer like autumn, but despite headwinds, rain and punctures, Foreign Minister Jean Asselborn is enjoying his cycling vacancy in 2021.
The Saône flows quietly past the medieval town of Gray. South of the city, trees line the river on both sides of the shore. Lush greenery, plus the soothing flowing sound of the water – it is the pure idyll and actually the perfect place to forget the rigors of a hectic political life. If it weren't for this sky, dark clouds dominate the photo that Jean Asselborn posted on his Facebook page on Thursday.
The comment: "The Saône south of Gray and the sky already in a bad mood". It is the fifth day of his traditional summer bike tour, which attracts the Luxembourg Foreign Minister to France every year. But not only on this day the omens from above are gloomy: Asselborn has been struggling with adverse weather conditions all week long.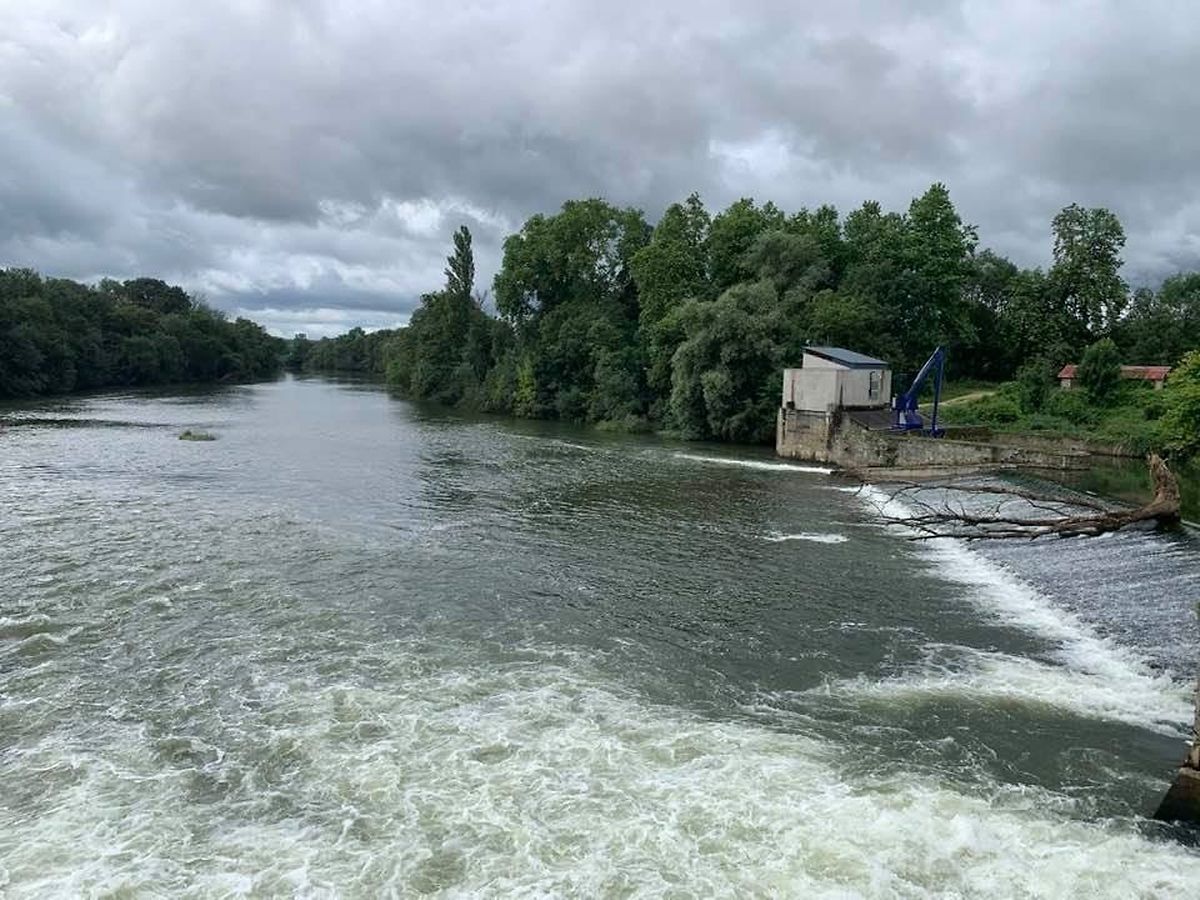 "The Saône south of Gray and the sky already in a bad mood": On his summer tour 2021, Jean Asselborn has to struggle a lot with rain.
Photo: private
The 72-year-old usually attracts attention with his trips to Mont Ventoux. The most famous mountain of the Tour de France is also on the agenda in 2021, but this year it is much more than usual the way there, which is exhausting. Even the supposedly easy sections like this 62 kilometers from Gray to Dijon.
"On paper, this stage is not very demanding, but in reality it is malicious: short and not very hilly, the rain and especially the south wind made it difficult and at times even unpleasant," he sums up in the evening on Facebook, where he posts numerous photos that receive hundreds, sometimes more than 1,000 likes.
Symbolic start in Schengen
On Sunday, it started in a symbolic place: From Schengen, his path led him mostly along river and canal cycle paths via Nancy, Epinal and Dijon. In the next few days we continue via Macon, Lyon, Valence, Orange and Arles to Béziers; a total of 14 stages with almost 1,200 kilometers.
After his sixth stage over 81 kilometers, which started on Friday with rain in Dijon and ended dry in the afternoon, but with strong headwinds in Chalon-sur-Saône, it is time for an interim balance. On the phone, Asselborn remembers his 2020 summer tour slightly wistfully, when he didn't get a single raindrop. But in the autumn summer of 2021, things are different; the partly heavy rain, but above all the strong wind consume the forces.
Asselborn is not spared from punctures.
Photo: private
"You have to press like a horse and still only do 20 things," says Asselborn. He could not remember such a rainy tour; Only once was it similar: in 2002, when there was the terrible flood on the Elbe and Gerhard Schröder in rubber boots gave the crisis chancellor. There, too, he had experienced some heavily rainy days. But he did not want to complain, after all, he had chosen this form of vacation himself. "That steels the character." He says, "If you're alone in the pampas, you have to bite your teeth. You don't get anything as a gift."
If you are alone in the pampas, then you have to bite your teeth.
Jean Asselborn
In the meantime, the minister was accompanied by friends on the bike, and his wife Sylvie also joined him in the meantime (without a bike). In addition, he repeatedly meets other cyclists on the way and gets into conversation, for example with a French woman over 90 years old.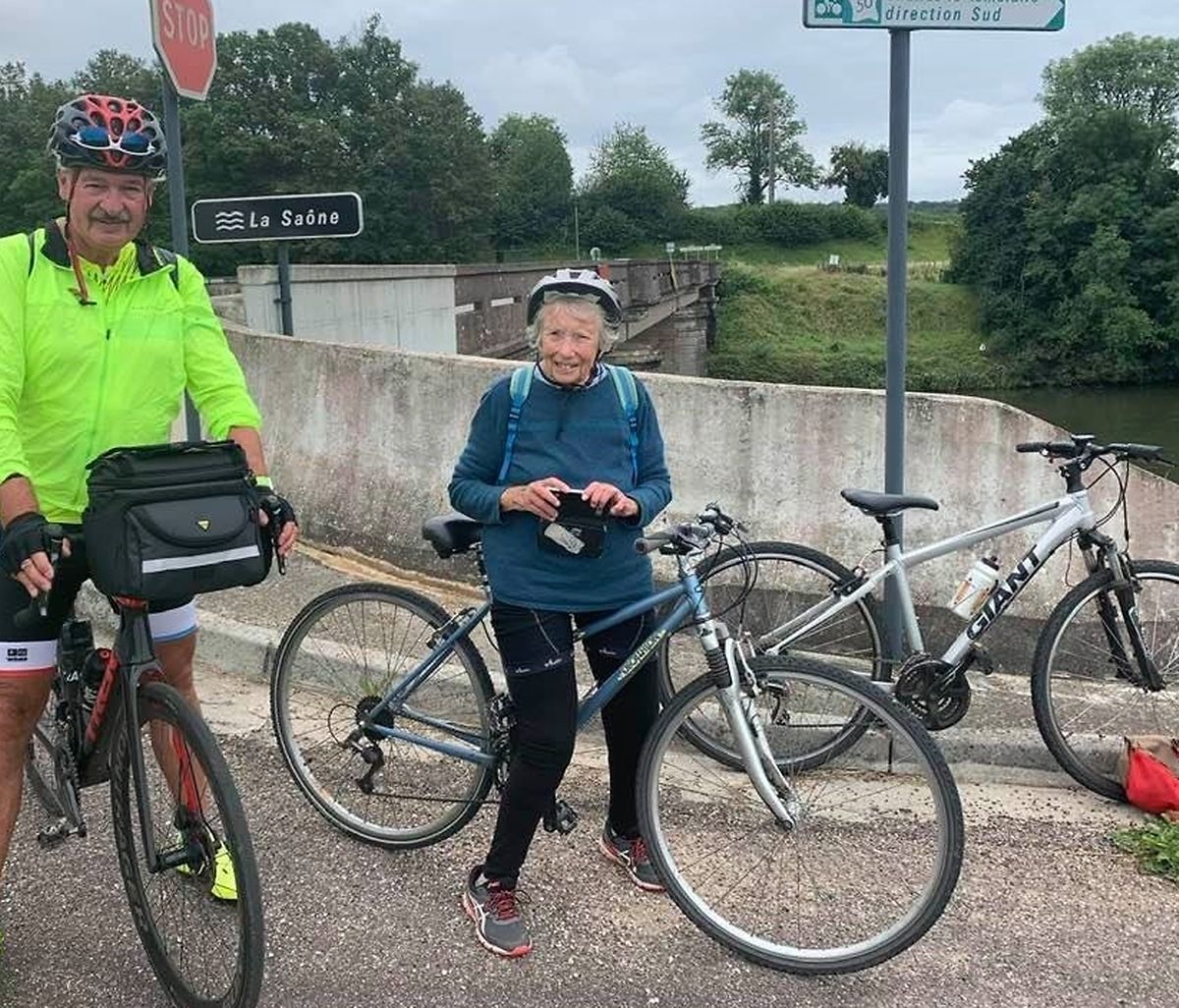 On the way, Jean Asselborn has many interesting encounters with locals, such as this over 90-year-old Frenchwoman.
Photo: private
On Facebook, he has a Photo posted with herself and the lady from Ray-sur-Saône, who likes to cycle for her life. "The bike is definitely a guarantee for a lot of joie de vivre …", comments Asselborn. The fact that he is on a long journey, you can not see at first glance, because he is traveling with light luggage – consisting of handlebar bag and small backpack.
Thunder even before breakfast
---
---
Most of the Time the Steinforter defies wind and weather, but on Tuesday morning in Epinal this was hardly possible: "It was already thundering at six o'clock," he reports on the phone.
At breakfast, he talked to another hotel guest who asked him if he wanted to drive in the weather. Another guest, who was also on his way to Villers-sur-Port in a van, picked up the conversation and spontaneously offered Asselborn to take him with him. The helpful man must not have been aware that he had a prominent passenger on board in the eu's longest-serving foreign minister: "In any case, I didn't say anything," Asselborn replies.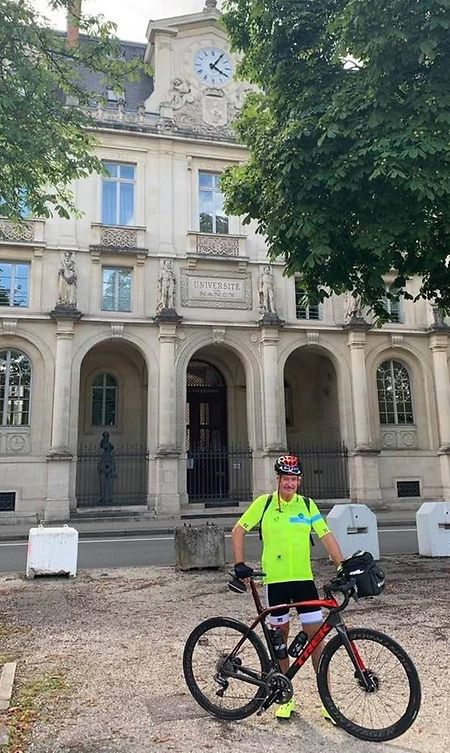 Jean Asselborn studied law in Nancy. He graduated in 1981.
Photo: private
An emotional highlight of his tour was the stop in Nancy, where Asselborn completed his law studies 40 years ago. "In this noble and magnificent building, I 'suffered' during my exams," he commented on a posted photo. That was a difficult time back then.
---
---
But giving up, that was out of the question even then. Just like on his bike tours. For this he receives a lot of encouragement. "Allez Jang, courage!" commented one Facebook user. "Mir denken un dech…. at the dréchener Stuff ! (Well hei reent et och)".
Follow us on Facebook, Twitter and Instagram and subscribe to our newsletter.
In today's fast-paced world, there is a great need for reliable information. Facts, not rumors, accessible and clearly formulated. Our journalists will keep you up to date with the latest news, ask political decision-makers critical questions and provide you with relevant background stories.
As a subscriber, you have full access to all our articles, analyses and videos. Choose the offer that suits you now.
---